___________________________
In the vein of Lucy Foley and Ruth Ware, a deliciously wicked and atmospheric thriller about a group of old friends who plan to reconnect on an African safari vacation, but soon learn that their wild pasts have finally caught up with them.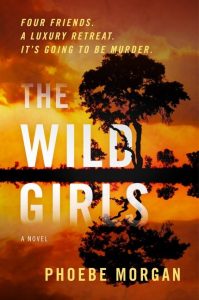 The Wild Girls by Phoebe Morgan
"A wonderfully atmospheric thriller of secrets, lies and betrayals . . . a heart-stopping rollercoaster of a read." —B.A. Paris, author of Behind Closed Doors
FOUR FRIENDS. A LUXURY RETREAT. IT'S GOING TO BE MURDER.
It's been years since Grace, Felicity, Alice, and Hannah were together. The "Wild Girls," as they were once called, are no longer so wild. Alice is a teacher. Hannah has a new baby. Grace is a homebody. Only Felicity seems to have retained her former spark.
Then Felicity invites them all on the weekend of a lifetime—a birthday bash in Botswana. It will be a chance to have fun and rekindle their once bomb-proof friendship… and finally put that one horrible night, all those years ago, behind them for good.
But soon after arriving at the luxury safari lodge, a feeling of unease settles over them. There's no sign of the party that was promised. There's no phone signal. They are on their own… and things start to go very, very wrong.
A fresh approach to the classic locked-room mystery, The Wild Girls is sure to appeal to fans of Ruth Ware and Lucy Foley.

Purchase Links
______________________________________________
From popular Christian voices Lisa Jacobson and Phylicia Masonheimer, The Flirtation Experiment inspires you to strengthen your marriage with a fun, unexpected approach that leads to the depth, richness, and closeness you desire.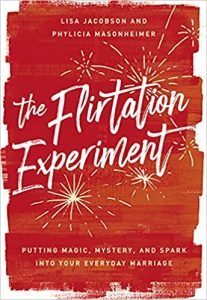 The Flirtation Experiment: Putting Magic, Mystery, and Spark Into Your Everyday Marriage by Lisa Jacobson and Phylicia Masonheimer
Romance novels, Hallmark movies . . . the immense demand for romantic stories reveals a deep, unsatisfied longing that can be found in many marriages, but does it have to be that way? Is it possible that the best marriage has to offer can grow, rather than fade after you say "I do"? Lisa and Phylicia say, "Absolutely yes!"
So what is the secret to a happy, thriving, loving marriage, where the fire of romance and close friendship do not fade? While The Flirtation Experiment includes the frisky side of marriage, it's far more than a good romp. By degrees, each chapter takes you to a deeper place, covering themes every beautiful marriage has in common, such as covenant, healing, and hope.

Purchase Links
______________________________________________
A coffee war is brewing in Maple Falls, where Anita and Tanner are serving up plenty of steam to keep the town buzzing.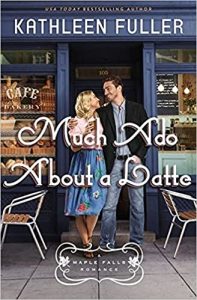 Much Ado About a Latte (A Maple Falls Romance) by Kathleen Fuller
Anita Bedford needs to face reality. It's time to decaffeinate the dream that she and Tanner will ever be more than friends. Growing up in small-town Maple Falls, she's had a crush on Tanner for years. But he'll only ever see her as good, old, dependable Anita. Now she's finally ready to make her own goals a reality. In fact, that deserted building next door to Sunshine Diner looks like a promising location to open her own café.
Tanner Castillo may know how to operate a diner, but he doesn't know beans about love. After pouring his life savings into buying the Sunshine Diner, he needs to keep his mind on making a success of it and supporting his widowed mother, not on kissing Anita Bedford. First order of business: improve his customers' coffee experience. Next, he should probably find out who bought the building next door.
It's a bitter cup to swallow when ambition turns longtime friends and coworkers Anita and Tanner into rivals. Now that they own competing businesses, how could they ever compete for each other's hearts? Or will the two of them come to see what's obvious to the whole, quirky town of Maple Falls: potential for a full-roast romance, with an extra splash of dream?
Welcome to Maple Falls, where everyone knows your name and has thoughts on your love life.

Purchase Links
______________________________________________
Faith, family, hard work, and second chances are at the core of every great American story, and Jenny Doan's story is just that.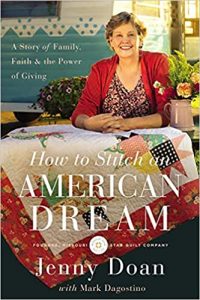 How to Stitch an American Dream: A Story of Family, Faith and the Power of Giving by Jenny Doan
In her new memoir, How to Stitch an American Dream, readers will discover the behind-the-scenes success story of the Missouri Star Quilt Company and Jenny's remarkable journey to overcome hardship, claim the abundance of family, and ignite the power of giving—all while revitalizing a small town along the way.
Over the last decade, the Doan family business, the Missouri Star Quilt Company in tiny Hamilton, Missouri, has grown from Jenny's corner shop–with one quilting machine and two bolts of fabric for sale in the back–to become the largest supplier of pre-cut quilting fabric in the headquarters of Jenny's world-famous YouTube tutorial videos.
Jenny is now giving her fans, the business world, and moms of all ages (and grandmas too!) what they've been asking for: the full story of her journey, from her humble beginnings as a homeschooling mom, to founding MSQC in her fifties, through the remarkable success and inspiration she's so well-known for today. In this book, you'll learn:
How she and her beloved husband, Ron, raised seven children on a shoestring budget— and had fun doing it;
How, after a string of bad luck, the family made a prayer-based decision to leave California behind and start over again in rural Missouri, even though they had no place to live, no jobs lined up, and no idea how they were going to make it;
How Jenny, Ron and their children worked side-by-side to patch together a family home out of a crumbling shell of a farmhouse;
And how their faith, hard work, and generosity not only carried them through the hard times, but led directly to the success of the Missouri Star Quilt Company.
How to Stitch an American Dream will make you laugh, cry, say "bless your heart."

Purchase Links
______________________________________________
There is no secret formula to experiencing the sacred in our lives–it just takes practice and practicality.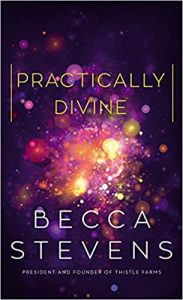 Practically Divine by Becca Stevens
No matter where we are—on a walk in the woods, in a sacred building, or in a dusty refugee camp—signs of love abound. When we allow ourselves to embrace both ordinary and extraordinary experiences, we can feel the divine anywhere.
You're invited to search this path with Becca Stevens, as she explores what it means to be practically divine. Woven throughout the narrative strands are poetry and rants, as well as ruminations on her mother's wit and wisdom—and the passion she instilled in Becca for creating something from nothing.
Embracing the practically divine compels us to do something, anything, to share in the feast of love together. When we start from wherever we are, we can recognize the potential for humor, wonder, and freedom.
Experience is nine-tenths of love.
Standing in a geranium field, smelling dark soil fertilized by rabbit poop is different from reading about the healing properties of geraniums. Walking beside a woman in a refugee camp as she covers her baby's face from the dry, red dust is different than imagining how hard it is for moms in camps.
Our senses transform information into holy compassion. When we open our hearts to it, we can experience the divine anywhere – like sacred breadcrumbs marking our path. This path is filled with humor, humility, and honesty.
We can all learn to live a life that's practically divine by:
Redefining old lies and stories, to learn from the past
Appreciating the gifts that come from imperfections or trauma
Using creativity to spark new revolutions
Accepting the chaos of the unknown before us with courage
Sharing in a feast of love, knowing there's enough mercy and forgiveness

Purchase Links
______________________________________________
Imagine a program that makes the benefits of "Dry January" last all year. That's Euphoric!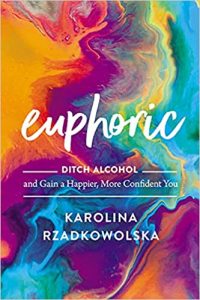 Euphoric: Ditch Alcohol and Gain a Happier, More Confident You by Karolina Rzadkowolska
Euphoric is your eight-week plan for an alcohol-free lifestyle that can lead to more happiness, well-being, and self-love. It's the modern woman's guide to relax without alcohol, find freedom from cravings and fitting in, and create the life you want – along with the audacity to go after it.
Alcohol is everywhere in our society, and it's hard to resist. The pressures to fit in and have "just one drink"–that turns into several – whether at a party or on a casual Friday night, can lead to an imbalanced life that's plagued with unhealthy habits, low self-esteem, and decreased productivity.
How can you change your relationship with alcohol without feeling deprived or like a social outcast? First, decide you want a change and then pick up Euphoric, from certified alcohol-free life coach Karolina Rzadkowolska.
Karolina has helped thousands of casual drinkers transform their relationship with alcohol, including herself. In Euphoric, she shares a proven strategy to make alcohol insignificant in your life. In just eight weeks, you can ditch alcohol and learn how to:
Create a natural buzz that alcohol can only mimic
Be fully present with your kids, partner, and friends
Feel more energized, look better, and live healthier
Enjoy the best sleep of your life
Have fun in any social situation, without drinking
Accomplish goals with your newfound drive
Become confident to chase your biggest dreams

Euphoric presents an eight-week, easy-to-customize plan for anyone who wants to transform their relationship with alcohol and experience the life-changing benefits that happen when you take a break from booze to focus the health of your mind, body, and soul.
Here's the plan!
Week 1: Examine and Dismantle Limiting Beliefs
Week 2: Let Go of Shame
Week 3: Step into Your Best Health
Week 4: Navigate Your Social Life
Week 5: Get Mindful and Embody Self-Love
Week 6: Find Pure and Utter Happiness
Week 7: Create Your Dream Life
Week 8: Step into Your Purpose
Reclaim yourself and rejuvenate your life, as you make alcohol irrelevant and get motivated to claim a new lifestyle clearly focused on your goals, priority, and values.

Purchase Links
______________________________________________
What if the traditional narrative about immigrant women–that those who come to the United States will succeed as long as they work hard, stay focused, and have supportive families–is a lie?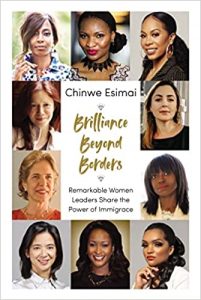 Brilliance Beyond Borders: Remarkable Women Leaders Share the Power of Immigrace by Chinwe Esimai
Of the 73 million women in the US workforce, 11.5 million are foreign-born. The truth is–even in the midst of headlines and political debates about immigration reform and in the wake of MeToo and other female-centric movements–millions of immigrants, especially women, aren't living their fullest potential.
Based on her personal experience and the stories of trailblazing women from around the world and in diverse industries, author Chinwe Esimai shares five indispensable traits that make an ocean of difference between immigrants who live as mere shadows of their truest potential and those who find purpose and fulfillment–what Chinwe refers to as their immigrace:
Saying yes to your immigrace, an immigrant woman's expression of her highest purpose and potential
Daring to play in the big leagues
Transforming failure
Embracing change and blending differences
Finding joy and healing
These five traits are the foundation of the Brilliance Blueprint, a step-by-step guide to help readers achieve to their own extraordinary results and build their own remarkable legacies.

Purchase Links
______________________________________________
A twenty-year-old crime, an accelerated death penalty, and an elitist family cover-up: Nyla races against the death row clock to save a woman the world is rooting for . . . and against. Which side will you choose?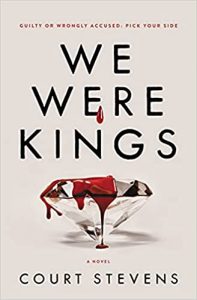 We Were Kings by Court Stevens
Twenty years ago, eighteen-year-old Francis Quick was convicted of murdering her best friend, Cora King, and sentenced to death. Now the highly debated Accelerated Death Penalty Act has passed giving Frankie thirty final days to live. Surprising everyone, one of the King family members sets out to challenge the woefully inadequate evidence and potential innocence of Frankie Quick.
The at-first reluctant but soon-fiery Nyla and her unexpected ally—handsome country island boy Sam Stack—bring Frankie's case to the international stage through her YouTube channel, Death Daze. They step into fame and a hometown battle that someone's still willing to kill over. But who? The senator? The philanthropist? The pawn shop owner? Nyla's own mother?
Best advice: Don't go to family dinner at the Kings' estate. More people will leave in body bags than on their own two feet. And as for Frankie Quick, she's a gem . . . even if she's guilty.
Praise for We Were Kings:
"We Were Kings is the best kind of mystery novel—intelligent and bursting with heart. As Nyla untangled her family's secrets, the twists left me breathless." —Brittany Cavallaro, New York Times bestselling author
"Bingeable. Atmospheric. A book that grabs hold and doesn't let go. We Were Kings offers a delicious mystery perfect for fans of We Were Liars and A Good Girl's Guide to Murder. I savored every word from beginning to end." —Caroline George, author of The Summer We Forgot

Purchase Links
______________________________________________
The Missing Companion for Healthy Eating Plans That Have Left You Feeling Defeated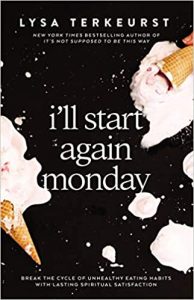 I'll Start Again Monday: Break the Cycle of Unhealthy Eating Habits with Lasting Spiritual Satisfaction by Lysa TerKeurst
Have healthy eating plans left you feeling defeated? Lysa TerKeurst offers a new perspective to all those stuck in the cycle of losing weight and then gaining it back, equipping you with the deeper spiritual and emotional motivation you need to make lasting changes.
So often we characterize our food cravings as bad, especially when dieting has made us feel even more disappointed and discouraged. But the reality is we were made to crave. We just need to realize God created us to crave more of Him instead of misplacing that craving by overindulging in physical pleasures and unhealthy choices that will never truly satisfy.
In the midst of her own personal struggle with this, New York Times bestselling author Lysa TerKeurst invites us to embrace a new outlook that leads to enduring change. In this newly revised and condensed version of Made to Crave, Lysa encourages you to:
Break the cycle of "I'll start again Monday" and start taking steps toward consistency that lasts
Stop agonizing over numbers on the scale and make peace with your body
Replace rationalizations that lead to failure with wisdom that leads to victory
Reach your healthy goals and grow closer to God through the process
This is not a "how-to" book. This is not the latest and greatest dieting plan. This is the necessary resource to use alongside whatever healthy lifestyle plan you choose that will help you find your "want to" and lead to a spiritual satisfaction that goes far beyond the physical.

Purchase Links
______________________________________________
Are you curious about biblical Christian meditation? Through stories, practical advice, and helpful prompts, Rick Hamlin guides Christians to center their minds and hearts on God as they seek to hear the still small voice above all the noise and chaos in the world.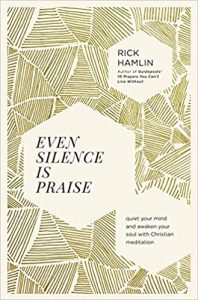 Even Silence is Praise: Quiet Your Mind and Awaken Your Soul with Christian Meditation by Rick Hamlin
Rick Hamlin has been unpacking the power of prayer in Finding God on the A Train and Ten Prayers You Can't Live Without and the special Guideposts book, Prayer Works. In this new book, you will discover
how meditation has deep Christian roots that go back for millennia,
how it can be used to live more authentically and let go of anxiety,
how to love more generously and find God's will in your life, and
how to grow in compassion, forgiveness, and acceptance.
The steps are simple, and at the end of each chapter Hamlin offers specific exercises to enhance your practice.
"If anyone wishes to come after me, he must deny himself and take his cross daily and follow me," Jesus said to his followers. Meditative prayer offers a rich resource to do just that. Silence speaks volumes and becomes a tool for all Jesus followers.

Purchase Links
______________________________________________

Please fill out our super short registration form (click the "Enter Now" button above) by January 31st  for a chance to win a set of up to ten copies of one of these great books for your book club! We will randomly choose a winner at the end of the month. This giveaway is open to clubs in the US only (our apologies to friends in other countries). 
Best of luck!
We 
LOVE

 Book Clubs!