About On A Night Like This
• Publisher: HarperCollins (January 18, 2022)
• Paperback: 352 pages
It only takes one night to fall in love…
"The kind of book you can't put down, but also want to last forever"—EMILY HENRY
"I fell head over heels in love"—BETH O'LEARY
"The literary equivalent of opening a glass of wine with your best friend"—MHAIRI MCFARLANE
____________________
Within days of wishing she could change her life, Fran Cooper is acting assistant to a celebrity, on a yacht in the Mediterranean, and en route to a tiny Italian island and the glittering Crystal Ball, along with the world's rich and famous.
When she – quite literally – bumps into a handsome American called Evan, a man able to keep his cool in the face of chaos, the magic really begins.
Evan makes her a promise: no last names, no life stories, just one unforgettable night. Yet Evan belongs at the Crystal Ball and Fran is a gatecrasher. They may be soulmates, but their homes are an ocean apart, and their lives a world apart. They'll never meet again – unless, on a night like this, everything can change forever…
Social Media
Please use the hashtag #OnANightLikeThis and tag @tlcbooktours and @lindseykelk.

Purchase Links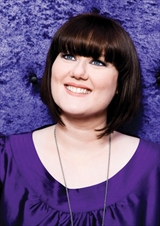 About Lindsey Kelk
Lindsey Kelk is a writer and children's book editor. When she isn't writing, reading, listening to music, or watching more TV than is healthy, Lindsey likes to wear shoes, shop for shoes, and judge the shoes of others. Born in England, Lindsey loves living in New York but misses Sherbet Fountains, London, and drinking gin and elderflower cocktails with her friends. Not necessarily in that order.
Find out more about Lindsey at her website, and connect with her on Facebook, Twitter, and Instagram.
Review Tour
Tuesday, January 18th: Staircase Wit
Thursday, January 20th: Books, Cooks, and Looks
Friday, January 21st: Instagram: @readalotwritealot
Friday, January 21st: 100 Pages a Day…Stephanie's Book Reviews
Tuesday, January 25th: Instagram: @meghans_library
Wednesday, January 26th: Instagram: @the_booksandwich
Thursday, January 27th: Stranded in Chaos
Saturday, January 29th: Instagram: @bookscallmyheart
Monday, January 31st: Instagram: @workreadsleeprepeat
Tuesday, February 1st: Girls Just Reading
Wednesday, February 2nd: Instagram: @bryantparkbooks
Thursday, February 3rd: Instagram: @rozierreadsandwine
Friday, February 4th: Instagram: @kara.bookstagram
Saturday, February 5th: Instagram: @kerasalwaysreading
Monday, February 7th: Laura's Reviews
Tuesday, February 8th: Booked on a Feeling
Thursday, February 10th: Instagram: @nurse_bookie
Friday, February 11th: Confessions of a Book Addict
Friday, February 18th: Kahakai Kitchen
Monday, March 28th: Instagram: @bookclubfor1