About The Family You Make
• Publisher: William Morrow Paperbacks (January 11, 2022)
• Paperback: 384 pages
"Fall in love with Jill Shalvis! She's my go-to read for humor and heart."— Susan Mallery, New York Times bestselling author
Beloved New York Times bestselling author Jill Shalvis begins a new series—Sunrise Cove—set near beautiful Lake Tahoe, with a heartwarming story of found family and love.
During the snowstorm of the century Levi Cutler is stranded on a ski lift with a beautiful stranger named Jane. After strong winds hurl the gondola in front of them into the ground, Levi calls his parents to prepare them for the worst…but can't bring himself to say goodbye. Instead, wanting to fulfill his mother's lifelong wish, he impulsively tells her he's happily settled and Jane is his girlfriend—right before his phone dies.
But Levi and Jane do not.
Now Levi's family is desperate to meet "The One." Though Jane agrees to be his pretend girlfriend for just one dinner, she's nervous. After a traumatic childhood, Jane isn't sure she knows how to be around a tight-knit family that cherishes one another. She's terrified, and a little jealous. But an unexpected series of events and a host of new friends soon show Jane that perhaps this is the life she was always meant to have.
As Jane and Levi spend more time together, pretend feelings quickly turn into real ones. Now all Jane has to do is admit to herself she can't live without the man she's fallen in love with and the family she has always dreamed of.
Social Media
Please use the hashtag #TheFamilyYouMake and tag @tlcbooktours, @williammorrowbooks, and @jillshalvis.

Purchase Links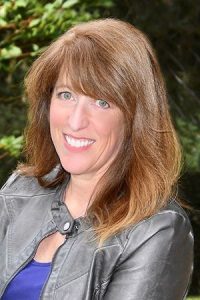 About Jill Shalvis
New York Times bestselling author Jill Shalvis lives in a small town in the Sierras full of quirky characters. Any resemblance to the quirky characters in her books is, um, mostly coincidental. Look for Jill's bestselling, award-winning novels wherever books are sold and visit her website, jillshalvis.com, for a complete book list and daily blog detailing her city-girl-living-in-the-mountains adventures.
Find out more about Jill at her website, and connect with her on Facebook, Twitter, and Instagram.
Instagram Features
Tuesday, January 11th: Instagram: @bree.unabashedly
Friday, February 4th: Instagram: @stumblingintobooks
Friday, February 11th: Instagram: @gracesbookblog2
Saturday, February 12th: Instagram: @shook_sbooks
Sunday, February 13th: Instagram: @meghans_library
Monday, February 14th: Instagram: @karendeeandabc
Tuesday, February 15th: Instagram: @arrow_reads
Wednesday, February 16th: Instagram: @oddandbookish
Thursday, February 17th: Instagram: @stories_and_suds
Friday, February 18th: Instagram: @readinggirlreviews
Saturday, February 19th: Instagram: @just_another_mother_with_books
Sunday, February 20th: Instagram: @jill_chilland_read
Monday, February 21st: Instagram: @the.book.nerd.fox
Monday, February 21st: Instagram: @jenniaahava
Monday, February 21st: Instagram: @pickagoodbook
Tuesday, February 22nd: Instagram: @alwaysanotherchapter
Tuesday, February 22nd: Instagram: @workreadsleeprepeat
Wednesday, February 23rd: Instagram: @devinereads1
Thursday, February 24th: Instagram: @bookedwithheather
Friday, February 25th: Instagram: @buildingourbookshelves
Saturday, February 26th: Instagram: @readingfortheseasons
Sunday, February 27th: Instagram: @myschedulesbooked
Monday, February 28th: Instagram: @that.bookmom
Monday, February 28th: Instagram: @biblio.jojo
Tuesday, March 1st: Instagram: @tammyreads62
Wednesday, March 2nd: Instagram; @chasingmrdarcy
Thursday, March 3rd: Instagram: @sparetimereader
Friday, March 4th: Instagram: @reneesramblings
Saturday, March 5th: Instagram: @livingforthebookend
Sunday, March 6th: Instagram: @amy_alwaysreading
Monday, March 7th: Instagram: @inspired.j.reads
Tuesday, March 8th: Instagram: @picture_pretty_books
Thursday, March 10th: Instagram: @readingcaptures
Friday, March 11th: Instagram: @abeautybutafunnygirlthatmel
Saturday, March 12th: Instagram: @bookedonlattes
Sunday, March 13th: Instagram: @onnikkisbookshelf
Tuesday, March 15th: Instagram: @world_of_a_book_enthusiast
Wednesday, March 16th: Instagram: @7goodbooks
Thursday, March 17th: Instagram: @a_book_read_in_jersey
Friday, March 18th: Instagram: @cmtloveswineandbooks
Saturday, March 19th: Instagram: @christinasreadingadventure
Sunday, March 20nd: Instagram: @mary.mary_library
Monday, March 21st: Instagram: @catchybooknook
Tuesday, March 22nd: Instagram: @bookish_meaghan
Saturday, March 26th: Instagram: @baytownbookie
Sunday, March 27th: Instagram: @plotsandwine
Monday, March 28th: Instagram: @more.books.yes.please
Thursday, March 31st: Instagram: @everything.is.words
Friday, April 1st: Instagram: @felines_and_felonies
Wednesday, April 6th: Instagram: @bookishlybecky
Thursday, April 7th: Instagram: @biblioreviews
Thursday, April 7th: Instagram: @books_by_bethany
Thursday, April 7th: Instagram: @readitandlovedit
Tuesday, April 12th: Instagram: @abduliacoffeebookaddict23