___________________________
Grace Secures What Striving Cannot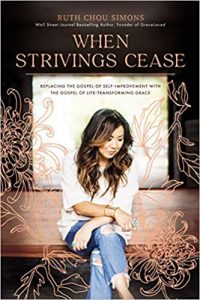 When Strivings Cease: Replacing the Gospel of Self-Improvement with the Gospel of Life-Transforming Grace
by Ruth Chou Simons
In this hustling, image-forward age of opportunity, we feel more anxious than ever. Despite all the affirming memes and self-reflections that dominate social media feeds, approval and worth often seem assigned to what we do rather than who we are. And we end up constantly feeling like we're behind, lacking, and failing—at home, at work, with friends, with God.
Ruth Chou Simons knows something about feeling measured by achievement, performance, and the approval of others. As a Taiwanese immigrant growing up between two cultures, Ruth was always on a mission to prove her worth, until she came to truly understand the one thing that changes everything: the extravagant, undeserved gift of grace from a merciful God. In When Strivings Cease, Ruth guides you on a journey to find freedom from the never-ending quest for self-improvement. She shows you how to
confront the ways you look to superficial means of acceptance and belonging;
find relief in realizing self-help isn't the answer because you can't be so amazing that you won't need grace;
stop seeing God as someone to perform for and start finding delight in responding to his welcome; and
let go of trying to rely on your own strength, your own abilities, and your own savvy by truly understanding the freedom Jesus purchased for you.
With personal stories, biblical insights, practical applications, and touches of original artwork by Ruth, this transformational book helps you see the beautiful truth that God's favor is the only currency you need—because in Christ you are enough.

Purchase Links
___________________________
Faith, family, hard work, and second chances are at the core of every great American story, and Jenny Doan's story is just that.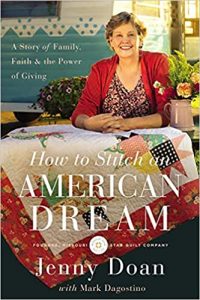 How to Stitch an American Dream: A Story of Family, Faith and the Power of Giving by Jenny Doan
In her new memoir, How to Stitch an American Dream, readers will discover the behind-the-scenes success story of the Missouri Star Quilt Company and Jenny's remarkable journey to overcome hardship, claim the abundance of family, and ignite the power of giving—all while revitalizing a small town along the way.
Over the last decade, the Doan family business, the Missouri Star Quilt Company in tiny Hamilton, Missouri, has grown from Jenny's corner shop–with one quilting machine and two bolts of fabric for sale in the back–to become the largest supplier of pre-cut quilting fabric in the headquarters of Jenny's world-famous YouTube tutorial videos.
Jenny is now giving her fans, the business world, and moms of all ages (and grandmas too!) what they've been asking for: the full story of her journey, from her humble beginnings as a homeschooling mom, to founding MSQC in her fifties, through the remarkable success and inspiration she's so well-known for today. In this book, you'll learn:
How she and her beloved husband, Ron, raised seven children on a shoestring budget— and had fun doing it;
How, after a string of bad luck, the family made a prayer-based decision to leave California behind and start over again in rural Missouri, even though they had no place to live, no jobs lined up, and no idea how they were going to make it;
How Jenny, Ron and their children worked side-by-side to patch together a family home out of a crumbling shell of a farmhouse;
And how their faith, hard work, and generosity not only carried them through the hard times, but led directly to the success of the Missouri Star Quilt Company.
How to Stitch an American Dream will make you laugh, cry, say "bless your heart."

Purchase Links
___________________________
There is no secret formula to experiencing the sacred in our lives–it just takes practice and practicality.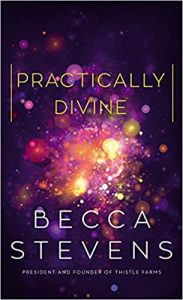 Practically Divine by Becca Stevens
No matter where we are—on a walk in the woods, in a sacred building, or in a dusty refugee camp—signs of love abound. When we allow ourselves to embrace both ordinary and extraordinary experiences, we can feel the divine anywhere.
You're invited to search this path with Becca Stevens, as she explores what it means to be practically divine. Woven throughout the narrative strands are poetry and rants, as well as ruminations on her mother's wit and wisdom—and the passion she instilled in Becca for creating something from nothing.
Embracing the practically divine compels us to do something, anything, to share in the feast of love together. When we start from wherever we are, we can recognize the potential for humor, wonder, and freedom.
Experience is nine-tenths of love.
Standing in a geranium field, smelling dark soil fertilized by rabbit poop is different from reading about the healing properties of geraniums. Walking beside a woman in a refugee camp as she covers her baby's face from the dry, red dust is different than imagining how hard it is for moms in camps.
Our senses transform information into holy compassion. When we open our hearts to it, we can experience the divine anywhere – like sacred breadcrumbs marking our path. This path is filled with humor, humility, and honesty.
We can all learn to live a life that's practically divine by:
Redefining old lies and stories, to learn from the past
Appreciating the gifts that come from imperfections or trauma
Using creativity to spark new revolutions
Accepting the chaos of the unknown before us with courage
Sharing in a feast of love, knowing there's enough mercy and forgiveness

Purchase Links
______________________________________________
New York Times bestselling author Kathie Lee Gifford reveals heartwarming, entertaining conversations between people and personalities who both agree and disagree about who Jesus is, his role throughout history, and his presence in our lives today.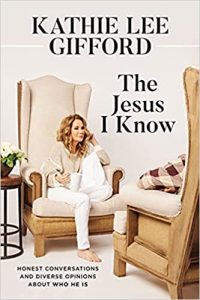 The Jesus I Know: Honest Conversations and Diverse Opinions about Who He Is by Kathie Lee Gifford
For decades Kathie Lee has had deep conversations about her faith with anyone who is interested in talking about it. What she discovered early on is most people are very willing to talk about Jesus: atheists, agnostics, Scientologists, Jews, broken-hearted Catholics, confused Baptists, Pentecostals, Sikhs, Buddhists, and Hindus alike.
While some of the people Kathie Lee has spoken with do not share her belief that Jesus is the Messiah–as prophesied for centuries by prophets in the Hebrew scriptures–they nonetheless have a universal fascination with Him. This singular man who lived more than two thousand years ago, and never traveled more than one hundred miles from where He was born, managed to change the entire world. Even the way we delineate history (BC/AD) comes from His short thirty-three years of life.
In The Jesus I Know, Kathie Lee shares cherished conversations that she's had with others who find Jesus to be an ancient historical figure who somehow continues to be an undeniably magnetic, relevant presence in the modern world. Those conversations include
actors like Kristin Chenoweth and Cynthia Garrett, with stories of Craig Ferguson and Kevin Costner,
newsmakers and news personalities like Kris Jenner, Megyn Kelly, Jason Kennedy, and Janice Dean,
performers like Chynna Phillips Baldwin, Brian Welch, Jimmy Allen, and Jimmy Wayne,
hitmakers like Louis York and David Pomeranz,
as well as those coming from other faith traditions.
Using Kathie Lee's favorite Scripture passages as scaffolding, these thought-provoking exchanges will bring His teachings to life before your very eyes.

Purchase Links
______________________________________________

Please fill out our super short registration form (click the "Enter Now" button above) by December 31st  for a chance to win a set of up to ten copies of one of these great books for your book club! We will randomly choose a winner at the end of the month. This giveaway is open to clubs in the US only (our apologies to friends in other countries). 
Best of luck!
We 
LOVE

 Book Clubs!