___________________________
Return to USA Today bestselling author Felicity Hayes-McCoy's Finfarran Peninsula with this enchanting novel in the vein of Jenny Colgan, Maeve Binchy, and Nancy Thayer—humming with the rhythms of modern rural Irish life—in which librarian Hanna Casey and her family and friends face new challenges and possibilities.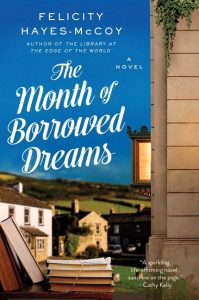 The Month of Borrowed Dreams by Felicity Hayes-McCoy
"A sparkling, life-affirming novel—sunshine on the page."—Cathy Kelly
"Heartwarming."—Irish Independent
On the Finfarran Peninsula on Ireland's west coast, the blue skies and warmer days of summer are almost here. At the Lissbeg Library, Hanna Casey has big plans for the long days ahead. Beginning with the film adaptation of Brooklyn, she's starting a cinema club, showing movies based on popular novels her friends and neighbors love.
But the drama that soon unfolds in this close-knit seaside village rivals any on the screen.
Just when Lissbeg begins to feel like home, an unexpected twist leaves Hanna's daughter, Jazz, reeling and may send her back to London.
Aideen worries that her relationship with Conor won't survive the pressures of their planned double wedding with overbearing Eileen and manipulative Joe.
Saira Khan throws herself into helping a troubled new arrival to Finfarran.
Hanna enjoys getting closer to Brian until her ex-husband Malcolm returns, threatening her newfound contentment.
As the club prepares for the first meeting of the summer, they'll all face difficult choices. But will they get the happy endings they deserve?

Purchase Links
___________________________
Set in a 21st century Southeast Asian port city where spirits still linger – book clubs will love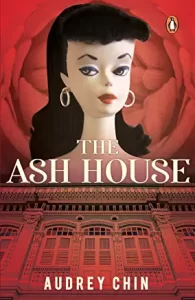 The Ash House by Audrey Chin
A clairvoyant nun must uncover the secrets of an enigmatic pipa-playing spirit to save a haunted merchant family and their century-old ancestral home.
The Tjoa ash house originally intended for ancestral tablets has stood at the top of Kota Cahaya's exclusive Green Hill for a century. Now, it is all drooping lintels and sagging roof; a haunted house with a haunted heir in it—Arno Tjoa, a Barbie-doll fixated cripple whom Sister Mary Michael, the clairvoyant nun, has been sent to set free. Arno believes that Bing Fa—the fascinating spirit of a pipa-diva trapped in a ghost marriage to his grandfather—is the key to solving the misfortunes plaguing the house. All will be well with Girl, the comatose maid he is obsessed with, Irene Tjoa his controlling aunt, and the Tjoa fortunes if Bing Fa is released from her doll-house prison. However, as the family's skeletons are unearthed, the nun realizes it is not in her power to save everyone or everything. Who must be sacrificed? What must be left to turn to dust?
Set in a 21st century Southeast Asian port city where spirits still linger, The Ash House weaves between the visible and invisible to tell the story of an overseas-Chinese merchant family haunted by the legacy of love gone wrong, with an ending both unexpected and heartbreaking.

Purchase Links
___________________________
The Thing Beneath the Thing helps readers to identify and then heal from past wounds that have kept them from reaching their full potential and the life of freedom that Jesus has promised every believer.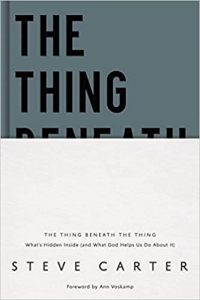 The Thing Beneath the Thing by Steve Carter
Every driver knows the importance of avoiding potholes when navigating a route. Besides the uncomfortable bump, they can create permanent damage to vehicles. And left untended, potholes can evolve into sinkholes that endanger entire roadway systems.
The same is true of our lives. We all have potholes that have been formed by pain, trauma, or choices that we've made. What do we do? Usually we find a quick fix, filling the hole with activities and even addictions disguised as culturally acceptable life choices. But before long, the hole is back, waiting to catch us off-guard, which in the end creates even more permanent damage.
In The Thing Beneath the Thing, former Willow Creek Community Church lead teaching pastor Steve Carter asks the simple question, "How is life working for you?" He knows that potholes exist and that the longer we live disconnected from answering this question, the more we will fill those holes with harmful choices. The solution? Allow God to fill them with His grace and love so that we can discover the beauty of grace, peace, and wholeness He has for us.
The process lies in discovering our
triggers: the setup that sets us off
hideouts: where we go to escape the pain of our story
insecurities: the false stories we create about ourselves
narratives: the false stories we create about others
grace: the place where we discover how to become whole, holy, and spiritually healthy
Journey with a seasoned fellow traveler who has learned how to ask key questions that help unlock the places where we've buried things. Then dig deep, invite healing, and learn new ways to operate so that we may begin to experience the life of freedom Jesus has promised us.

Purchase Links
___________________________
Develop, expand, and share your gifts as a leader to inspire others to use their own individual talents in extraordinary ways—from one of the country's most sought-after motivational speakers with a 30+ year career in franchise development.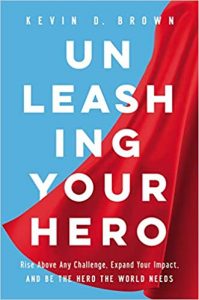 Unleashing Your Hero: Rise Above Any Challenge, Expand Your Impact, and Be the Hero the World Needs by Kevin D. Brown
In Unleashing Your Hero, renowned speaker Kevin Brown shares how the heroes who transformed his life are people just like you. People who stepped up and used their talents to make a positive difference within the hectic moments of everyday life. The same person your employees are looking to and trusting in for guidance and support.
Through his real-life examples and stories, Kevin will:
Provide you with a new definition of what it means to be a hero who inspires others to rise above and beyond in extraordinary ways.
Unpack the four characteristics of a hero, based on the entertaining and enlightening true stories of heroes who entered and forever enriched his life.
 Help you recognize the extraordinary gifts within you and learn how to share those gifts to make life better for yourself and those you influence.
The unconventional yet probable path to business and personal success outlined in Unleashing Your Hero will help you and those you lead build extraordinary, fulfilling, impactful lives—at a time when your employees and your organization need the hero within you more than ever.

Purchase Links
___________________________
Uncovering a dark family secret sends one woman through the history of Britain's World War II spy network and glamorous 1930s Paris to save her family's reputation.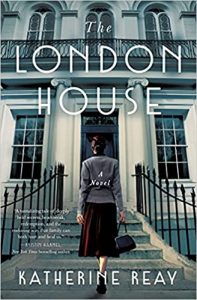 The London House by Katherine Reay
Caroline Payne thinks it's just another day of work until she receives a call from Mat Hammond, an old college friend and historian. But pleasantries are cut short. Mat has uncovered a scandalous secret kept buried for decades: In World War II, Caroline's British great-aunt betrayed family and country to marry her German lover.
Determined to find answers and save her family's reputation, Caroline flies to her family's ancestral home in London. She and Mat discover diaries and letters that reveal her grandmother and great-aunt were known as the "Waite sisters." Popular and witty, they came of age during the interwar years, a time of peace and luxury filled with dances, jazz clubs, and romance. The buoyant tone of the correspondence soon yields to sadder revelations as the sisters grow apart, and one leaves home for the glittering fashion scene of Paris, despite rumblings of a coming world war.
Each letter brings more questions. Was Caroline's great-aunt actually a traitor and Nazi collaborator, or is there a more complex truth buried in the past? Together, Caroline and Mat uncover stories of spies and secrets, love and heartbreak, and the events of one fateful evening in 1941 that changed everything.
In this rich historical novel from award-winning author Katherine Reay, a young woman is tasked with writing the next chapter of her family's story. But Caroline must choose whether to embrace a love of her own and proceed with caution if her family's decades-old wounds are to heal without tearing them even further apart.
Praise for The London House:
"Carefully researched, emotionally hewn, and written with a sure hand, The London House is a tantalizing tale of deeply held secrets, heartbreak, redemption, and the enduring way that family can both hurt and heal us. I enjoyed it thoroughly." —Kristin Harmel, New York Times bestselling author of The Forest of Vanishing Stars and The Book of Lost Names
"An expertly researched and marvelously paced treatise on the many variants of courage and loyalty . . . Arresting historical fiction destined to thrill fans of Erica Roebuck and Pam Jenoff." —Rachel McMillan author of The London Restoration and The Mozart Code
A stand-alone split-time novel
Partially epistolary: the historical storyline is told through letters and journals
Book length: approximately 102,000 words
Includes discussion questions for book clubs

Purchase Links
___________________________
A map into the past. A long-lost young woman. And a thirty-year family mystery.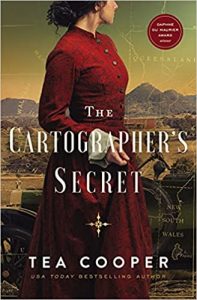 The Cartographer's Secret by Tea Cooper
The Hunter Valley, 1880—Evie Ludgrove loves to chart the landscape around her home—hardly surprising since she grew up in the shadow of her father's obsession with the great Australian explorer Dr. Ludwig Leichhardt. So when an advertisement appears in The Bulletin magazine offering a thousand-pound reward for proof of where Leichhardt met his fate, Evie is determined to use her father's papers to unravel the secret. But when Evie sets out to prove her theory, she vanishes without a trace, leaving behind a mystery that haunts her family for thirty years.
1911—Letitia Rawlings arrives at the family estate in her Ford Model T to inform her great-aunt Olivia of a loss in their family. But Letitia is also escaping her own problems—her brother's sudden death, her mother's scheming, and her dissatisfaction with the life planned out for her. So when Letitia discovers a beautifully illustrated map that might hold a clue to the fate of her missing aunt, Evie Ludgrove, she sets out to discover the truth. But all is not as it seems, and Letitia begins to realize that solving the mystery of her family's past could offer as much peril as redemption.
A gripping historical mystery for fans of Kate Morton and Natasha Lester's The Paris Seamstress, The Cartographer's Secret follows a young woman's quest to heal a family rift as she becomes entangled in one of Australia's greatest historical puzzles.
"The Cartographer's Secret is a galvanizing, immersive adventure following a family's entanglement with a vanished Australian explorer through the lush Hunter Valley at the turn of the twentieth century, forcing the characters to reckon with the choice found at the crux of passion and loyalty and the power of shared blood that can either destroy or heal." —Joy Callaway, international bestselling author of The Fifth Avenue Artists Society and The Greenbrier Resort
Daphne du Maurier Award Winner, 2021
Historical story with both romance and mystery
Full-length, stand-alone novel (c. 104,000 words)
Includes discussion questions for book clubs

Purchase Links
___________________________
From the celebrated author of The Unfinished Child
comes a heartbreaking new novel about families torn apart by race and sex.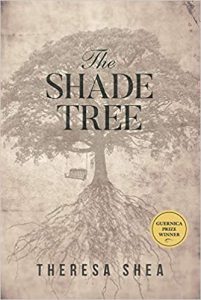 The Shade Tree by Theresa Shea
2020 Guernica Prize Winner
When the lies of thirteen-year-old Ellie Turner cause a black man's lynching in 1930s Florida, her younger sister Mavis begins to question the family's long-held beliefs about race. At the same time, the novel focuses on the courageous story of Sliver, a black midwife whose love for her grandson forces her to make a dramatic decision involving the future of her family. As the novel progresses through the decades, the lives of the three women merge, troubling family secrets are revealed, and the characters must make difficult, life-changing decisions about where their loyalties lie: with their biological families or with a greater moral cause.
From a Florida orange grove in the 1930s to the seat of power in Washington, DC, during the height of the civil rights movement, The Shade Tree tells a sweeping yet intimate story of racial discrimination and the human hunger for justice.
"The Shade Tree is brutally personal, heartbreakingly political – and remarkably written." Joan Barfoot, Man Booker Prize nominated author of Exit Lines and Luck

Purchase Links
___________________________
Grace Secures What Striving Cannot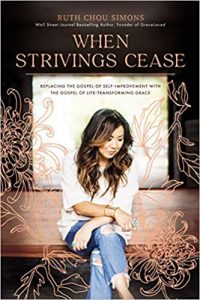 When Strivings Cease: Replacing the Gospel of Self-Improvement with the Gospel of Life-Transforming Grace
by Ruth Chou Simons
In this hustling, image-forward age of opportunity, we feel more anxious than ever. Despite all the affirming memes and self-reflections that dominate social media feeds, approval and worth often seem assigned to what we do rather than who we are. And we end up constantly feeling like we're behind, lacking, and failing—at home, at work, with friends, with God.
Ruth Chou Simons knows something about feeling measured by achievement, performance, and the approval of others. As a Taiwanese immigrant growing up between two cultures, Ruth was always on a mission to prove her worth, until she came to truly understand the one thing that changes everything: the extravagant, undeserved gift of grace from a merciful God. In When Strivings Cease, Ruth guides you on a journey to find freedom from the never-ending quest for self-improvement. She shows you how to
confront the ways you look to superficial means of acceptance and belonging;
find relief in realizing self-help isn't the answer because you can't be so amazing that you won't need grace;
stop seeing God as someone to perform for and start finding delight in responding to his welcome; and
let go of trying to rely on your own strength, your own abilities, and your own savvy by truly understanding the freedom Jesus purchased for you.
With personal stories, biblical insights, practical applications, and touches of original artwork by Ruth, this transformational book helps you see the beautiful truth that God's favor is the only currency you need—because in Christ you are enough.

Purchase Links
___________________________
Three friends, two secrets, one love–and the journey of a lifetime.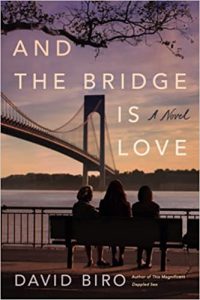 And The Bridge is Love by David Biro
Three friends, two secrets, one love–and the journey of a lifetime.
Every week for twenty years, three friends meet in a leafy enclosure under the Verrazzano Bridge: Gertie, a feisty Norwegian divorcée and former athlete; Maria, a family-obsessed Italian American widow; and Corinna, a book-loving, hash-smoking eccentric. Together they sit and watch the sea as the ships–and the last years of their lives–sail by. On the eve of Gertie's eightieth birthday, they realize that time is running out. Gertie decides she wants to travel the world. Maria secretly plots to reunite Gertie and Corinna with their estranged families. And Corinna falls in love.
As the three women strike out in different directions, a series of events unfolds that threatens to destroy the most precious thing of all: their friendship. Heartfelt and humorous, And the Bridge Is Love invites readers to travel alongside these dynamic women in this inspiring novel about love, family, and forgiveness.

Purchase Links
___________________________
5-Star Career: Define and Build Yours Using the Science of Quality Management provides common sense, strategic context for personally implementing quality concepts that reflect your goals as well as your own definition of a 5-star life and career.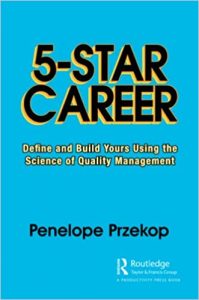 5-Star Career: Define and Build Yours Using the Science of Quality Management by Penelope Przekop
We live in a world obsessed with ratings. We prefer to purchase 5-star products, read 5-star books, eat at 5-star restaurants, and watch 5-star movies. "If you want 5-star everything, you damn sure should get a 5-star quality career," declares Penelope Przekop, an internationally recognized quality assurance expert who has worked with Fortune 100 pharmaceutical companies for over 30 years. In 5-Star Career: Define and Build Yours Using the Science of Quality Management, she shows how to apply the science of quality management to drive personal success and get the most satisfaction from day-to-day work—no matter what type of job you have or want, your skill or educational level, or your age—which will, in turn, improve your quality of life.
Przekop's approach to personal development and achievement differs from the inspirational approaches that emphasize positive thinking and perseverance. It's backed by rigorous research, principles, and practices that have been proven repeatedly in multiple industries across the globe as well as in her own professional journey. While struggling to overcome a troubling childhood, become the best version of herself, and build a career, Przekop began incorporating quality management concepts into her personal thought process at home and at work. As a result, she found what proved to be "the missing link" between all her hard work and feeling rewarded.
Practical and encouraging, 5-Star Career starts with a straightforward explanation and engaging history of the science of quality management, then focuses on personal application. Among its fundamental components and career-and-life changing revelations, readers will learn:
Why their career is a product created by their process—and how to improve that process by learning to manage all the parts as an integrated, unified whole.
• Why they're both the customer who wants a quality career and the only person with the power to manufacture it—and how to maximize that customer-manufacturer relationship.
• How to clearly define what a quality career means—it's not just about money—and shift their personal philosophy, mindset, and operating system to support its development.
• The critical role of data-driven decisions in producing a 5-star career—and how to avoid impulsive leaps, be honest with themselves, and move forward with the data they have.
• How to strategize for quality: defining a concrete plan of action to achieve their aim and thinking strategically as they execute that plan, which might not always go smoothly.
• Why they are 100 percent responsible for the quality of their career and life—and how to choose continuous improvement over continuous movement, plus more.
Industries across the globe manufacture products and provide services that you deem 5-star worthy; their goal is to satisfy your needs and desires. They follow the proven science of quality management to make that happen because it makes common sense, and its effectiveness is irrefutable. 5-Star Career: Define and Build Yours Using the Science of Quality Management provides common sense, strategic context for personally implementing quality concepts that reflect your goals as well as your own definition of a 5-star life and career.

Purchase Links
___________________________
Faith, family, hard work, and second chances are at the core of every great American story, and Jenny Doan's story is just that.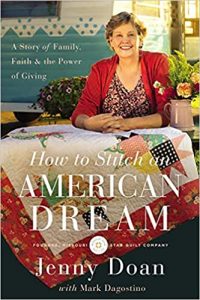 How to Stitch an American Dream: A Story of Family, Faith and the Power of Giving by Jenny Doan
In her new memoir, How to Stitch an American Dream, readers will discover the behind-the-scenes success story of the Missouri Star Quilt Company and Jenny's remarkable journey to overcome hardship, claim the abundance of family, and ignite the power of giving—all while revitalizing a small town along the way.
Over the last decade, the Doan family business, the Missouri Star Quilt Company in tiny Hamilton, Missouri, has grown from Jenny's corner shop–with one quilting machine and two bolts of fabric for sale in the back–to become the largest supplier of pre-cut quilting fabric in the headquarters of Jenny's world-famous YouTube tutorial videos.
Jenny is now giving her fans, the business world, and moms of all ages (and grandmas too!) what they've been asking for: the full story of her journey, from her humble beginnings as a homeschooling mom, to founding MSQC in her fifties, through the remarkable success and inspiration she's so well-known for today. In this book, you'll learn:
How she and her beloved husband, Ron, raised seven children on a shoestring budget— and had fun doing it;
How, after a string of bad luck, the family made a prayer-based decision to leave California behind and start over again in rural Missouri, even though they had no place to live, no jobs lined up, and no idea how they were going to make it;
How Jenny, Ron and their children worked side-by-side to patch together a family home out of a crumbling shell of a farmhouse;
And how their faith, hard work, and generosity not only carried them through the hard times, but led directly to the success of the Missouri Star Quilt Company.
How to Stitch an American Dream will make you laugh, cry, say "bless your heart."

Purchase Links
___________________________
There is no secret formula to experiencing the sacred in our lives–it just takes practice and practicality.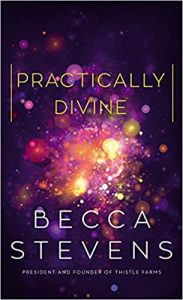 Practically Divine by Becca Stevens
No matter where we are—on a walk in the woods, in a sacred building, or in a dusty refugee camp—signs of love abound. When we allow ourselves to embrace both ordinary and extraordinary experiences, we can feel the divine anywhere.
You're invited to search this path with Becca Stevens, as she explores what it means to be practically divine. Woven throughout the narrative strands are poetry and rants, as well as ruminations on her mother's wit and wisdom—and the passion she instilled in Becca for creating something from nothing.
Embracing the practically divine compels us to do something, anything, to share in the feast of love together. When we start from wherever we are, we can recognize the potential for humor, wonder, and freedom.
Experience is nine-tenths of love.
Standing in a geranium field, smelling dark soil fertilized by rabbit poop is different from reading about the healing properties of geraniums. Walking beside a woman in a refugee camp as she covers her baby's face from the dry, red dust is different than imagining how hard it is for moms in camps.
Our senses transform information into holy compassion. When we open our hearts to it, we can experience the divine anywhere – like sacred breadcrumbs marking our path. This path is filled with humor, humility, and honesty.
We can all learn to live a life that's practically divine by:
Redefining old lies and stories, to learn from the past
Appreciating the gifts that come from imperfections or trauma
Using creativity to spark new revolutions
Accepting the chaos of the unknown before us with courage
Sharing in a feast of love, knowing there's enough mercy and forgiveness

Purchase Links
___________________________

Please fill out our super short registration form (click the "Enter Now" button above) by November 30th for a chance to win a set of up to ten copies of one of these great books for your book club! We will randomly choose a winner at the end of the month. This giveaway is open to clubs in the US only (our apologies to friends in other countries). 
Best of luck!
We 
LOVE

 Book Clubs!