About Hidden Treasures
• William Morrow (December 7, 2021)
• Hardcover (336 pages)
A reunited couple search for a valuable treasure, a precious jewelry box, stolen from the Nazis and hidden away since World War II, in this powerfully emotional and romantic novel of rekindled love—perfect for fans of Jodi Picoult, Josie Silver, and Jill Santopolo.
Then…
Once upon a time, in a small village in southern France, a pretty, willful English girl is falling in love. Frances Langley has fallen under Benoit's romantic spell, so sure is she that he is everything she's ever wanted—a self-assured, sexy man, experienced and just a little bit mysterious. But Frances is hiding a secret—one that would surely separate them if he ever knew the truth. And to hold on to his love, she is willing to do anything for him, even put herself at risk by hiding a precious object, stolen by the Nazis decades before.
Now…
Years later, Frances's son, Harry, opens the door of his late mother's home, never expecting to see Tabitha—the lost love of his life—on the other side. Their angry parting had broken his heart, but now she holds a letter, sent by his mother just before her death, begging the pair to search—together—for a priceless jewelry box, hidden somewhere in her little Cotswold cottage.
Harry quickly dismisses the search, but as an art historian, Tabitha cannot risk the chance to recover something so valuable that was long thought to be lost. And so they embark on a journey of discovery, but soon find themselves searching for much more than a missing piece of art. Together they learn that the true riches are not those buried in the clutter of Francis's cottage, but are instead the treasures they each hold, buried deep inside their hearts.
Social Media
Please use the hashtag #HiddenTreasures and tag @tlcbooktours, @williammorrowbooks, and @madamswriter.

Purchase Links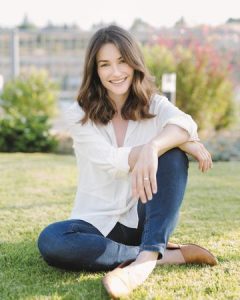 About Michelle Adams
Michelle is a writer and novelist. She is the author of two psychological thrillers, My Sister (2017) and Between The Lies (2018), and now writes heartwarming women's fiction. Her debut women's fiction title, Little Wishes will be released in November 2020, and will be followed in 2021 by Hidden Treasures.
Michelle contributed to the 2020 anthology about motherhood, The Best Most Awful Job with an essay entitled Learning To Be A Mother, an account of her experience with adoption.
Her novels have sold in 20 territories, including UK, US, Germany, Greece, and China. She has also written for The Guardian newspaper and The Daily Mail.
Michelle is British, but now lives in Limassol, Cyprus, with her husband and their children.
Learn more about Michelle on her website and Instagram.
Instagram Features
Tuesday, December 7th: Instagram: @rozierreadsandwine
Friday, December 10th: Instagram: @audreyoaksreadseverything
Saturday, December 11th: Instagram: @no.bookend.in.sight
Sunday, December 12th: Instagram: @readalotwritealot
Tuesday, December 14th: Instagram: @wonderousreads
Wednesday, December 15th: Instagram: @irishgirliereads
Monday, December 13th: Instagram: @erinevelynreads
Monday, December 31st: Instagram: @everything.is.words