To get your book club in the mood for the holidays, we have gathered up some wonderful titles for this special CHRISTMAS IS COMING book club giveaway!
______________________________________________
USA Today bestselling author Annie Rains returns to Somerset Lake, North Carolina, with a heartwarming Christmas story about a midwife and her ex-fiance who face high stakes when they must team up to compete in the neighborhood house decorating contest, in this trade paperback that will help get readers in the holiday spirit.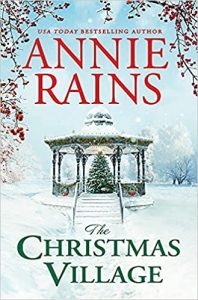 The Christmas Village (Somerset Lake, 2) by Annie Rains
Once upon a Christmas, she gave him her heart. This year, he'll have to win it back again . . .
When Lucy Hannigan returned to her childhood home in Somerset Lake, one of the first things she did was join the local book club. And thank goodness, because now that Lucy's first Christmas without her mother is bearing down upon her, she can use all the help and support she can get.  Especially when she has to take in a tenant and the only person interested is Miles Bruno, her ex-fiance.
Lucy's friends keep teasing her about the way Miles is trying to make up for his mistakes but forgiving and forgetting isn't coming easily to Lucy. With bills piling up and her mother's finances in disarray, however, Lucy isn't in any position to say no.
As the small town prepares for the holidays and competition heats up in the Merriest Lawn decorating contest, Lucy can't help feeling like a Scrooge. Her mom loved the holidays and won the contest each year, but as much as Lucy would like to carry on the tradition, she isn't sure she has it in her to deck the halls this holiday.
Yet when Miles shows up with tons of tinsel, dozens of decorations, and lots and lots of lights, Lucy begins to wonder if maybe the spirit of the season will finally mend her broken heart.

Purchase Links
______________________________________________
New York Times bestselling author Kathie Lee Gifford reveals heartwarming, entertaining conversations between people and personalities who both agree and disagree about who Jesus is, his role throughout history, and his presence in our lives today.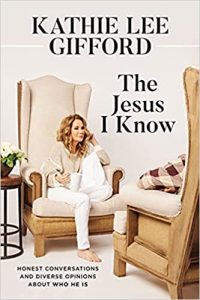 The Jesus I Know: Honest Conversations and Diverse Opinions about Who He Is by Kathie Lee Gifford
For decades Kathie Lee has had deep conversations about her faith with anyone who is interested in talking about it. What she discovered early on is most people are very willing to talk about Jesus: atheists, agnostics, Scientologists, Jews, broken-hearted Catholics, confused Baptists, Pentecostals, Sikhs, Buddhists, and Hindus alike.
While some of the people Kathie Lee has spoken with do not share her belief that Jesus is the Messiah–as prophesied for centuries by prophets in the Hebrew scriptures–they nonetheless have a universal fascination with Him. This singular man who lived more than two thousand years ago, and never traveled more than one hundred miles from where He was born, managed to change the entire world. Even the way we delineate history (BC/AD) comes from His short thirty-three years of life.
In The Jesus I Know, Kathie Lee shares cherished conversations that she's had with others who find Jesus to be an ancient historical figure who somehow continues to be an undeniably magnetic, relevant presence in the modern world. Those conversations include
actors like Kristin Chenoweth and Cynthia Garrett, with stories of Craig Ferguson and Kevin Costner,
newsmakers and news personalities like Kris Jenner, Megyn Kelly, Jason Kennedy, and Janice Dean,
performers like Chynna Phillips Baldwin, Brian Welch, Jimmy Allen, and Jimmy Wayne,
hitmakers like Louis York and David Pomeranz,
as well as those coming from other faith traditions.
Using Kathie Lee's favorite Scripture passages as scaffolding, these thought-provoking exchanges will bring His teachings to life before your very eyes.

Purchase Links
______________________________________________
An enchanted Christmas dress brings two generations of women together for the magic of the season in this delightful holiday story from New York Times bestselling author Courtney Cole.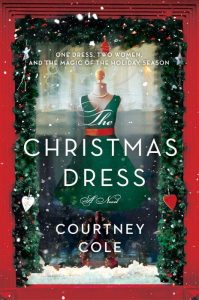 The Christmas Dress by Courtney Cole
One Dress. Two Women. The Magic of the Holiday Season.
When hopeful fashionista Meg Julliard must return to her hometown of Chicago to manage her late father's apartment building, she thinks her dreams of making it in the fashion business are over. Add in her father's eclectic roster of tenants who all need Meg's attention (ASAP!), a host of building related disasters, and a handsome handyman she keeps embarrassing herself in front of, and this has all the makings for the worst Christmas she's ever had.
Ellie Wade, one of the building's longtime residents, is also not feeling the Christmas Joy this year. She is preparing to move into a nursing home (reluctantly), and is in the process of sorting through her belongings to downsize. Every corner of her apartment holds memories, some good, some bad. But there's one dress she hesitates to pack up as it represents both the best and worst night of her life.
Ellie and Meg strike up an unlikely friendship and the story of Ellie's dress comes out. Ellie gifts the gorgeous dress to Meg, hoping that it will bring her more luck, on the condition that she wear it to the building's Christmas party.
The dress magically fits, and while it eventually leads to the best night of Meg's life, it also acts as inspiration for Meg to follow a life-long dream of her own, a dream that will help save the crumbling Parkview West, and restore it to its former glory, and keep it as a safe home for all of the current tenants.
The dress and the magic of the holiday season helps both Meg and Ellie find their own happy endings.

Purchase Links
______________________________________________
From four beloved writers—Eloisa James, Christi Caldwell, Janna MacGregor, and Erica Ridley—come four original stories that tell a hilarious tale of a Christmas house party that serves up love and scandal in equal measure!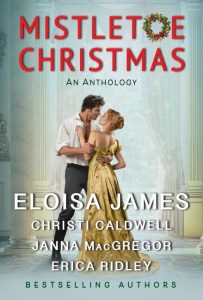 Mistletoe Christmas by Eloisa James, Christi Caldwell, Janna MacGregor, and Erica Ridley
The Duke of Greystoke's Christmas Revelry is famous throughout the British Isles for its plays, dancing, magical grotto… not to mention scandals leading to the marriage licenses he hands out like confetti.
But not everyone welcomes a visit from Cupid.
Lady Cressida, the duke's daughter, is too busy managing the entertainments—and besides, her own father has called her dowdy. Her cousin, Lady Isabelle Wilkshire, is directing Cinderella and has no interest in marriage. Lady Caroline Whitmore is already (unhappily) married; the fact that she and her estranged husband have to pretend to be together just makes her dread the party all the more.  But not as much as Miss Louisa Harcourt, whose mother bluntly tells her that this is her last chance to escape the horrors of being an old maid.
A house party so large that mothers lose track of their charges leads to a delightful, seductive quartet of stories that you will savor for the Season!

Purchase Links
______________________________________________
New York Times bestselling author Lori Wilde returns to Twilight, Texas, with a love story filled with the magic of the season, about a couple who discover an abandoned baby on Christmas Eve-Eve.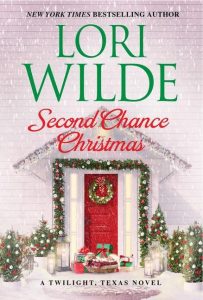 Second Chance Christmas by Lori Wilde
It's Christmastime in Twilight, TX. The lights are twinkling, carols are being sung, and the cookies are baking. And this year, best friends Joel and Jana discover a shocking surprise: as they are organizing the living Nativity, they find a sweet little baby in the manger with a note saying the mother will return…soon.
Jana tucks the infant into her arms, and she and Joel make the impulsive decision to take the baby home. Jana is spontaneous, Joel is a planner, but they agree that it's better to care for this precious bundle for the holidays, in hopes that the mother really will come back by New Year's.
As the days pass, the pair begins to fall in love with the child and they're also forced to face facts: their relationship goes far deeper than friendship. As the spirit of Christmas—and the magic of Twilight, TX—takes over, this unlikely couple must open up to the feelings they've been hiding from each other all along.

Purchase Links
______________________________________________
52 Little Lessons from It's a Wonderful Life will inspire you to live for the deeper stuff that, as George Bailey finds, matters most.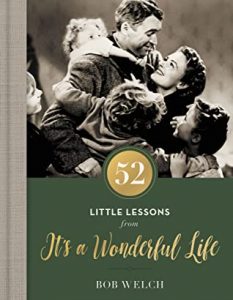 52 Little Lessons from It's a Wonderful Life by Bob Welch
Do you pay a visit to Bedford Falls every Christmas? Does December feel incomplete without a reminder that "no man is a failure who has friends"? If George and Mary Bailey are annual guests at your home during the holidays, you already know that It's A Wonderful Life is far more than just a festive seasonal film. It's a reflection of what we can be when we're at our best and a reminder that our lives can change everyone around us–for better or worse. Revisit the defining lessons in Frank Capra's 1946 classic, and discover new dimensions of the film you've seen time and again. What can you learn from Mary's quiet contentedness? Does George's selflessness make you rethink your own priorities? And how about Clarence's dogged commitment to his assignment? Join author Bob Welch for a close-up of the characters and themes that shape this beautiful story. You'll be reminded that life's most important work is often the work we never planned to do and that God can use the most unlikely among us to get the job done. From the lightheartedness of George and Mary's floor-parting dance to the poignancy of a community that rallies to save a desperate man, 52 Little Lessons from It's a Wonderful Life will inspire you to live for the deeper stuff that, as George Bailey finds, matters most.

Purchase Links
______________________________________________
Revisit the "heartfelt and delightful!" (RaeAnne Thayne, New York Times bestselling author) town of Harmony Harbor with the very first book in this fan-favorite series.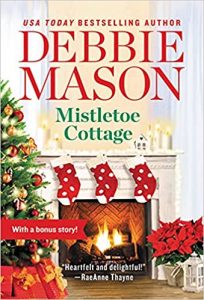 Mistletoe Cottage (Harmony Harbor, 1) by Debbie Mason
Sophie DiRossi loved growing up in Harmony Harbor. But after fleeing in disgrace many years ago, it is the last place she wants to be. Left homeless by a fire, she's forced to go back to the small coastal town that harbors a million secrets, including her own. Sophie sees this secret reflected every day in her daughter's blue eyes-and she must keep it hidden from the only man she has ever loved.
Sophie's return is a shock for everyone . . . especially Liam Gallagher. The firefighter had some serious feelings for Sophie-and seeing her again sparks a desire so fierce it takes his breath away. Now Liam will do whatever it takes to show Sophie that they deserve a second chance at love, even if everything they've concealed threatens to keep them apart. In this special town at this special time of the year, Sophie and Liam can only hope for a little holiday magic…
Includes the bonus story "A Forever Home" by Annie Rains!

Purchase Links
______________________________________________
Indie Next Selection | Buzz Books Selection | POPSUGAR "Best New Books of October" | CountryLiving "Best New Books for This Fall" | Atlanta Journal-Constitution "10 Must Read Southern Books This Fall" | Booklist Queen "Most Anticipated"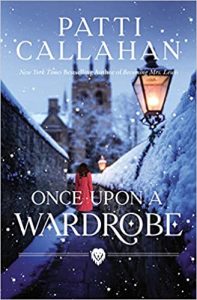 Once Upon a Wardrobe by Patti Callahan
From Patti Callahan, the bestselling author of Becoming Mrs. Lewis, comes another enchanting story that pulls back the curtain on the early life of C. S. Lewis.
"Where did Narnia come from?"
The answer will change everything.
Megs Devonshire is brilliant with numbers and equations, on a scholarship at Oxford, and dreams of solving the greatest mysteries of physics.
She prefers the dependability of facts—except for one: the younger brother she loves with all her heart doesn't have long to live. When George becomes captivated by a brand-new book called The Lion, the Witch and the Wardrobe and begs her to find out where Narnia came from, there's no way she can refuse.
Despite her timidity about approaching the famous author, Megs soon finds herself taking tea with the Oxford don and his own brother, imploring them for answers. What she receives instead are more stories . . . stories of Jack Lewis's life, which she takes home to George.
Why won't Mr. Lewis just tell her plainly what George wants to know? The answer will reveal to Meg many truths that science and math cannot, and the gift she thought she was giving to her brother—the story behind Narnia—turns out to be his gift to her, instead: hope.

Purchase Links
______________________________________________

Please fill out our super short registration form (click the "Enter Now" button above) by November 30th for a chance to win a set of up to ten copies of one of these great books for your book club! We will randomly choose a winner at the end of the month. This contest is open to clubs in the US only (our apologies to friends in other countries). 
Best of luck!
We 
LOVE

 Book Clubs!