___________________________
The first novel in a captivating three-book series about modern womanhood, in which a young Black woman must rely on courage, laughter, and love—and the support of her two longtime friends—to overcome an unexpected setback that threatens the most precious thing she's ever wanted.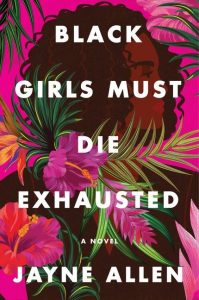 Black Girls Must Die Exhausted by Jayne Allen
"Both timely and enjoyable."—Kirkus Reviews
Tabitha Walker is a black woman with a plan to "have it all."  At 33 years old, the checklist for the life of her dreams is well underway. Education? Check. Good job? Check. Down payment for a nice house? Check. Dating marriage material? Check, check, and check. With a coveted position as a local news reporter, a "paper-perfect" boyfriend, and even a standing Saturday morning appointment with a reliable hairstylist, everything seems to be falling into place.
Then Tabby receives an unexpected diagnosis that brings her picture-perfect life crashing down, jeopardizing the keystone she took for granted: having children. With her dreams at risk of falling through the cracks of her checklist, suddenly she is faced with an impossible choice between her career, her dream home, and a family of her own.
With the help of her best friends, the irreverent and headstrong Laila and Alexis, the mom jeans-wearing former "Sexy Lexi," and the generational wisdom of her grandmother and the nonagenarian firebrand Ms. Gretchen, Tabby explores the reaches of modern medicine and tests the limits of her relationships, hoping to salvage the future she always dreamed of. But the fight is all consuming, demanding a steep price that forces an honest reckoning for nearly everyone in her life. As Tabby soon learns, her grandmother's age-old adage just might still be true: Black girls must die exhausted.

Purchase Links
___________________________
A moving reflection on motherhood, friendship, and women making their mark on the world of food from the author of Feast.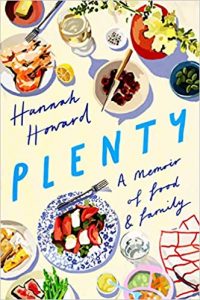 Plenty: A Memoir of Food and Family by Hannah Howard
Food writer Hannah Howard is at a pivotal moment in her life when she begins searching out her fellow food people?women who've carved a place for themselves in a punishing, male-dominated industry. Women whose journeys have inspired and informed Hannah's own foodie quests. On trips that take her from Milan to Bordeaux to Oslo and then always back again to her home in New York City, Hannah spends time with these influential women, learning about the intimate paths that led them each toward fulfilling careers. Each chef, entrepreneur, barista, cheesemaker, barge captain, and culinary instructor expands our long-held beliefs about how the worldwide network of food professionals and enthusiasts works.
But amid her travels, Hannah finds herself on a heart-wrenching private path. Her plans to embark on motherhood bring her through devastating lows and unimaginable highs. Hannah grapples with personal joy, loss, and a lifelong obsession with food that is laced with insecurity and darker compulsions. Looking to her food heroes for solace, companionship, and inspiration, she discovers new ways to appreciate her body and nourish her life.
At its heart, this lovely and candid memoir explores food as a point of passion and connection and as a powerful way to create community, forge friendships, and make a family.

Purchase Links
___________________________
The Thing Beneath the Thing helps readers to identify and then heal from past wounds that have kept them from reaching their full potential and the life of freedom that Jesus has promised every believer.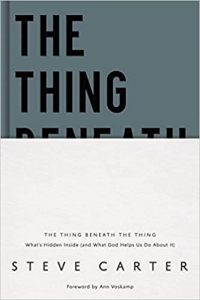 The Thing Beneath the Thing by Steve Carter
Every driver knows the importance of avoiding potholes when navigating a route. Besides the uncomfortable bump, they can create permanent damage to vehicles. And left untended, potholes can evolve into sinkholes that endanger entire roadway systems.
The same is true of our lives. We all have potholes that have been formed by pain, trauma, or choices that we've made. What do we do? Usually we find a quick fix, filling the hole with activities and even addictions disguised as culturally acceptable life choices. But before long, the hole is back, waiting to catch us off-guard, which in the end creates even more permanent damage.
In The Thing Beneath the Thing, former Willow Creek Community Church lead teaching pastor Steve Carter asks the simple question, "How is life working for you?" He knows that potholes exist and that the longer we live disconnected from answering this question, the more we will fill those holes with harmful choices. The solution? Allow God to fill them with His grace and love so that we can discover the beauty of grace, peace, and wholeness He has for us.
The process lies in discovering our
triggers: the setup that sets us off
hideouts: where we go to escape the pain of our story
insecurities: the false stories we create about ourselves
narratives: the false stories we create about others
grace: the place where we discover how to become whole, holy, and spiritually healthy
Journey with a seasoned fellow traveler who has learned how to ask key questions that help unlock the places where we've buried things. Then dig deep, invite healing, and learn new ways to operate so that we may begin to experience the life of freedom Jesus has promised us.

Purchase Links
___________________________
She came in search of the family she'd always wanted—and found the kind of love she'd never dared to imagine.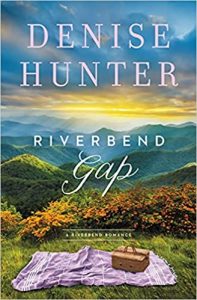 Riverbend Gap (A Riverbend Romance, Book 1) by Denise Hunter
When Katelyn Loveland's car veered off a winding Appalachian Mountain road, she thought she was done for. That is until Cooper Robinson, local sheriff's deputy, came to her rescue. And though Katie narrowly escaped her brush with death, she still fell. Hard.
She wasn't the only one. But soon Cooper learns that the woman he's more attracted to than any he's ever met is his brother's new girlfriend—and therefore unquestionably off limits. Yet, despite his best efforts, Cooper and Katie can't seem to avoid running into each other. Or ignore the undeniable chemistry between them.
As they grow closer, Katie shares the secrets of her past and the real reason she moved to their small North Carolina town. She also wins over Cooper's welcoming and bighearted family. But they don't know that her feelings for Cooper keep growing—all while she's dating his brother. Soon the stakes of their emotional connection become higher than either of them could have imagined. Katie stands to lose the first family she's ever had, and a scandal could doom Cooper's campaign for sheriff's office. Suddenly they find themselves on the edge of another precipice—and they're forced to make a decision that could change their lives forever.

Purchase Links
___________________________
Grace Secures What Striving Cannot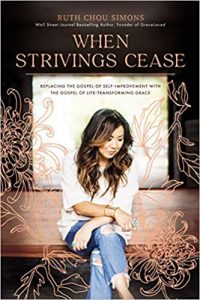 When Strivings Cease: Replacing the Gospel of Self-Improvement with the Gospel of Life-Transforming Grace
by Ruth Chou Simons
In this hustling, image-forward age of opportunity, we feel more anxious than ever. Despite all the affirming memes and self-reflections that dominate social media feeds, approval and worth often seem assigned to what we do rather than who we are. And we end up constantly feeling like we're behind, lacking, and failing—at home, at work, with friends, with God.
Ruth Chou Simons knows something about feeling measured by achievement, performance, and the approval of others. As a Taiwanese immigrant growing up between two cultures, Ruth was always on a mission to prove her worth, until she came to truly understand the one thing that changes everything: the extravagant, undeserved gift of grace from a merciful God. In When Strivings Cease, Ruth guides you on a journey to find freedom from the never-ending quest for self-improvement. She shows you how to
confront the ways you look to superficial means of acceptance and belonging;
find relief in realizing self-help isn't the answer because you can't be so amazing that you won't need grace;
stop seeing God as someone to perform for and start finding delight in responding to his welcome; and
let go of trying to rely on your own strength, your own abilities, and your own savvy by truly understanding the freedom Jesus purchased for you.
With personal stories, biblical insights, practical applications, and touches of original artwork by Ruth, this transformational book helps you see the beautiful truth that God's favor is the only currency you need—because in Christ you are enough.

Purchase Links
___________________________
Carrie Stuart Parks combines her expertise as a forensic artist with her ability to craft a gripping story in this page-turning web of light and shadow.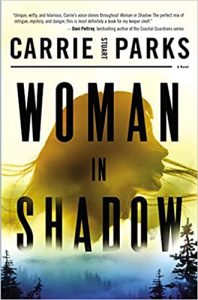 Woman in Shadow by Carrie Stuart Parks
A woman off the grid.
Darby Graham thinks she's on a much-needed vacation in remote Idaho to relax. But before she even arrives at the ranch, an earthquake strikes—her first clue that something is amiss. Then when a cabin on the edge of town is engulfed in flames and problems at the ranch escalate, Darby finds herself immersed in a chilling mystery.
A town on fire.
A serial arsonist sends taunting letters to the press after each fire. As a forensic linguist, this is Darby's area of expertise . . . but the scars it's caused her are also the reason she's trying to escape from her life.
A growing darkness.
As the shadows continue to move in, the pieces of the town around her come into sharper focus. Can she trust the one man who sees her clearly?
Praise for Woman in Shadow:
"Unique, witty, and hilarious, Carrie's voice shines throughout Woman in Shadow. The perfect mix of intrigue, mystery and danger, this is most definitely a book for my keeper shelf." —Dani Pettrey, bestselling author of the Coastal Guardians series
Full length, stand-alone suspense novel
Award-winning, bestselling author
Also by Carrie Stuart Parks: Relative Silence, Fragments of Fear, Formula of Deception,and A Cry from the Dust
Includes discussion questions for book clubs

Purchase Links
___________________________
"A smart, suspenseful police procedural with a timely plot." – Publishers Weekly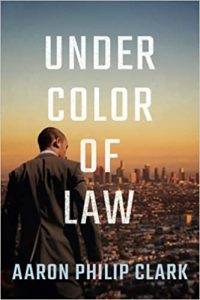 Under Color of Law by Aaron Philip Clark
The murder of a police recruit pins a black LAPD detective in a deadly web where race, corruption, violence, and cover-ups intersect in this relevant, razor-sharp novel of suspense.
Black rookie cop Trevor "Finn" Finnegan aspires to become a top-ranking officer in the Los Angeles Police Department and fix a broken department. A fast-track promotion to detective in the coveted Robbery-Homicide Division puts him closer to achieving his goal.
Four years later, calls for police accountability rule the headlines. The city is teeming with protests for racial justice. When the body of a murdered black academy recruit is found in the Angeles National Forest, Finn is tasked to investigate.
As pressure mounts to solve the crime and avoid a PR nightmare, Finn scours the underbelly of a volatile city where power, violence, and race intersect. But it's Finn's past experience as a beat cop that may hold the key to solving the recruit's murder. The price? The end of Finn's career…or his life.

Purchase Links
___________________________
What would life look like if you measured your success by improvements instead of victories? Nik Nikic shares the incredible story of his son Chris's journey to become the first person with Down syndrome to ever complete an IRONMAN® triathlon, inspiring others to achieve their goals by getting 1 percent better every day.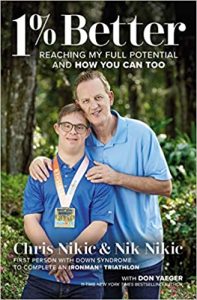 1% Better: Reaching My Full Potential and How You Can Too by Chris Nikic and Nik Nikic
From the moment Chris Nikic was born, his parents knew he could achieve anything he set his mind to do. So when he became involved in triathlons with the Special Olympics, his dad, Nik, took on the role of coach and encouraged Chris to aim even higher. Together, they set their sights on making history—Chris becoming the first person with Down syndrome to complete an IRONMAN® triathlon.
Written from Chris's father's perspective, Nik shares the 1% Better mindset that has helped Chris achieve many of his goals—and the underlying principles of the 1% Better system can help you pursue and achieve your dreams too! Through Chris and Nik's story, learn the benefits of applying the model to your own life and discover how to:
Overcome the mental hurdles of pain
Stay motivated using three irrefutable laws of motivation
See failures as opportunities for improvement
Form a lifelong habit of success
You may never be the best. But you can be better than your best when you stop imposing self-limitations and begin the journey to reach your goals—one confident step at a time.
Publisher's Note: 1% Better is written in Nik Nikic's voice. Chris and his accomplishments are the focus of 1% Better, and Chris is a coauthor of the book as he was interviewed by his father and the writer.

Purchase Links
___________________________

Please fill out our super short registration form (click the "Enter Now" button above) by October 31st for a chance to win a set of up to ten copies of one of these great books for your book club! We will randomly choose a winner at the end of the month. This giveaway is open to clubs in the US only (our apologies to friends in other countries). 
Best of luck!
We 
LOVE

 Book Clubs!