About The Unheard
• Publisher: William Morrow (October 26, 2021)
• Paperback: 464 pages
In this new heart-pounding standalone from the internationally bestselling author that People calls "razor sharp," a single mother suspects her young daughter has witnessed a horrible crime when the girl draws a disturbing picture—but the deadly path to unravel the truth could cost her everything. 
Maybe Tess is overprotective, but passing her daughter off to her ex and his new young wife fills her with a sense of dread. It's not that Jason is a bad father—it just hurts to see him enjoying married life with someone else. Still, she owes it to her daughter Poppy to make this arrangement work.
But Poppy returns from the weekend tired and withdrawn. And when she shows Tess a crayon drawing—an image so simple and violent that Tess can hardly make sense of it——Poppy can only explain with the words, "He did kill her."
Something is horribly wrong. Tess is certain Poppy saw something—or something happened to her—that she's too young to understand. Jason insists the weekend went off without a hitch. Doctors advise that Poppy may be reacting to her parents' separation. And as the days go on, even Poppy's disturbing memory seems to fade. But a mother knows her daughter, and Tess is determined to discover the truth. Her search will set off an explosive tempest of dark secrets and buried crimes—and more than one life may be at stake.
Social Media
Please use the hashtag #TheUnheard and tag @tlcbooktours and @williammorrowbooks.

Purchase Links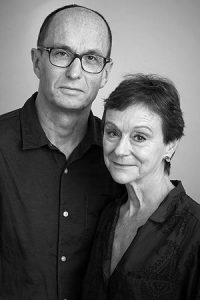 About Nicci French
Nicci French is the pseudonym of English wife-and-husband team Nicci Gerrard and Sean French. Their acclaimed novels of psychological suspense have sold more than 8 million copies around the world.
Follow them on Facebook and Twitter.
Instagram Features
Wednesday, October 27th: Instagram: @reading.with.my.goldens
Thursday, October 28th: Instagram: @jenguerdy
Friday, October 29th: Instagram: @meghans_library
Saturday, October 30th: Instagram: @diariesofabibliophile
Sunday, October 31st: Instagram: @2babesandabookshelf
Monday, November 1st: Instagram: @readyourworriesaway
Wednesday, November 3rd: Instagram: @bryantparkbooks
Friday, November 5th: Instagram: @laurasnextchapter