About Little Wishes
• Publisher: William Morrow (November 16, 2021)
• Paperback: 416 pages
ONE OF POPSUGAR'S BEST ROMANCE NOVELS OF NOVEMBER 2020!
"A story of love long postponed but never forgotten, Little Wishes is a tale to be treasured. Michelle's Adams' lovely, luminous writing is a beacon that draws readers closer and brings them home to the lasting truths about life and love." —Marie Bostwick, New York Times bestselling author of The Restoration of Celia Fairchild
For anyone who loves One Day in December and Me Before You, a sweeping love story, written with tenderness, warmth, and a generosity of spirit, about first love and second chances, a lifelong dream and finding the courage to follow your heart.
On her favorite day of the year, Elizabeth Davenport awakens in her cottage on the wild and windy Cornish coast, opens her front door, and discovers a precious gift: the small blue crocus and a note that begins I Wish . . . The notes are never signed, but she knows they've been left by her first and truest love, Tom Hale. Each of these precious missives convey a simple wish for something they had missed, and the life they might have shared, if circumstances hadn't forced them apart all those years ago. She has kept them all.
But on this day, what should have been the fiftieth anniversary of their falling in love, the gift fails to arrive. Could something have happened to Tom? Elizabeth has always been plagued by thoughts of "what if?" Propelled by worry and decades of pent up longing, Elizabeth packs a little suitcase, leaves Porthsennenon, and journeys to London . . . to find the love of her life once again.
Finding him, Elizabeth is faced with the desperate knowledge that any time they might have now is running out.  Never before had she thought that she might truly lose time—forever. And now, knowing that life is too short, Elizabeth vows to fulfill as many of Tom's wishes as she can. Yet she fears that her efforts may expose the shameful secret that, until now, has kept them apart.
Can she continue to hide the truth, or will she have the courage to reveal herself completely and finally make their dreams come true—before it's too late?
Social Media
Please use the hashtag #LittleWishes and tag @tlcbooktours, @williammorrowbooks, and @madamswriter.

Purchase Links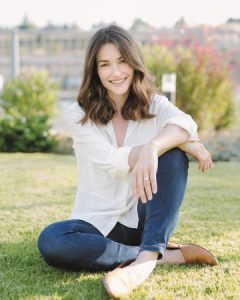 About Michelle Adams
Michelle is a writer and novelist. She is the author of two psychological thrillers, My Sister (2017) and Between The Lies (2018), and now writes heartwarming women's fiction. Her debut women's fiction title, Little Wishes will be released in November 2020, and will be followed in 2021 by Hidden Treasures.
Michelle contributed to the 2020 anthology about motherhood, The Best Most Awful Job with an essay entitled Learning To Be A Mother, an account of her experience with adoption.
Her novels have sold in 20 territories, including UK, US, Germany, Greece, and China. She has also written for The Guardian newspaper and The Daily Mail.
Michelle is British, but now lives in Limassol, Cyprus, with her husband and their children.
Learn more about Michelle on her website and Instagram.
Instagram Features
Friday, December 3rd: Instagram: @jenniaahava
Tuesday, December 7th: Instagram: @pickagoodbook
Wednesday, December 15th: Instagram: @somekindofalibrary
Thursday, December 23rd: Instagram: @bookishbadassthings
Thursday, December 23rd: Instagram: @nikkihrose
Wednesday, December 29th: Instagram: @bookoholiccafe
Sunday, January 2nd: Instagram: @readyourworriesaway
TBD: Tuesday, November 16th: Instagram: @2babesandabookshelf
TBD: Friday, November 19th: Instagram: @booksaremagictoo