About The Seventh Queen
• Publisher: Harper Voyageur (November 2, 2021)
• Hardcover: 384 pages
After the gasp-inducing cliffhanger ending of The Frozen Crown, the exciting conclusion to the epic story of Askia—a warrior, witch, and queen-to-be—as she confronts the monster that stole her throne…and is holding her prisoner to steal her magic.
The Empire of Vishir has lost its ruler, and the fight to save Seravesh from the Roven Empire is looking bleak. Moreover, Askia has been captured by power-hungry Emperor Radovan, who plans on making her his wife simply so he can take her magic as his own, killing her in the process. Aware of his ex-wives' fates, Askia must find a means of avoiding this doom, not only for the sake of Seravesh, but now for Vishir as well. She must put both nations first and remember Ozura's advice: you must play the game in order to survive. Askia was born a soldier, but now it's time to become a spy.
But it's hard to play a game where the only person who knows the rules wants to kill her.
And time is a factor. The jewel Radovan has put around her neck will pull her power from her in thirty days. Worse, Vishir might not even have that long, as the two heirs to the throne are on the verge of civil war. Without any hope for help from the south, without any access to her magic, alone in a hostile land, Askia is no closer to freeing her people than she was when she fled to Vishir. In the clutches of a madman, the only thing she's close to is death.
Yet she'd trade her life for a chance to save Seravesh. The problem: she may not have that choice.
Social Media
Please use the hashtag #TheSeventhQueen and tag @tlcbooktours, @harpervoyagerus, and @gretakkelly.

Purchase Links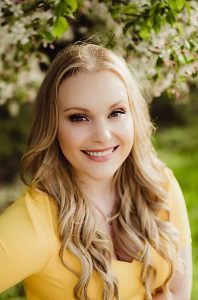 About Greta Kelly
Greta K. Kelly is (probably) not a witch, death or otherwise, but she can still be summoned with offerings of too-beautiful-to-use journals and Butterfingers candy. She currently lives in Wisconsin with her husband EJ, daughters Lorelei and Nadia who are doing their level-best to take over the world.
Find out more about Greta on her website, Instagram, and Twitter.
Instagram
Tuesday, November 2nd: Instagram: @workreadsleeprepeat
Wednesday, November 3th: Instagram: @pocketsized_pageturner
Thursday, November 4th: Instagram: @geronimoreads
Saturday, November 6th: Instagram: @jess_reads_books
Sunday, November 7th: Instagram: @thebookscript
Tuesday, November 9th: Instagram: @readresa
Wednesday, November 10th: Instagram: @andrea.c.lowry.reads
Friday, November 12th: Instagram: @radusreads