To get your book club in the mood for the holidays, we have gathered up some wonderful titles for this special CHRISTMAS IS COMING book club giveaway!
______________________________________________
Second chances and the Christmas spirit abound in Mindy Steele's heartwarming novel, one of faith, love, and the power of community.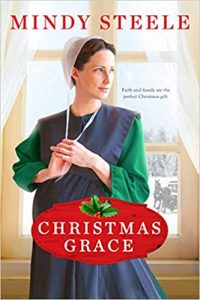 Christmas Grace by Mindy Steele
Grace Miller believed herself in love with the charming Englischer who eventually broke her heart. Now alone except for the secret life growing inside her, she arrives in the unfamiliar small village of Walnut Ridge, Kentucky, to hide and hopefully gain forgiveness.
She is pleasantly surprised, however, to find a tight-knit, welcoming group who help her heart grow right alongside her belly. And with the holidays around the corner, there's plenty of preparations to occupy her mind. Also occupying her mind? Her strong, protective neighbor, Cullen Graber, the town's blacksmith, who seems intent on not allowing her to ever suffer alone.
Cullen Graber gave up on love after too many losses early in life. He planned to live out his days focusing on his smithy business, yet the beautiful and mysterious Grace refuses to leave his thoughts. But can they open their hearts to God's grace and create a new family together before Grace must return home?

Purchase Links
______________________________________________
Curl up this Christmas with a sparkling romance!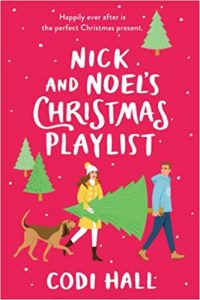 Nick and Noel's Christmas Playlist (Mistletoe Romance, Book 1) by Codi Hall
Curl up this Christmas with a sparkling romance filled with:
Irresistible friends-to-lovers romance
The kiss that changed everything
Warm nights on the family Christmas tree farm
All your favorite Christmas songs!
Nick Winter is just out of the military, and his Christmas homecoming is not going as planned. What was supposed to be a memorable holiday with his long-time girlfriend goes sour when he learns she cheated on him while he was stationed overseas. At least Nick can rely on his usual shift at the family Christmas tree farm with his best friend, Noel Carter, and her endless supply of Christmas tunes to lift his spirits. A night of fun together is just what he needs to forget about his ex.
But then they kiss. And it feels…so right.
If Noel can turn Nick's Blue Christmas merry and bright, this might be the last Christmas Nick spends with a broken heart. This year, they'll be Rockin' Around the Christmas Tree as a couple–as long as Nick's ex doesn't go standing under any mistletoe.
"Codi Hall brings all the feels."–Monica Murphy, New York Times bestselling author

Purchase Links
______________________________________________
The best Christmas gifts—family, friendship and second chances—are all waiting to be unwrapped in this sparkling new novel from USA TODAY bestselling author Sheila Roberts.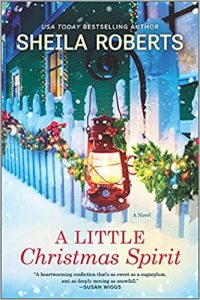 A Little Christmas Spirit by Sheila Roberts
Single mom Lexie Bell hopes to make this first Christmas in their new home special for her six-year-old son, Brock. Festive lights and homemade fudge, check. Friendly neighbors? Uh, no. The reclusive widower next door is more grinchy than nice. But maybe he just needs a reminder of what matters most. At least sharing some holiday cheer with him will distract her from her own lack of romance…
Stanley Mann lost his Christmas spirit when he lost his wife and he sees no point in looking for it. Until she shows up in his dreams and informs him it's time to ditch his scroogey attitude. Stanley digs in his heels, but she's determined to haunt him until he wakes up and rediscovers the joys of the season. He can start by being a little more neighborly to the single mom next door. In spite of his protests, he's soon making snowmen and decorating Christmas trees. How will it all end?
Merrily, of course. A certain Christmas ghost is going to make sure of that!

Purchase Links
______________________________________________
A Heartwarming Collection of Christmas Stories and Reflections from Max Lucado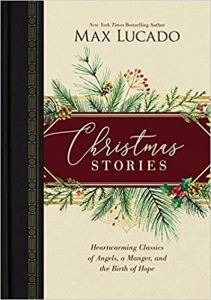 Christmas Stories: Heartwarming Classics of Angels, a Manger, and the Birth of Hope by Max Lucado
These stories—like your favorite Christmas ornaments—come in all shapes and sizes. They unfold in a variety of settings, from ancient Bethlehem to rural England. From a small Texas town to the heavenly realms. Some are short. Others many chapters long. Some offer reflections. Others imagine Christmas through the eyes of a burnt-out candle maker, a lonely business man, or angels.
Yet all are vintage Lucado, and all resonate with the wonder of the season.
"In the mystery of Christmas," Max writes, "we find its majesty. The mystery of how God became flesh, why he chose to come, and how much he must love his people. Such mysteries can never be solved, just as love can never be diagrammed. Christmas is best pondered, not with logic, but imagination."
That's what each of these unique Christmas stories helps us do. In the midst of the bustle and hurry that often distract us this time of year, these stories free us to explore the ways in which Christ's coming has forever changed history—and us.

Purchase Links
______________________________________________
From the author of the "engrossing historical epic" (Booklist) The Scribe of Siena comes a thrilling tale set in the crumbling city of Mystras, Greece, in which a scientist's vacation with her young son quickly turns into a fight for their lives after they cross paths with a man out of time.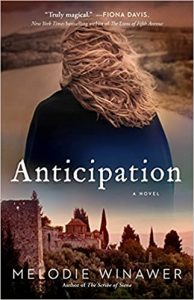 Anticipation by Melodie Winawer
After the death of her beloved husband and becoming a single parent to her nine-year-old son Alexander, overworked scientist Helen desperately needs an escape. So when Alexander proposes a trip to Greece—somewhere he's always dreamed of visiting—Helen quickly agrees.
After spending several days exploring the tourist-filled streets, they stumble upon the ancient city of Mystras and are instantly drawn to it. Its only resident is Elias, a mysterious tour guide living on the city's edges…both physically and temporally.
In 1237, Elias's mother promised his eternal service to the Profitis Ilias in Mystras in exchange for surviving a terrible illness. But during his 800 years of labor, he's had one common enemy: the noble Lusignan family. The Lusignan line is cursed by a deadly disease that worsens with each generation, and a prophecy hints that Elias's blood is their only hope for a cure. He has managed to survive throughout the centuries, but the line has dwindled down to the last Lusignan and he is desperate to avert his family's destiny.
When Elias runs into Helen, he meets his match for the first time—but he unwittingly puts both her and her young son in danger as a result. With time running out and an enemy after them, Elias and Helen are forced to choose between the city they love, and each other.
Blending the historical romance of Diana Gabaldon, the rich detail of Philippa Gregory's novels, and Dan Brown's fast-paced suspense, Anticipation is a thrilling and satisfying read like no other.

Purchase Links
______________________________________________
The winning book club of Christmas Ever After will also win a 60-minute "Christmas Camp" Zoom chat Q/A with "Christmas Karen"!
A "sweet Christmas charmer…" – Publishers Weekly
This feel-good, humorous, and heartwarming new Christmas romance, about the power of believing in yourself to find your happily ever after, is from the Emmy Award-winning writer of the Netflix sensation A Christmas Prince and Hallmark's beloved Christmas Camp, the movie and novel. This enchanting escape is just what your heart needs this holiday season…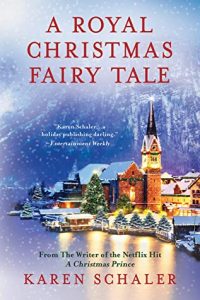 A Royal Christmas Fairy Tale by Karen Schaler
A charming Christmas village, a storybook castle, a royal ball, and a gorgeous prince are the last things New York City reporter Kaylie Karlyle expects to find on her holiday freelance assignment to Europe. But when the family she's interviewing turns out to be the royal family of Tolvania, Kaylie has a meltdown when the quirky queen wants her to write a Christmas fairy tale for the spunky, young princess. Kaylie must battle the princess's father, who doesn't trust the media, and her own insecurities about writing anything beyond the news.
To spark inspiration for the fairy tale, the queen recruits the prickly Prince Alexander to show Kaylie the family's most spectacular royal holiday traditions. And sparks definitely fly when the only thing Kaylie and the prince agree on is that they're both more "bah humbug" than "ho, ho, ho."
But somewhere between sleigh rides and snow angels, merrymaking and mistletoe, upside-down Christmas trees, and a legendary Christmas crown, Kaylie and the prince open their hearts to Christmas and start believing in themselves and each other. It's a real-life fairy tale in the making until Kaylie discovers a secret about a royal Christmas heirloom that jeopardizes everyone's happily ever after. Can the magic of the season save this holiday happy ending?
Bonus Content: Includes delicious royal Christmas recipes and holiday activities.
***Head over to Karen Schaler's website to sign up for her VIP newsletter for the latest on her many giveaways, special event and sneak peeks and much more!***

Purchase Links
______________________________________________

Please fill out our super short registration form (click the "Enter Now" button above) by October 31st for a chance to win a set of up to ten copies of one of these great books for your book club! We will randomly choose a winner at the end of the month. This contest is open to clubs in the US only (our apologies to friends in other countries). 
Best of luck!
We
LOVE

Book Clubs!