___________________________
A powerful chronicle of the women who used their sewing skills to survive the Holocaust, stitching beautiful clothes at an extraordinary fashion workshop created within one of the most notorious WWII death camps.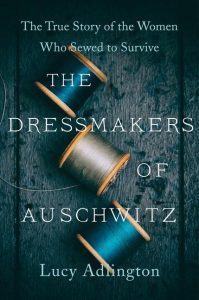 The Dressmakers of Auschwitz by Lucy Adington
At the height of the Holocaust twenty-five young inmates of the infamous Auschwitz-Birkenau concentration camp—mainly Jewish women and girls—were selected to design, cut, and sew beautiful fashions for elite Nazi women in a dedicated salon. It was work that they hoped would spare them from the gas chambers.
This fashion workshop—called the Upper Tailoring Studio—was established by Hedwig Höss, the camp commandant's wife, and patronized by the wives of SS guards and officers. Here, the dressmakers produced high-quality garments for SS social functions in Auschwitz, and for ladies from Nazi Berlin's upper crust.
Drawing on diverse sources—including interviews with the last surviving seamstress—The Dressmakers of Auschwitz follows the fates of these brave women. Their bonds of family and friendship not only helped them endure persecution, but also to play their part in camp resistance. Weaving the dressmakers' remarkable experiences within the context of Nazi policies for plunder and exploitation, historian Lucy Adlington exposes the greed, cruelty, and hypocrisy of the Third Reich and offers a fresh look at a little-known chapter of World War II and the Holocaust.

Purchase Links
___________________________
"A gorgeous, thrilling, and important novel! These strong women will capture your heart."-Stacey Swann, author of Olympus, Texas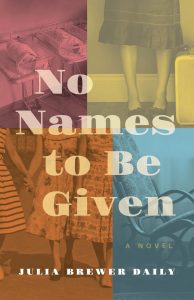 No Names to be Given by Julia Brewer Daily
1965. Sandy runs away from home to escape her mother's abusive boyfriend. Becca falls in love with the wrong man. And Faith suffers a devastating attack. With no support and no other options, these three young, unwed women meet at a maternity home hospital in New Orleans where they are expected to relinquish their babies and return home as if nothing transpired.
But such a life-altering event can never be forgotten, and no secret remains buried forever. Twenty-five years later, the women are reunited by a blackmailer, who threatens to expose their secrets and destroy the lives they've built. That shattering revelation would shake their very foundations-and reverberate all the way to the White House.
Told from the three women's perspectives, this mesmerizing story is based on actual experiences of women in the 1960s who found themselves pregnant but unmarried, pressured by family and society to make horrific decisions. How that inconceivable act changed women forever is the story of No Names to Be Given, a heartbreaking but uplifting novel of family and redemption.
Sign up for Julia's newsletter HERE and receive info on monthly giveaways!

Purchase Links
___________________________
Bestselling author Amy Clipston transports readers to a picturesque lakeside town in this heartwarming contemporary romance.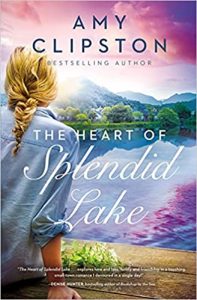 The Heart of Splendid Lake by Amy Clipston
Brianna is the youngest of the three Porter sisters and the only one who chose to stay in the small town of Splendid Lake, North Carolina. She followed in her father's footsteps and became an expert boat mechanic, helping him run their small resort with cabin rentals, a convenience store, and a marina.
When Brianna's father unexpectedly dies, Brianna is steeped in grief and guilt—then left alone to clean up the mess. To make matters worse, a constant stream of real estate brokers begins marching through her property, offering to buy the family land. In particular, she keeps running into handsome real estate mogul Scott Gibson.
As Brianna struggles to keep it all together, Scott finds his way into her heart. And as the two fight against their feelings, they just might find themselves forging a surprising and exciting new love at Splendid Lake.
"A touching story of grief, love, and life carrying on, The Heart of Splendid Lake engaged my heart from the very first page. Sometimes the feelings we run from lead us to the hope we can't escape, and that's a beautiful thing to see through the eyes of these winning characters. Amy Clipston deftly guides readers on an emotionally satisfying journey that will appeal to fans of Denise Hunter and Becky Wade." —Bethany Turner, award-winning author of Plot Twist
"The Heart of Splendid Lake offers a welcome escape in the form of a sympathetic heroine and her struggling lakeside resort. Clipston proficiently explores love and loss, family and friendship in a touching, small-town romance that I devoured in a single day!" —Denise Hunter, bestselling author of The Bluebell Inn series
Sweet and thoughtful contemporary read
Stand-alone novel
Book length: 93,000 words
Includes discussion questions for book clubs

Purchase Links
___________________________
Bestselling author and pastor Chris Hodges helps those struggling with depression find liberating solutions by drawing from the life of the prophet Elijah.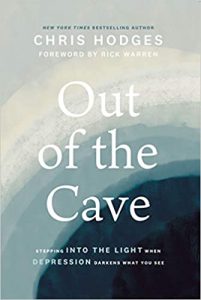 Out of the Cave: Stepping Into the Light When Depression Darkens What You See by Chris Hodges
Bestselling author and pastor Chris Hodges helps those struggling with depression find liberating solutions by drawing from the life of the prophet Elijah.
Shame about the dark thoughts swirling in your mind. Guilt about how powerless you feel to overcome negative emotions. Alternating bouts of sadness and numbness. You might be asking, Should a Christian even be having these struggles?
Depression is the number one health issue in the world today, yet those who suffer are still sometimes stigmatized–especially followers of Jesus. Many assume God's peace, power, and protection should prevent us from ever feeling anxious, depressed, and afraid. But the Bible teaches otherwise, particularly in its depiction of the life of the Old Testament prophet Elijah.
In Out of the Cave, bestselling author and pastor Chris Hodges uses Elijah's life to show us that everyone is susceptible to depression. Even when we're walking closely with God, we can still stumble and get lost in the wilderness of tangled emotions. But we don't have to stay there, because we serve a God who meets us in the darkness. Out of the Cave helps us
remove the stigma of depression and realize we're not alone;
understand the ways our temperament and view of God affect the way we handle depression; and
learn a comprehensive approach to wellness—mind, body, and soul—from Elijah's journey.
With his trademark blend of Bible-based wisdom, practical application, and vulnerability in sharing his personal struggles, Hodges explores the causes of depression we can't change, the contributors we can conquer, and offers transformative hope and spiritual power to help us win the battle.
Please click HERE for free OUT OF THE CAVE resources.

Purchase Links
___________________________
One wild and mysterious ghost town. Two second-chance love stories. And the century-old legacy that binds them together.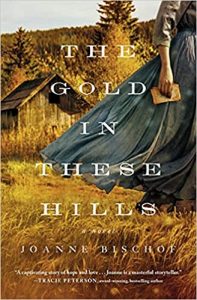 The Gold in These Hills by Joanne Bischof
One wild and mysterious ghost town. Two second-chance love stories. And the century-old legacy that binds them together.
Upon arriving in Kenworthy, California, mail-order bride Juniper Cohen is met by the pounding of the gold mine, an untamable landscape, and her greatest surprise of all: the kind and loving man who awaits her. But when the mine proves empty of profit, and when Juniper's husband, John, vanishes, Juniper is left to fend for herself and her young daughter in the dwindling boomtown that is now her home.
Juniper pens letters to her husband but fears she is waiting on a ghost. Perhaps worse, rumors abound claiming the man she loves could be an outlaw. Surviving in a ghost town requires trusting the kindness of a few remaining souls, including the one who can unlock the mystery of her husband's disappearance–and Juniper's survival depends not only upon these friends but also the strength of heart she must fight to maintain.
Present day. Trying to escape the heartache of his failed marriage, Johnny Sutherland throws himself into raising his children and restoring a hundred-year-old abandoned farmhouse in what was once known as Kenworthy, California, in the San Jacinto Mountains. While exploring its secrets he uncovers Juniper's letters and is moved by the handwritten accounts that bear his name—and as a love story from the past touches his own world, Johnny might discover yet that hope and resilience go hand in hand.
With The Gold in These Hills, acclaimed and beloved author Joanne Bischof returns with an absorbing masterpiece of faith, perseverance, and love that changes the course of history.
Inspirational fiction with historical and contemporary timelines
Stand-alone novel
Book length: 93,000 words
Includes discussion questions for book clubs and a note from the author

Purchase Links
___________________________
The Thing Beneath the Thing helps readers to identify and then heal from past wounds that have kept them from reaching their full potential and the life of freedom that Jesus has promised every believer.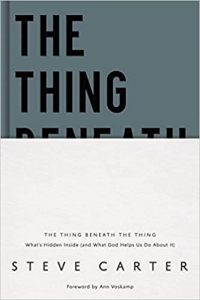 The Thing Beneath the Thing by Steve Carter
Every driver knows the importance of avoiding potholes when navigating a route. Besides the uncomfortable bump, they can create permanent damage to vehicles. And left untended, potholes can evolve into sinkholes that endanger entire roadway systems.
The same is true of our lives. We all have potholes that have been formed by pain, trauma, or choices that we've made. What do we do? Usually we find a quick fix, filling the hole with activities and even addictions disguised as culturally acceptable life choices. But before long, the hole is back, waiting to catch us off-guard, which in the end creates even more permanent damage.
In The Thing Beneath the Thing, former Willow Creek Community Church lead teaching pastor Steve Carter asks the simple question, "How is life working for you?" He knows that potholes exist and that the longer we live disconnected from answering this question, the more we will fill those holes with harmful choices. The solution? Allow God to fill them with His grace and love so that we can discover the beauty of grace, peace, and wholeness He has for us.
The process lies in discovering our
triggers: the setup that sets us off
hideouts: where we go to escape the pain of our story
insecurities: the false stories we create about ourselves
narratives: the false stories we create about others
grace: the place where we discover how to become whole, holy, and spiritually healthy
Journey with a seasoned fellow traveler who has learned how to ask key questions that help unlock the places where we've buried things. Then dig deep, invite healing, and learn new ways to operate so that we may begin to experience the life of freedom Jesus has promised us.

Purchase Links
___________________________

Please fill out our super short registration form (click the "Enter Now" button above) by September 30th for a chance to win a set of up to ten copies of one of these great books for your book club! We will randomly choose a winner at the end of the month. This giveaway is open to clubs in the US only (our apologies to friends in other countries). 
Best of luck!
We 
LOVE

 Book Clubs!