About A Royal Christmas Fairy Tale
• Publisher: HawkTale Publishing (October 5, 2021)
• Paperback: 358 pages
A "sweet Christmas charmer…" – Publishers Weekly
This feel-good, humorous, and heartwarming new Christmas romance, about the power of believing in yourself to find your happily ever after, is from the Emmy Award-winning writer of the Netflix sensation A Christmas Prince and Hallmark's beloved Christmas Camp, the movie and novel. This enchanting escape is just what your heart needs this holiday season…
A charming Christmas village, a storybook castle, a royal ball, and a gorgeous prince are the last things New York City reporter Kaylie Karlyle expects to find on her holiday freelance assignment to Europe. But when the family she's interviewing turns out to be the royal family of Tolvania, Kaylie has a meltdown when the quirky queen wants her to write a Christmas fairy tale for the spunky, young princess. Kaylie must battle the princess's father, who doesn't trust the media, and her own insecurities about writing anything beyond the news.
To spark inspiration for the fairy tale, the queen recruits the prickly Prince Alexander to show Kaylie the family's most spectacular royal holiday traditions. And sparks definitely fly when the only thing Kaylie and the prince agree on is that they're both more "bah humbug" than "ho, ho, ho."
But somewhere between sleigh rides and snow angels, merrymaking and mistletoe, upside-down Christmas trees, and a legendary Christmas crown, Kaylie and the prince open their hearts to Christmas and start believing in themselves and each other. It's a real-life fairy tale in the making until Kaylie discovers a secret about a royal Christmas heirloom that jeopardizes everyone's happily ever after. Can the magic of the season save this holiday happy ending?
Bonus Content: Includes delicious royal Christmas recipes and holiday activities.
Social Media
Please use the hashtags:
#ARoyalChristmasFairyTale
#ChristmasCamp
#ChristmasBooks
#ChristmasRomance
#ChristmasKaren
Please tag @tlcbooktours and @TravelTherapy on Instagram, @tlcbooktours and @KarenSchalerOfficial on Facebook, and @tlcbooktours and @KarenSchaler on Twitter.

Purchase Links
About Karen Schaler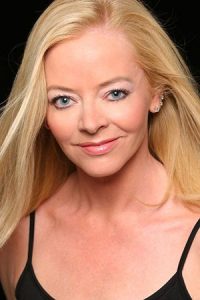 Karen Schaler is a prolific and passionate three-time Emmy Award–winning storyteller, author, screenwriter, journalist, and national TV host. In the last three years, she has written five rom-com novels and five Christmas movies for Netflix, Hallmark, and Lifetime, including the Netflix sensation A Christmas Prince and Hallmark's Christmas Camp. Karen also wrote the Christmas Camp and Christmas Camp Wedding books (HarperCollins). For her next novels, Finding Christmas, Christmas Ever After, and A Royal Christmas Fairy Tale, Karen is also writing the movies and writing three feature films, including a summer rom-com and an inspiring true-life story.
All of Karen's books and movies have received ongoing national TV, print, and online media attention including two exclusive features on NBC's TODAY show and features in Forbes, Parade, Entertainment Weekly, Entertainment Tonight, The Wall Street Journal, Southern Living, Bustle, and Cosmo.
Embracing the Christmas spirit of giving back, Karen trademarked her Christmas Camp concept and is bringing her Hallmark movie and books to life hosting fun and festive one-of-a-kind Christmas Camp experiences worldwide where everyone is invited! All of Karen's stories are filled with humor, heart, and hope. For more
Find out more about Karen at her website, and connect with her on Facebook, Twitter, Instagram, and YouTube.
Review Stops
Tuesday, October 5th: seasaltdaydreams
Wednesday, October 6th: Stranded in Chaos
Wednesday, October 6th: Instagram: @plotsandwine
Friday, October 8th: Diary of a Stay at Home Mom
Friday, October 8th: View from the Birdhouse
Tuesday, October 12th: The Bookish Dilettante
Wednesday, October 13th: Musings of a Literary Wanderer
Thursday, October 14th: A Bookish Way of Life
Wednesday, October 20th: Instagram: @read_with_steph
Thursday, October 21st: Laura's Reviews
Monday, October 25th: Instagram: @radusreads
Wednesday, October 27th: Literary Quicksand
Saturday, October 30th: What Is That Book About
Instagram Features
Wednesday, October 6th: Instagram: @jills_bookish_life
Sunday, October 10th: Instagram: @workreadsleeprepeat
Monday, October 11th: Instagram: @livingmybestbooklife
Tuesday, October 12th: Instagram: @jenguerdy
Wednesday, October 13th: Instagram: @lyon.brit.andthebookshelf
Friday, October 15th: Instagram: @geronimoreads
Wednesday, October 20th: Instagram: @extrovertedforbooks
Monday, October 25th: Instagram: @pickagoodbook
Wednesday, October 27th: Instagram: @bookscallmyheart
Monday, November 15th: Instagram: @audreyoaksreadseverything
Tuesday, November 16th: Instagram: @jill_chilland_read
Wednesday, November 17th: Instagram: @readalotwritealot
Friday, November 19th: Instagram: @laurasnextchapter
Sunday, November 21st: Instagram: @lowkey.bookish
Monday, November 29th: Instagram: @thebookend.diner
Wednesday, December 1st: Instagram: @nikkihrose
Friday, December 3rd: Instagram: @somekindofalibrary
Monday, December 6th: Instagram: @oddandbookish
Wednesday, December 8th: Instagram: @never.enough.novels