To get your book club in the mood for the holidays, we have gathered up some wonderful titles for this special CHRISTMAS IS COMING book club giveaway!
______________________________________________
4.6 stars on Amazon!
In the third installment of Heather Redmond's historical mystery series that cleverly reimagines Charles Dickens's life, he and fiancée Kate Hogarth must solve the murder of an old miser, just before Christmas…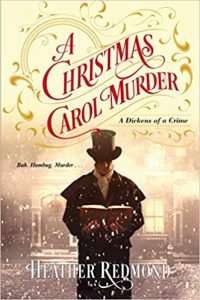 A Christmas Carol Murder by Heather Redmond
London, December 1835: Charles and Kate are out with friends and family for a chilly night of caroling and good cheer. But their blood truly runs cold when their singing is interrupted by a body plummeting from an upper window of a house. They soon learn the dead man at their feet, his neck strangely wrapped in chains, is Jacob Harley, the business partner of the resident of the house, an unpleasant codger who owns a counting house, one Emmanuel Screws.
Ever the journalist, Charles dedicates himself to discovering who's behind the diabolical defenestration. But before he can investigate further, Harley's corpse is stolen. Following that, Charles is visited in his quarters by what appears to be Harley's ghost—or is it merely Charles's overwrought imagination? He continues to suspect Emmanuel, the same penurious penny pincher who denied his father a loan years ago, but Kate insists the old man is too weak to heave a body out a window. Their mutual affection and admiration can accommodate a difference of opinion, but matters are complicated by the unexpected arrival of an infant orphan. Charles must find the child a home while solving a murder, to ensure that the next one in chains is the guilty party . . .

Purchase Links
______________________________________________
From the USA TODAY bestselling author of The Ingredients of You and Me comes a holiday novella about a travel journalist who visits a small town during the most magical time of the year and finds love in the process.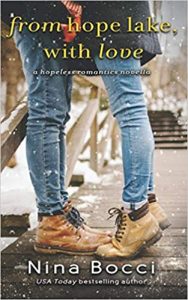 From Hope Lake, With Love: A Novella (Hopeless Romantics) by Nina Bocci
From the USA TODAY bestselling author of The Ingredients of You and Me comes a holiday novella about a travel journalist who visits a small town during the most magical time of the year and finds love in the process.
Camille Douglas has one last article to write for the travel magazine she works for before officially retiring and becoming a full-time novelist. She's tasked to cover her editor's favorite spot on the east coast: Hope Lake, PA. Of course, she's heard the stories and seen the pictures, but she's doubtful it looks that idyllic in person.
She decides to make the cross-country trip right before the holidays. Snow-covered treetops, Christmas lights a plenty, and an adorable town square decorated in all its holiday glory. The minute she sets foot in Hope Lake she is inspired. It also doesn't hurt that she is charmed by Dr. Maxwell Reese. The stunning, and single, doctor who has settled down in Hope Lake after traveling the globe. With Max's help Camille discovers the delights of small-town life—especially during the holidays.

Purchase Links
______________________________________________
This Christmas season, love comes where you least expect it.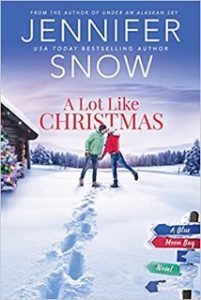 A Lot Like Christmas by Jennifer Snow
For Jessica Connolly, there is no better place than her coastal hometown of Blue Moon Bay. She has a wonderful family, supportive best friends, and a successful bakery on Main Street. Unfortunately, every time she designs one of her ex-boyfriends' wedding cakes, she's reminded just how unlucky she is with love…and that she's a good luck charm for men to find their happily ever after. With someone else. The minute they break up. So she's decided to be done with love.
Dr. Mitch Jameson is more comfortable traveling the world with Doctors Without Borders than staying in one place. He just needs to survive the holidays in his small hometown before he can leave again. The beautiful, intriguing bakery owner with an aversion to dating might be just who he needs to occupy his restless heart.
From sipping hot chocolates at the local festival of lights to early morning dessert deliveries, Jessica and Mitch rediscover the spirit of the holidays. But when the 25 days of Christmas are over, will their romance be over, too?
Each book in the Blue Moon Bay series is STANDALONE:
* A Lot Like Love
* A Lot Like Christmas

Purchase Links
______________________________________________
A long-standing feud, an unlikely love story, and New York Times bestselling author Carolyn Brown's Texas twang make for a lively Christmas romance at the ranch!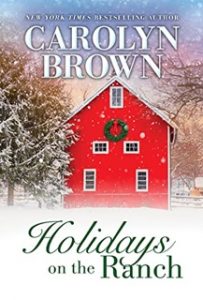 Holidays on the Ranch by Carolyn Brown
Out of the army and looking for some peace and quiet this Christmas, former sniper Finn O'Donnell heads to the sleepy town of Burnt Boot, Texas. But Finn hasn't spent even one night at his new ranch when an army SUV pulls into the driveway and a familiar figure steps out. Finn doesn't want to revisit the past, but he owes Callie Brewster his life…
Callie never thought she'd see Finn again, but when her nephew is in trouble, she needs a favor from her old army friend. Callie does her best to keep her new feelings for Finn to herself. She always knew Finn was honest and dependable, now she's noticed that he's not just good-looking, he's cowboy hot!
Now Finn's dealing with a woman in his house, a boy who's scared of his own shadow, and a feud going on among the other Burnt Boot ranchers. And in the midst of all the chaos, Finn is happier and more at peace than he's ever been before… Who knew all he needed for Christmas was a little romance at the ranch?
Perfect for fans looking for their next Christmas classic:
Romance between old friends
Lots of hot cowboy lovin'
Characters that jump off the page
Wacky, small-town neighbors
Authentic Southern voice and inimitable sass


Purchase Links
______________________________________________
For anyone who is wearying of staying home, Melody Carlson invites you to spend Christmas with her in the beautiful French Alps this year. So pull on your mittens, tie your scarf tight, and prepare yourself for a magical mountain holiday.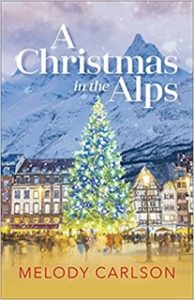 A Christmas in the Alps by Melody Carlson
After a time of heartache and loss, Simone Winthrop discovers a tantalizing letter from her French great-grandmother, which seems to suggest that she is heir to a family treasure. Ever practical, Simone assumes the claim is baseless, but her best friend encourages her to find out for sure. Despite her deep-rooted fear of flying, Simone boards a jet to travel to Paris at Christmastime to uncover the truth.
During the long flight, Simone meets the charming Kyle Larsson, who's on his way to France to become an apprentice clockmaker. Though they abruptly part ways, an unexpected rendezvous in the French Alps at Simone's family's clock factory may lead to the discovery of the family treasure . . . and so much more.

Purchase Links
______________________________________________

Please fill out our super short registration form (click the "Enter Now" button above) by September 30th for a chance to win a set of up to ten copies of one of these great books for your book club! We will randomly choose a winner at the end of the month. This contest is open to clubs in the US only (our apologies to friends in other countries). 
Best of luck!
We 
LOVE

 Book Clubs!