___________________________
Amid the shadows of war, one family faces an impossible choice that will change their lives forever.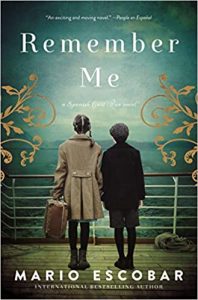 Remember Me by Mario Escobar
From bestseller Mario Escobar comes a 20th-century historical novel of sacrifice and resilience inspired by Spain's famed Children of Morelia and the true events that shaped their lives.
Madrid, 1934. Though the Spanish Civil War has not yet begun, the streets of Madrid have become dangerous for thirteen-year-old Marco Alcalde and his two younger sisters. Marco's parents align themselves against the new fascist regime, unaware that their choice will endanger the entire family—nor do they predict the violence that is to come.
In a desperate bid for safety, the Alcaldes join many other Spanish families in making an impossible choice to send their unaccompanied children across the ocean to the city of Morelia, Mexico—a place they've never seen or imagined, but whose government promises their children protection. Young Marco promises to look after his sisters in Mexico until their family can be reunited in Spain, but a harrowing journey ensues.
As the growing children work to care for themselves and each other, they feel their sense of home, family, and identity slipping further and further away. As their memories of Spain fade, they begin to wonder if they will ever see their parents again or the glittering streets of the home they once loved.
Based upon the true stories of the Children of Morelia, Mario Escobar's Remember Me—now available for the first time in English—paints a poignant portrait of an immigrant family's sacrificial love and endurance, detailing just how far we go for those we love.
"Luminous and beautifully researched, Remember Me is a study of displacement, belonging, compassion, and forged family amid a heart- wrenching escape from the atrocities of the Spanish Civil War. Fans of Arturo Pérez-Reverte, Chanel Cleeton, and Lisa Wingate will be mesmerized."—Rachel McMillan, author of The London Restoration
Perfect for book clubs: Includes discussion questions, research notes from the author, and a historical timeline
Based on real historical events: Full-length, 90,000-word historical novel based on the true stories of the Children of Morelia
Researched and written by a subject-matter expert: Mario Escobar has a master's degree in modern history and lives in Madrid

Purchase Links
________________________________
For lovers of happily ever afters—this collection of three light and sweet romance stories will sweep you off your feet.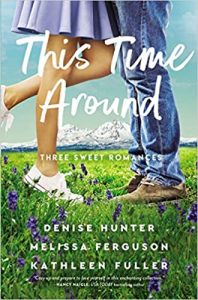 This Time Around by Denise Hunter, Melissa Ferguson, and Kathleen Fuller
A Summer Detour  by Denise Hunter
In order to prove herself to her parents, free-spirited Allie Adams undertakes the responsibility of delivering her grandparents' newly-restored '57 Chevy for their 50th wedding anniversary party. But an unfortunate oversight forces her to make the road trip with Luke Fletcher, the man who callously broke her heart years ago.
The journey soon dissolves into a series of misfortunes, obliging the antagonistic travelers to spend even more time together. As they overcome challenges and obstacles, they remember the spark that once flared between them. But they must decide if they're willing to risk their hearts again—or if the personal cost is simply too great.
Pining for You by Melissa Ferguson
Theo Watkins III is a respectable man—the kind who drives a Tesla, not a tractor. But when he discovers that the caretaker of his family-inherited Christmas tree farm is injured during planting season, he drives up to support the man who has been like a father to him.
Three months into her move back to the family farm, Skye Whitesides expected to run into Theo eventually. What she didn't expect was for Theo to offer up his services for the farm. Not that he has any services—her childhood best friend and the man who broke her heart seventeen years ago wouldn't know which part of the shovel was the handle. As the two are forced to work together, she finds herself lowering her guard and starting to trust Theo. Is he truly the man she hopes him to be, or will he break her heart again?
He Loves Me; He Loves Me Not by Kathleen Fuller
Thirty-five-year-old Sophie has spent years making her floral shop, Petals and Posies, a success, and her love life has suffered. She's avoided romance since her ex broke her heart, but now she's ready to start dating again.
Joe, also thirty-five, has known Sophie since kindergarten, but sparks have never flown between them. He's finally decided to get back into the dating pool after spending the past fifteen years coaching, teaching, and working with underprivileged kids. He decides to ask out Sophie. But to his dismay, someone else is also vying for her attention.
Should Sophie listen to Joe—and her heart? Or should she take a chance with Landon, the slick lawyer she's also attracted to? Will Joe, who hates conflict, do the easy thing and let Sophie and Landon be together? Or force himself out of his comfort zone because he is unable to let her go?

Purchase Links
________________________________
Acclaimed musical artist Michelle Williams shares the intimate, never-before-told story of how, even in the midst of enormous fame and success, she battled depression, leading her to find her true calling as an advocate for mental health–especially her own.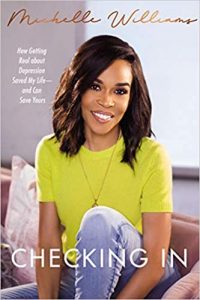 Checking In: How Getting Real about Depression Saved My Live–and Can Save Yours  by Michelle Williams
As a member of Destiny's Child, one of the top female R&B groups of all time, Michelle Williams felt blessed. After the group disbanded, she continued to create bestselling albums, appear on television shows, and star in theater productions. Though she had always struggled with low moods, in 2018 her depression deepened, and when she found herself planning her own funeral, she checked herself into a treatment facility. There she found the help she needed to live out the incredible story God was writing for her life.
In her first book, Michelle courageously shares the hidden secrets that nearly ended her life; the importance of her faith, family, and friends; and the lessons she learned about prioritizing her mental health. She is on a quest to increase mental health awareness and urges others to understand the importance of "checking in" with themselves, God, and others. Her candid, often humorous, and incredibly brave book will inspire readers who desire hope for their own difficult times.

Purchase Links
________________________________
A subtly wicked, almost Southern Gothic tale of existential angst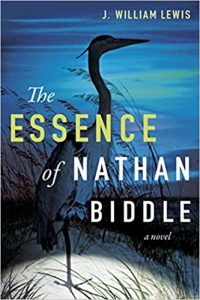 The Essence of Nathan Biddle by J. William Lewis
A subtly wicked, almost Southern Gothic tale of existential angst told by 18-year-old Kit Biddle, an anti-Gumpian southern boy struggling with the complexities of life. The story unfolds against a backdrop of painful chaos: Kit's revered uncle, Nathaniel Tyler Biddle, Jr., has sacrificed his only son on direct and specific orders, according to Rev. Biddle, from God himself. As Kierkegaard has suggested, the comic and the tragic converge on Kit's desperate search for meaning in a willy-nilly world of opaque walls and filtered light.
The enigmatic Anna appears with all the attributes of Kit's yearning and imagination and then, just like that, she disappears like a phantom in a fog, only to be replaced by the enigmatic Sarah who reverses the roles and projects onto Kit all her desires and imaginings. Standing on one leg in the darkness, Death beckons to Kit with a promise of light and comfort but instead leaves him lying in his own blood on hot pavement with neither clarity nor relief. Who is Kit Biddle? He may actually be Nathan Biddle but who in the world is that?
When the fog dissipates—if the clarity he seeks finally appears—does Kit really want the answers he finds?

Purchase Links
________________________________
In today's contentious social climate, is it possible to talk to people—whether strangers or friends—about life's deepest and most sensitive topics?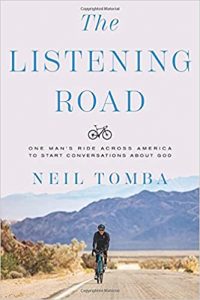 The Listening Road: One Man's Ride Across America to Start Conversations About God by Neil Tomba
The true story of one man's remarkable thirty-three-day journey cycling across the United States on a mission to engage with people from all walks of life in real conversations about things that matter most.
As a pastor, Neil Tomba noticed a disturbing trend among people in church: they were finding it increasingly difficult to talk about God to those outside of the church. Neil wanted to practice what he preached, so he set out to bike across the United States, talking—and, more importantly, listening—to strangers from all walks of life about faith, their stories, and matters of the heart.
The Listening Road takes us on Neil's remarkable journey across the country and straight into its soul—from Route 66 motels to state parks, a lake house, and a railway car; from conversations with Amish farmers to chats with truckers, cowboys, mechanics, and a descendant of Daniel Boone. From one city, farm, and highway to the next, we discover
practical ways to change our posture toward others to foster conversation,
why curiosity, kindness, and respect open up communication about God, and
how even in a culture of division and antagonism, real connection is possible.
In our polarizing time, Neil models with compassion and curiosity that genuine connection happens if only we are willing to listen in love.

Purchase Links
________________________________
Bestselling author and pastor Chris Hodges helps those struggling with depression find liberating solutions by drawing from the life of the prophet Elijah.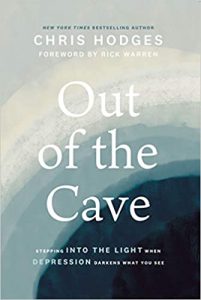 Out of the Cave: Stepping Into the Light When Depression Darkens What You See by Chris Hodges
Shame about the dark thoughts swirling in your mind. Guilt about how powerless you feel to overcome negative emotions. Alternating bouts of sadness and numbness. You might be asking, Should a Christian even be having these struggles?
Depression is the number one health issue in the world today, yet those who suffer are still sometimes stigmatized–especially followers of Jesus. Many assume God's peace, power, and protection should prevent us from ever feeling anxious, depressed, and afraid. But the Bible teaches otherwise, particularly in its depiction of the life of the Old Testament prophet Elijah.
In Out of the Cave, bestselling author and pastor Chris Hodges uses Elijah's life to show us that everyone is susceptible to depression. Even when we're walking closely with God, we can still stumble and get lost in the wilderness of tangled emotions. But we don't have to stay there, because we serve a God who meets us in the darkness. Out of the Cave helps us
remove the stigma of depression and realize we're not alone;
understand the ways our temperament and view of God affect the way we handle depression; and
learn a comprehensive approach to wellness—mind, body, and soul—from Elijah's journey.
With his trademark blend of Bible-based wisdom, practical application, and vulnerability in sharing his personal struggles, Hodges explores the causes of depression we can't change, the contributors we can conquer, and offers transformative hope and spiritual power to help us win the battle.
Please click HERE for free OUT OF THE CAVE resources.

Purchase Links
________________________________

Please fill out our super short registration form (click the "Enter Now" button above) by July 31st for a chance to win a set of up to ten copies of one of these great books for your book club! We will randomly choose a winner at the end of the month. This giveaway is open to clubs in the US only (our apologies to friends in other countries). 
Best of luck!
We 
LOVE

 Book Clubs!