About Capture the Crown
• Publisher: Harper Voyager (July 6, 2021)
• Paperback: 464 pages
Bestselling author Jennifer Estep returns to her Crown of Shards world with an all-new trilogy and a bold new heroine who protects her kingdom from magic, murder, and mayhem by moonlighting as a spy. 
Gemma Ripley has a reputation for being a pampered princess who is more interested in pretty gowns, sparkling jewelry, and other frivolous things than learning how to rule the kingdom of Andvari. But her carefully crafted persona is just an act to hide the fact that Gemma is a powerful mind magier—and a spy.
Gemma is undercover, trying to figure out who is stealing large amounts of tearstone from one of the Ripley royal mines when she encounters Prince Leonidas Morricone of Morta—her mortal enemy. Gemma tries to steer clear of the handsome prince, but when she finds herself behind enemy lines, she reluctantly joins forces with Leo. Also coming to Gemma's aid is Grimley, her beloved gargoyle.
Despite the fact that Andvari and Morta are old, bitter enemies, a dangerous attraction sparks between Gemma and Leo. Further complicating matters is Leo's murderous family, especially Queen Maeven Morricone, the mastermind behind the infamous Seven Spire massacre.
The closer Gemma gets to the stolen tearstone, the more deadly plots she uncovers. Everyone is trying to capture the crown, but only one queen can sit on the throne …
Social Media
Please use the hashtag #CaptureTheCrown, and tag @tlcbooktours, @jennifer_estep_author, and @harpervoyagerus.

Purchase Links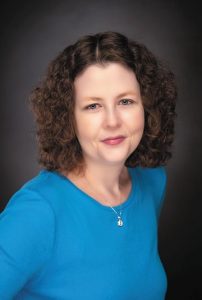 About Jennifer Estep
Jennifer Estep is a New York Times, USA Today, and international bestselling author who prowls the streets of her imagination in search of her next fantasy idea.
Jennifer is the author of the Crown of Shards, Elemental Assassin, and other fantasy series. She has written more than 35 books, along with numerous novellas and stories.
In her spare time, Jennifer enjoys hanging out with friends and family, doing yoga, and reading fantasy and romance books. She also watches way too much TV and loves all things related to superheroes.
Find out more about Jennifer at her website, and connect with her on Facebook and Twitter, and Instagram.
Instagram Features
Tuesday, July 6th: Instagram: @my_read_feed
Wednesday, July 7th: Instagram: @ksquaredreads
Thursday, July 8th: Instagram: @featherboundbooks
Friday, July 9th: Instagram: @talielovesbooks
Saturday, July 10th: Instagram: @createexploreread
Sunday, July 11th: Instagram: @read.write.coffee
Monday, July 12th: Instagram: @hooked.by.books