About The Stranger Behind You
• Publisher: William Morrow (July 6, 2021)
• Paperback: 336 pages
In the tradition of Daphne du Maurier and Shari Lapena, comes the newest mystery thriller from New York Times bestselling author Carol Goodman—a twisty, chilling story set in a former Magdalen Laundry in Manhattan that explores today's #MeToo complexities.
"In a twisting, mesmerizing story that is as beautifully written as it is utterly propulsive, Goodman keeps us breathlessly turning the pages right to the shocking and poignant end. I absolutely loved this layered and moving novel!" —Lisa Unger, New York Times bestselling author of Confessions on the 7:45
You're never really alone
Journalist Joan Lurie has written a seething article exposing a notorious newspaper tycoon as a sexual predator. But the night it goes live, she is brutally attacked. Traumatized and suffering the effects of a concussion, she moves into a highly secure apartment in Manhattan called the Refuge, which was at one time a Magdalen Laundry. Joan should be safe here, so how can she explain the cryptic incidents that are happening?
Lillian Day is Joan's new 96-year-old neighbor at the Refuge. In 1941, Lillian witnessed a mysterious murder that sent her into hiding at the Magdalen Laundry, and she hasn't come out since. As she relates to Joan her harrowing story, Joan sees striking similarities to her own past.
Melissa Osgood, newly widowed and revengeful, has burning questions about her husband's recent death. When she discovers a suspicious paper trail that he left behind, she realizes how little she knew about her marriage. But it seems Joan Lurie might be the one who has the answers.
As these three lives intersect, each woman must stay one step ahead of those who are desperate to make sure the truth is never uncovered.
Social Media
Please use the hashtag #TheStrangerBehindYou and tag @tlcbooktours, @williammorrowbooks, and @romangirl210.

Purchase Links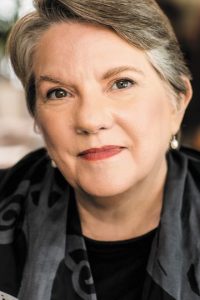 About Carol Goodman
Carol Goodman is the critically acclaimed author of fourteen novels, including The Lake of Dead Languages and The Seduction of Water, which won the 2003 Hammett Prize. Her books have been translated into sixteen languages. She lives in the Hudson Valley with her family, and teaches writing and literature at the New School and SUNY New Paltz.
Find out more about Carol on her website, Instagram, and Facebook.
Instagram Features
Tuesday, July 6th: Instagram: @nikkihrose
Thursday, July 15th: Instagram: @hooked.by.books
Friday, July 23rd: Instagram: @thriftybookworm
Monday, July 26th: Instagram: @montana_reads
Wednesday, July 28th: Instagram: @oomilyreads
Thursday, July 29th: Instagram: @andrea.c.lowry.reads
Friday, July 30th: Instagram: @bookdragon217
Monday, August 2nd: Instagram: @iowaamberreads
Wednesday, August 18th: Instagram: @katieneedsabiggerbookshelf