___________________________
In this thought-provoking, wise and emotionally rich novel, New York Times bestselling author Susan Wiggs explores the meaning of happiness, trust, and faith in oneself as she asks  the question, "If you had to start over, what would you do and who would you be?"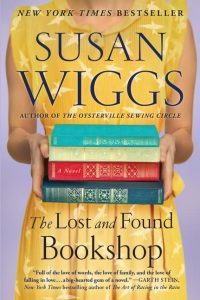 The Lost and Found Bookshop by Susan Wiggs
"A wonderful exploration of the past and the future and, most importantly, of what it means to be present in the here and now.  Full of the love of words, the love of family, and the love of falling in love, The Lost and Found Bookshop is a big-hearted gem of a novel that will satisfy and entertain readers from all walks of life.  Lovely!"—Garth Stein, New York Times bestselling author of The Art of Racing In The Rain

There is a book for everything . . . 
Somewhere in the vast Library of the Universe, as Natalie thought of it, there was a book that embodied exactly the things she was worrying about.
In the wake of a shocking tragedy, Natalie Harper inherits her mother's charming but financially strapped bookshop in San Francisco. She also becomes caretaker for her ailing grandfather Andrew, her only living relative—not counting her scoundrel father.
But the gruff, deeply kind Andrew has begun displaying signs of decline. Natalie thinks it's best to move him to an assisted living facility to ensure the care he needs. To pay for it, she plans to close the bookstore and sell the derelict but valuable building on historic Perdita Street, which is in need of constant fixing. There's only one problem–Grandpa Andrew owns the building and refuses to sell. Natalie adores her grandfather; she'll do whatever it takes to make his final years happy. Besides, she loves the store and its books provide welcome solace for her overwhelming grief.
After she moves into the small studio apartment above the shop, Natalie carries out her grandfather's request and hires contractor Peach Gallagher to do the necessary and ongoing repairs. His young daughter, Dorothy, also becomes a regular at the store, and she and Natalie begin reading together while Peach works.
To Natalie's surprise, her sorrow begins to dissipate as her life becomes an unexpected journey of new connections, discoveries and revelations, from unearthing artifacts hidden in the bookshop's walls, to discovering the truth about her family, her future, and her own heart.

Purchase Links
___________________________
You'll never believe the terrible things being said about the perfect president of the PTA.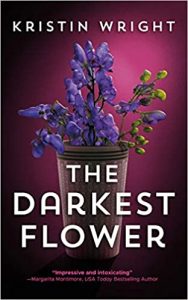 The Darkest Flower by Kristin Wright
Attempted murder? Inexplicable accident? Either way, a PTA mom struggled for her life in an elementary school cafeteria, poisoned by a wolfsbane-laced smoothie at the fifth-grade graduation party. Now all eyes are on the accused, the victim, and a woman hired to look deeper.
Ambitious defense attorney and single mother Allison Barton is anxious to escape the shadow of the low-down dog of a marquee partner carrying their renowned Virginia law firm. A win for her high-profile new client will give Allison the career she deserves. And PTA president Kira Grant certainly appears innocent—except for the toxic bloom in her backyard and perhaps a bit of a malicious streak. But no one said the innocent had to be likable—or entirely honest. Besides, with an image as carefully cultivated as her garden, Kira would be insane to risk everything on something as outrageous as the attempted murder of one of her closest friends.
What about those in Kira's orbit, a sunny suburb of moms behaving badly? What do they really know about Kira? What does Kira know about them? For Allison, the answers are getting darker every day.

Purchase Links
___________________________
Acclaimed musical artist Michelle Williams shares the intimate, never-before-told story of how, even in the midst of enormous fame and success, she battled depression, leading her to find her true calling as an advocate for mental health–especially her own.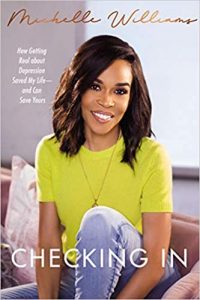 Checking In: How Getting Real about Depression Saved My Live–and Can Save Yours  by Michelle Williams
As a member of Destiny's Child, one of the top female R&B groups of all time, Michelle Williams felt blessed. After the group disbanded, she continued to create bestselling albums, appear on television shows, and star in theater productions. Though she had always struggled with low moods, in 2018 her depression deepened, and when she found herself planning her own funeral, she checked herself into a treatment facility. There she found the help she needed to live out the incredible story God was writing for her life.
In her first book, Michelle courageously shares the hidden secrets that nearly ended her life; the importance of her faith, family, and friends; and the lessons she learned about prioritizing her mental health. She is on a quest to increase mental health awareness and urges others to understand the importance of "checking in" with themselves, God, and others. Her candid, often humorous, and incredibly brave book will inspire readers who desire hope for their own difficult times.

Purchase Links
___________________________
One lucky book club will win copies of TWO Murphy Shepherd novels by bestselling author Charles Martin!
The Water Keeper and The Letter Keeper by Charles Martin
A riveting story of heroism, heartache, and the power of love to heal all wounds.
Murphy Shepherd is a man with many secrets. He lives alone on an island, tending the grounds of a church with no parishioners, and he's dedicated his life to rescuing those in peril. But as he mourns the loss of his mentor and friend, Murph himself may be more lost than he realizes.
When he pulls a beautiful woman named Summer out of Florida's Intracoastal Waterway, Murph's mission to lay his mentor to rest at the end of the world takes a dangerous turn. Drawn to Summer, and desperate to find her missing daughter, Murph is pulled deeper and deeper into the dark and dangerous world of modern-day slavery.
With help from some unexpected new friends, including a faithful Labrador he plucks from the ocean and an ex-convict named Clay, Murph must race against the clock to locate the girl before he is consumed by the secrets of his past—and the ghosts who tried to bury them.
With Charles Martin's trademark lyricism and poignant prose, The Water Keeper is at once a tender love story, a heartrending search for freedom, and a reminder that the needs of the one outweigh those of the ninety-nine.

Purchase Links
Combining heart-wrenching emotion with edge-of-your-seat tension, Charles Martin explores the true power of sacrificial love.
He shows up when all hope is lost.
Murphy Shepherd has made a career of finding those no one else could—survivors of human trafficking. His life's mission is helping others find freedom.
Then the nightmare strikes too close to home.
When his new wife, her daughter, and two other teenage girls are stolen, Murphy is left questioning all he has thought to be true. With more dead ends than leads, he has no idea how to find his loved ones.
After everything is stripped away, love is what remains.
Hope feels lost, but Murphy is willing to expend his last breath trying to bring them home.

Purchase Links
___________________________
A subtly wicked, almost Southern Gothic tale of existential angst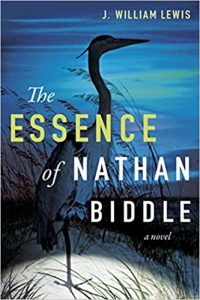 The Essence of Nathan Biddle by J. William Lewis
A subtly wicked, almost Southern Gothic tale of existential angst told by 18-year-old Kit Biddle, an anti-Gumpian southern boy struggling with the complexities of life. The story unfolds against a backdrop of painful chaos: Kit's revered uncle, Nathaniel Tyler Biddle, Jr., has sacrificed his only son on direct and specific orders, according to Rev. Biddle, from God himself. As Kierkegaard has suggested, the comic and the tragic converge on Kit's desperate search for meaning in a willy-nilly world of opaque walls and filtered light.
The enigmatic Anna appears with all the attributes of Kit's yearning and imagination and then, just like that, she disappears like a phantom in a fog, only to be replaced by the enigmatic Sarah who reverses the roles and projects onto Kit all her desires and imaginings. Standing on one leg in the darkness, Death beckons to Kit with a promise of light and comfort but instead leaves him lying in his own blood on hot pavement with neither clarity nor relief. Who is Kit Biddle? He may actually be Nathan Biddle but who in the world is that?
When the fog dissipates—if the clarity he seeks finally appears—does Kit really want the answers he finds?

Purchase Links
___________________________
They said you can't take your money with you when you die.
What if they were wrong? Srinath Adiga's timely satire explores the pitfalls of modern capitalism and the dangerous power of myth.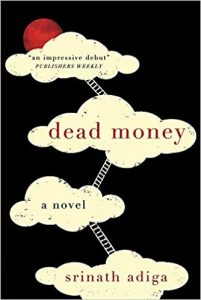 Dead Money by Srinath Adiga
Hong Kong, 2002. A stock market trader desperate to pay off a gangster debt invents a scam: Afterlife Dollars. A product inspired by an ancient Chinese custom that allows people to buy their way into heaven.
It's the beginning of a dizzying chain reaction that ripples in Mumbai, where one man does the unthinkable to secure his afterlife–while thousands of miles away in Amsterdam, another man races against time to stop an apocalypse. As a cast of larger-than-life characters grapple with unprecedented moral dilemmas, their choices will affect the rest of humanity.
Profound, exhilarating and full of unexpected twists, Dead Money  balances intelligence and dark humour with compassion, empathy and hope. Its cleverness lies in its ability to convince us that the impossible can happen–a compelling, thought-provoking read at a time when the world stares at an uncertain future.
In addition to the giveaway from TLC, Central Avenue Publishing is running a fun social event: post a pic on IG of the one thing you'd want to take with you when you die and use the hashtag #deadmoney and tag @centavepub for a chance to win one of five additional copies of Dead Money.
Open to US & Canada only
"A memorable premise lifts Adiga's impressive debut. Adiga makes the central conceit work as he effectively sends up the tendency of people to believe anything."–Publishers Weekly
"Exhilarating pace, intriguing proposition, and plenty of dark laughs: Dead Money'sthe thriller I'll be burning through in the afterlife."–Kate Veitch, author of Without a Backward Glance and Trust
"A unique and highly original story. If you've ever wondered about the rise of BitCoin or how money really works, you'll enjoy this book."–Sion Scott-Wilson, author of The Sleepwalker's Introduction to Flight

Purchase Links
___________________________
An aspiring screenwriter has a chance encounter with an actor who could be the man of her dreams. Over the next ten years, she'll write the story . . . but will he end up being the star?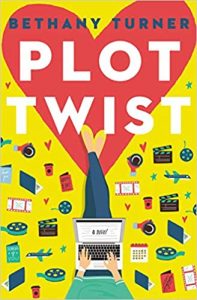 Plot Twist by Bethany Turner
February 4, 2003, promises to be a typical day for Olivia Ross—a greeting card writer whose passion project is a screenplay of her own. But after she and a handsome actor have a magical meet-cute in a coffee shop, they make a spontaneous pact: in ten years, after they've found the success they're just sure they're going to achieve, they'll return to the coffeehouse to partner up and make a film together. The only problem? Olivia neglected to get the stranger's name. But she doesn't forget his face—or the date.
Every February 4 for the next ten years, Olivia has a day full of coincidences and ironies. As men come and go and return to her life, she continues to write, but still wonders about the guy from the coffee shop—the nameless actor she's almost certain has turned out to be Hamish MacDougal, now a famous A-lister and Hollywood leading man.
But a lot can happen in ten years, and while waiting for the curtain to rise on her fate, the true story of Olivia's life is being written—and if she's not careful, she'll completely miss the real-life romantic comedy playing out right before her eyes.
"Plot Twist gave my rom-com loving heart everything it could hope for . . . Perfect for anyone who loves love or dreams about meeting George Clooney."—Kerry Winfrey, author of Waiting for Tom Hanks

Purchase Links
___________________________
Bestselling author and pastor Chris Hodges helps those struggling with depression find liberating solutions by drawing from the life of the prophet Elijah.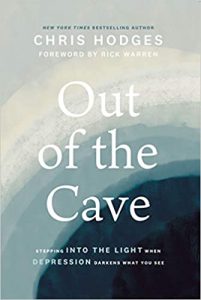 Out of the Cave: Stepping Into the Light When Depression Darkens What You See by Chris Hodges
Shame about the dark thoughts swirling in your mind. Guilt about how powerless you feel to overcome negative emotions. Alternating bouts of sadness and numbness. You might be asking, Should a Christian even be having these struggles?
Depression is the number one health issue in the world today, yet those who suffer are still sometimes stigmatized–especially followers of Jesus. Many assume God's peace, power, and protection should prevent us from ever feeling anxious, depressed, and afraid. But the Bible teaches otherwise, particularly in its depiction of the life of the Old Testament prophet Elijah.
In Out of the Cave, bestselling author and pastor Chris Hodges uses Elijah's life to show us that everyone is susceptible to depression. Even when we're walking closely with God, we can still stumble and get lost in the wilderness of tangled emotions. But we don't have to stay there, because we serve a God who meets us in the darkness. Out of the Cave helps us
remove the stigma of depression and realize we're not alone;
understand the ways our temperament and view of God affect the way we handle depression; and
learn a comprehensive approach to wellness—mind, body, and soul—from Elijah's journey.
With his trademark blend of Bible-based wisdom, practical application, and vulnerability in sharing his personal struggles, Hodges explores the causes of depression we can't change, the contributors we can conquer, and offers transformative hope and spiritual power to help us win the battle.

Purchase Links
___________________________
In today's contentious social climate, is it possible to talk to people—whether strangers or friends—about life's deepest and most sensitive topics?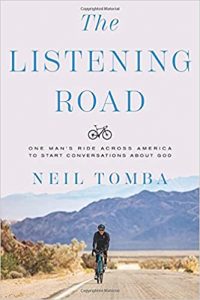 The Listening Road: One Man's Ride Across America to Start Conversations About God by Neil Tomba
The true story of one man's remarkable thirty-three-day journey cycling across the United States on a mission to engage with people from all walks of life in real conversations about things that matter most.
As a pastor, Neil Tomba noticed a disturbing trend among people in church: they were finding it increasingly difficult to talk about God to those outside of the church. Neil wanted to practice what he preached, so he set out to bike across the United States, talking—and, more importantly, listening—to strangers from all walks of life about faith, their stories, and matters of the heart.
The Listening Road takes us on Neil's remarkable journey across the country and straight into its soul—from Route 66 motels to state parks, a lake house, and a railway car; from conversations with Amish farmers to chats with truckers, cowboys, mechanics, and a descendant of Daniel Boone. From one city, farm, and highway to the next, we discover
practical ways to change our posture toward others to foster conversation,
why curiosity, kindness, and respect open up communication about God, and
how even in a culture of division and antagonism, real connection is possible.
In our polarizing time, Neil models with compassion and curiosity that genuine connection happens if only we are willing to listen in love.

Purchase Links
___________________________
Through letters with a famous author, one French librarian tells her love story and describes the brutal Nazi occupation of her small coastal village.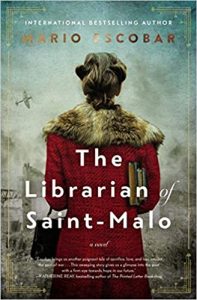 The Librarian of Saint-Malo by Mario Escobar
Saint-Malo, France: August 1939. Jocelyn and Antoine are childhood sweethearts, but just after they marry, Antoine is called up to fight against Germany. As the war rages, Jocelyn focuses on comforting and encouraging the local population by recommending books from her beloved library in Saint-Malo. She herself finds hope in her letters to a famous author.
After the French capitulation, the Nazis occupy the town and turn it into a fortress to control the north of French Brittany. Residents try passive resistance, but the German commander ruthlessly purges part of the city's libraries to destroy any potentially subversive writings. At great risk to herself, Jocelyn manages to hide some of the books while waiting to receive news from Antoine, who has been taken to a German prison camp.
What unfolds in her letters is Jocelyn's description of her mission: to protect the people of Saint-Malo and the books they hold so dear. With prose both sweeping and romantic, Mario Escobar brings to life the occupied city and re-creates the history of those who sacrificed all to care for the people they loved.

Purchase Links
___________________________
Siblings Emma and Alex tumble into a secret world where magic is real and skilled illusionists can perform actual tricks–for better or worse. Perfect for fans of the Magic Misfits and the Land of Stories series.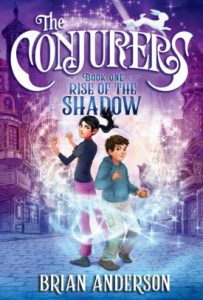 The Conjurers by Brian Anderson
After their parents vanished, Alex and Emma are sent to live with strict Uncle Mordo. Only Emma's pet rabbit, Pimawa, keeps them company. But when flying skeletons called Rag-o-Rocs storm their once-quiet home, the kids escape just in time with Pimawa leading the way.
The rabbit takes the siblings to the Conjurian, a land where magic exists and Pimawa can talk. But the Conjurian is in trouble. Magic has been disappearing, and the Shadow Conjurer, the most mysterious sorcerer of all, is on the hunt for the Eye of Dedi, an object so powerful it could destroy the Conjurian and human worlds. The battle to control all magic has begun. There's only one problem: Alex and Emma don't have any!
Masterful storytelling and dozens of captivating illustrations fill author-illustrator Brian Anderson's world with charm and intrigue. Fall under the spell of the Conjurers.

Purchase Links
___________________________
Create Your Own Midlife Crisis is a fun and humorous choose-your-own-path book on making risqué and bold choices in the prime of midlife, giving you the chance to try countless roads not yet taken.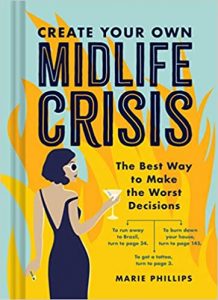 Create Your Own Midlife Crisis by Marie Phillips
What's the worst that could happen?
Are you on the far side of forty and wondering how you ended up here? Do you secretly wish you could set flame to everything and walk away in slow motion, leave your tedious responsibilities and boring routines behind, and start life over again?
What if you could?
In the classic choose-your-own-path style, gives you unlimited chances to try all the roads not taken:
To quit your stupid job, turn to page 108.
To buy a motorcycle, turn to page 74.
To agree to a swingers' night, turn to page 82.
To go clubbing with your mom, turn to page 68.
Whether it's an affair with a younger man, trying ayahuasca, or just telling your boss to shove it, Create Your Own Midlife Crisis delivers over 150 exciting and hilarious ways to reinvent your life.
With illustrations and endless possibilities, this fun and affordable book is the PERFECT GIRLFRIEND's GIFT! It will make a hilarious birthday, retirement, Galentine's, or girlfriend's gift for anyone in their midlife years.

Purchase Links
___________________________

Please fill out our super short registration form (click the "Enter Now" button above) by June 30th for a chance to win a set of up to ten copies of one of these great books for your book club! We will randomly choose a winner at the end of the month. This giveaway is open to clubs in the US only (our apologies to friends in other countries). 
Best of luck!
We 
LOVE

 Book Clubs!