About Maps for the Getaway
• Publisher: William Morrow Paperbacks (June 15, 2021)
• Paperback: 336 pages
If you love Susan Mallery, you won't want to miss this novel of three high school friends who find themselves emotionally fractured when tragedy strikes, so they go on a road trip they'll never forget and rediscover what made them "best friends forever."
It was the road trip of their lives . . . and they did it without a map.
When they posed for a photo at their high school graduation, they vowed they'd be friends forever, but teenage promises are so easily broken, and now, thirty years later, they're practically strangers.
Cici—stuck in a rut, married to a cheating husband.
Genie—caring for her ailing father but never getting any thanks.
Kate—everyone knows people who look perfect on Instagram are not.
And Laurie—the most successful of them all—now tragically gone.
So, to celebrate Laurie's life,  three former friends in a 1962 red Lincoln Continental convertible take the road trip of their lives—encountering male strippers, a boy band that has seen better days, crazy motel rooms, adopting a so-ugly-it's-cute stray dog…and discovering that it's never too late to live the wild life.
Because, sometimes, to find yourself you have to get away.
Social Media
Please use the hashtag #MapsForTheGetaway, and tag @tlcbooktours, @williammorrowbooks, and @aenoblin.

Purchase Links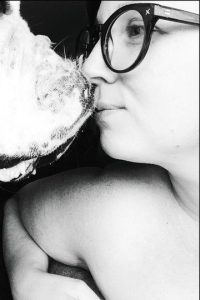 About Annie England Noblin
Annie England Noblin lives with her son, husband, and three dogs in the Missouri Ozarks. She graduated with an M.A. in creative writing from Missouri State University and currently teaches English and communications for Arkansas State University in Mountain Home, Arkansas. She spends her free time playing make-believe, feeding stray cats, and working with animal shelters across the country to save homeless dogs.
Find out more about Annie at her website, and follow her on Facebook, Twitter, and Instagram.
Instagram Features
Tuesday, June 15th: Instagram: @mrsboomreads
Wednesday, June 16th: Instagram: @thebookclubmom
Thursday, June 17th: Instagram: @bookishinthebay
Saturday, June 19th: Instagram: @irishgirliereads
Sunday, June 20th: Instagram: @joannasbookshelf
Monday, June 21st: Instagram: @whatalyssareads
Tuesday, June 22nd: Instagram: @hannahs_booknook
Wednesday, June 23rd: Instagram: @livingmybestbooklife
Thursday, June 24th: Instagram: @quietmountainreader