About Little and Often
• Publisher: William Morrow (April 27, 2021)
• Hardcover: 304 pages
"Little and Often is a beautiful memoir of grief, love, the shattered bond between a father and son, and the resurrection of a broken heart. Trent Preszler tells his story with the same level of art and craftsmanship that he brings to his boat making, and he reminds us of creativity's power to transform and heal our lives. This is a powerful and deeply moving book. I won't soon forget it."   —Elizabeth Gilbert
Trent Preszler thought he was living the life he always wanted, with a job at a winery and a seaside Long Island home, when he was called back to the life he left behind. After years of estrangement, his cancer-stricken father had invited him to South Dakota for Thanksgiving. It would be the last time he saw his father alive.
Preszler's only inheritance was a beat-up wooden toolbox that had belonged to his father, who was a cattle rancher, rodeo champion, and Vietnam War Bronze Star Medal recipient. This family heirloom befuddled Preszler. He did not work with his hands—but maybe that was the point. In his grief, he wondered if there was still a way to understand his father, and with that came an epiphany: he would make something with his inheritance. Having no experience or training in woodcraft, driven only by blind will, he decided to build a wooden canoe, and he would aim to paddle it on the first anniversary of his father's death.
While Preszler taught himself how to use his father's tools, he confronted unexpected revelations about his father's secret history and his own struggle for self-respect. The grueling challenges of boatbuilding tested his limits, but the canoe became his sole consolation. Gradually, Preszler learned what working with his hands offered: a different per­spective on life, and the means to change it.
Little and Often is an unflinching account of bereavement and a stirring reflection on the complexities of inheritance. Between his past and his present, and between America's heartland and its coasts, Preszler shows how one can achieve reconciliation through the healing power of creativity.
"Insightful, lyrical…Little and Often proves to be a rich tale of self-discovery and reconciliation. Resonating with Robert Pirsig's classic Zen and the Art of Motorcycle Maintenance, it is a profound father-and-son odyssey that discovers the importance of the beauty of imperfection and small triumphs that make extraordinary happen."  —USA Today (????)
Social Media
Please use the hashtag #LittleAndOften, and tag @tlcbooktours, @williammorrowbooks, and @preszlerwoodshop.

Purchase Links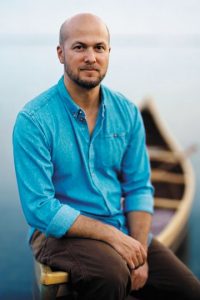 About Trent Preszler
Trent Preszler grew up on a cattle ranch in South Dakota and received his BS from Iowa State University in 1998. He was subsequently awarded a Rotary Scholarship to the UK and a diploma from the Royal Botanic Garden. After a White House internship for President Bill Clinton, he earned an MS in agricultural economics and a PhD in horticulture from Cornell University. He is now the CEO of Bedell Cellars and founder of Preszler Woodshop. He lives in New York. Little and Often is his first book.
Find out more about Trent at his website, and follow him on Twitter and Instagram.
Instagram Features
Wednesday, May 12th: Instagram: @kennatellyouastory
Friday, May 14th: Instagram: @neverthless_she_reads
Saturday, May 15th: Instagram: @nurse_bookie
Sunday, May 16th: Instagram: @kara.bookstagram
Monday, May 17th: Instagram: @bookshelfmomma
Tuesday, May 18th: Instagram: @shejustlovesbooks
Wednesday, May 19th: Instagram: @babygotbooks4life
Thursday, May 20th: Instagram: @pickagoodbook
Saturday, May 22nd: Instagram: @littlefoot_books
Monday, May 24th: Instagram: @what.ems.reading
Thursday, May 27th: Instagram: @timber.oaks.little.library
Friday, May 28th: Instagram: @thebeerreader
Friday, June 4th: Instagram: @gracereads82
Monday, June 28th: Instagram: @thebookblondie
Friday, July 2nd: Instagram: @books_with_bethany