Celebrate Mom!
We've gathered up some wonderful books that moms are sure to love!
___________________________
A heartfelt, spellbinding, and irresistible debut novel for fans of The Time Traveler's Wife and Outlander that movingly examines loss, faith, and love as it follows a grown woman who travels back in time to be reunited with the mother she lost when she was a child.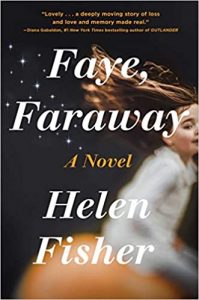 Faye, Faraway by Helen Fisher
Faye is a thirty-seven-year-old happily married mother of two young daughters. Every night, before she puts them to bed, she whispers to them: "You are good, you are kind, you are clever, you are funny." She's determined that they never doubt for a minute that their mother loves them unconditionally. After all, her own mother Jeanie had died when she was only seven years old and Faye has never gotten over that intense pain of losing her.
But one day, her life is turned upside down when she finds herself in 1977, the year before her mother died. Suddenly, she has the chance to reconnect with her long-lost mother, and even meets her own younger self, a little girl she can barely remember. Jeanie doesn't recognize Faye as her daughter, of course, even though there is something eerily familiar about her…
As the two women become close friends, they share many secrets—but Faye is terrified of revealing the truth about her identity. Will it prevent her from returning to her own time and her beloved husband and daughters? What if she's doomed to remain in the past forever? Faye knows that eventually she will have to choose between those she loves in the past and those she loves in the here and now, and that knowledge presents her with an impossible choice.
Emotionally gripping and ineffably sweet Faye, Faraway is a brilliant exploration of the grief associated with unimaginable loss and the magic of being healed by love.

Purchase Links
___________________________
ARE YOU READY TO BELIEVE IN YOU?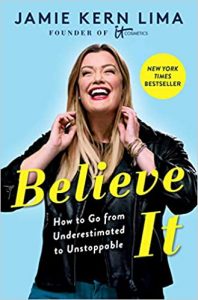 Believe IT: How to Go From Underestimated to Unstoppable by Jamie Kern Lima
Imagine overcoming the things holding you back, breaking through the barrier of self-doubt and fully becoming the person YOU were BORN TO BE!
In Believe IT, Jamie Kern Lima, founder of IT Cosmetics, shares the wild but true story of how a once struggling waitress turned her against-the-grain idea into an international bestselling sensation, eventually selling the company for over a billion dollars and becoming the first female CEO of a brand in L'Oréal's 100+ year history. Faced with self-doubt, body-doubt, God-doubt, down to her last few dollars and told "No one is going to buy makeup from someone who has your body," Jamie reveals for the first time what really went down, how she almost didn't make it, how she learned to trust herself, and the powerful lessons you, too, can use to go from underestimated to unstoppable.
With radical vulnerability and honesty, Jamie takes you on a journey through deeply personal stories of heartbreak and resilience—including accidentally finding out she was adopted when she was in her twenties and the reverberations this has had on all aspects of her life. Jamie also pulls back the curtain on her fight to change the beauty industry's use of unrealistic images, on behalf of all the little girls who are about to start doubting themselves, and all of the grown women who still do. Spellbinding, riveting, with raw vulnerability and down-to-earth warmth, Believe IT shakes your soul and shows you that you, too, have what it takes to believe in yourself, trust yourself, and go from doubting you're enough to knowing you're enough! Do you have big goals, hopes, and dreams but let rejection get in the way? Do you struggle with feeling like you're not enough and like success is something that happens to other people, but have a hard time believing it's possible for you? Do you let past mistakes and failures hold you back? Do you know deep down inside that you were created for more, but somehow still doubt yourself?
In Believe IT you'll discover how to…
-Overcome self-doubt
-Gain the courage to take risks, an empower yourself and others
-Tune into and trust your own intuition
-Let go of your mistakes and insecurities
-Turn down the volume on your inner critic
-Handle the rejection, the haters, and the mean girls
-Boost your confidence
-Start your dream (and keep going!)
-And much more…
If you've ever doubted yourself or felt truly underestimated, this book will inspire a new kind of belief and confidence in you and your dreams!

Purchase Links
___________________________
New York Times bestselling author Ann Voskamp invites you to embrace everyday blessings and embark on the transformative spiritual discipline of chronicling God's gifts.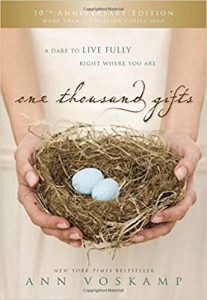 One Thousand Gifts by Ann Voskamp
10th Anniversary Edition with More Than 1.5 Million Copies Sold
Ann Voskamp hungers to live her one life well but wonders how can we find joy in the midst of deadlines, debt, drama, and even the death of loved ones? What does the Christ-life really look like when your days are gritty, long, and sometimes even dark? How is God even here?
A new introduction and ribbon marker enhance this beautiful tenth anniversary edition of One Thousand Gifts that beckons you to leave the parched ground of pride, fear, and white-knuckle control and abandon yourself to the God who overflows your cup. As she invites you into her own moments of amazing grace, Ann gently teaches you how to biblically lament loss, turning pain into poetry; intentionally embrace a lifestyle of radical gratitude; and slow down and catch God in the moment.
Not a book merely to read, One Thousand Gifts begs to be embraced as a dynamic, interactive primer and invitation to engage with truths that will serve up the depths of God's joy and transform your life forever.

Purchase Links
___________________________
From the star of Say Yes to the Dress: Atlanta, now filming its eleventh season for TLC, comes a book and a life-makeover movement for women approaching fifty and beyond.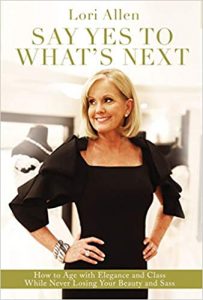 Say Yes to What's Next by Lori Allen
Move over, girlfriend, Lori Allen is here to help you say yes to what's next! Star of Say Yes to the Dress: Atlanta, Lori Allen uses her confidence, wisdom, and signature humor not only to help young brides on their most important day ever but also to model to them and their mothers how to live out the coming years as the best of their lives.
Lori Allen is owner/operator of one of the biggest and busiest bridal mega-salons in the country, Atlanta's Bridals by Lori. But she's also a wife, mother, grandmother, and breast cancer survivor.
Whether you're feeling invisible, disappearing into the fabric of your couch a little more every year, or simply being indecisive about what's next, Lori offers herself as the poster child of what to do, not do, and how to see your way through the unexpected.
In Say Yes to What's Next she addresses essential issues, such as
don't let yourself go,
marriage is awesome, but it's no fairytale,
keep your mouth shut and your heart open to your kids (and they'll bring you grandkids),
make time to parent your parents,
maintain a close circle of girlfriends,
get off the couch and live your passion,
take charge of your money, and
what to do when life gives you a faceplant.
Say Yes to What's Next is a life makeover and therapy session from a relatable you-can-and-you-should-do-this straight-shooter as Lori helps women shape their own futures with confidence, style, and sass.

Purchase Links
___________________________
Single mom Rachel Gibson seriously needs a break.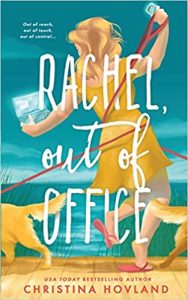 Rachel, Out of Office by Christina Hovland
Single mom Rachel Gibson seriously needs a break. Between an absent ex-husband, rowdy twin boys, and running her own work-from-home business, her candle isn't just burning at both ends, it's a full-blown puddle of wax. She's the go-to girl for other entrepreneurs, handling all the tasks they dread. Social media posts? She's got it. Website updates? She's on it. Light bookkeeping? She loves it.
Thank goodness Rachel's about to get a reprieve, as her former in-laws plan to whisk her boys away for a summer of fun at the family lake house. But when her ex backs out at the last minute, she finds herself in a pickle. Even though she's drowning in to-dos, she's horrible at saying no—especially when it comes to providing some stability for her kids.
Once Rachel arrives at the lake house, she struggles to keep up with work and balance the demands of family, all the while fending off pesky new feelings for her ex-brother-in-law. Which makes her wonder…is falling for her ex-husband's brother just one more messy complication added to the dumpster fire of her life? Or is anything possible when she's out of office…?

Purchase Links
___________________________
While her humanitarian husband Liam has been digging wells in Africa, Mara Jacobs has been struggling.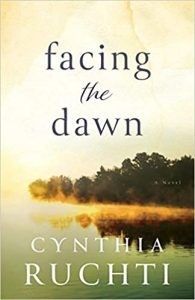 Facing the Dawn by Cynthia Ruchti
She knows she's supposed to feel a warm glow that her husband is nine time zones away, caring for widows and orphans. But the reality is that she is exhausted, working a demanding yet unrewarding job, trying to manage their three detention-prone kids, failing at her to-repair list, and fading like a garment left too long in the sun.
Then Liam's three-year absence turns into something more, changing everything and plunging her into a sunless grief. As Mara struggles to find her footing, she discovers that even when hope is tenuous, faith is fragile, and the future is unknown, we can be sure we are not forgotten . . . or unloved.

Purchase Links
___________________________
The Ashwood women don't have much in common…except their ability to keep secrets.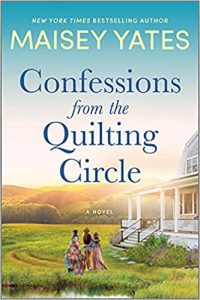 Confessions from the Quilting Circle by Maisey Yates
When Lark Ashwood's beloved grandmother dies, she and her sisters discover an unfinished quilt. Finishing it could be the reason Lark's been looking for to stop running from the past, but is she ever going to be brave enough to share her biggest secret with the people she ought to be closest to?
Hannah can't believe she's back in Bear Creek, the tiny town she sacrificed everything to escape from. The plan? Help her sisters renovate her grandmother's house and leave as fast as humanly possible. Until she comes face-to-face with a man from her past. But getting close to him again might mean confessing what really drove her away…
Stay-at-home mom Avery has built a perfect life, but at a cost. She'll need all her family around her, and all her strength, to decide if the price of perfection is one she can afford to keep paying.
This summer, the Ashwood women must lean on each other like never before, if they are to stitch their family back together, one truth at a time…
"Yates weaves surprises and vivid descriptions into this moving tale about strong and nurturing female family bonds."—Booklist on Confessions from the Quilting Circle  

Purchase Links
___________________________

Please fill out our super short registration form (click the "Enter Now" button above) by May 31st for a chance to win a set of up to ten copies of one of these great books for your book club! We will randomly choose a winner at the end of the month. This giveaway is open to clubs in the US only (our apologies to friends in other countries). 
Best of luck!
We 
LOVE

 Book Clubs!