About Imagine Summer
• Paperback: 416 Pages
• Publisher: William Morrow Paperbacks (May 11, 2021)
As a child, Skylar Mackenzie's imagination always got her in trouble. Now it's making her a fortune. She owns Imagine That, a toy and bookstore and creativity center in a small Rhode Island beach town where children, and adults, can use their imagination free from judgment.
Skye is about to embark on her biggest venture yet, a weekend retreat of family exploration. But it begins to unravel when she finds her estranged half-sister Amy on the doorstep. And Amy's not alone.
She's brought Skye's first love, Connor Reid—the boy who broke her heart; the man who could break it again.
Amy claims she wants to make amends—but how can Skye trust her? It was Amy's lies that drove her from home fifteen years before. Suddenly, Skye's perfectly imagined summer is in jeopardy. Not to mention her perfectly ordered life. Or her beloved town's financial future.
With Amy back to her old trouble-making ways, and Connor making Skye wonder what might have been, Skye makes a decision that may cost her everything.
Imagine Summer is a story of discovery, trust, and the courage to dream.
Social Media
Please use the hashtag #ImagineSummer, and tag @tlcbooktours, @williammorrowbooks, and @shelleynobleauthor.

Purchase Links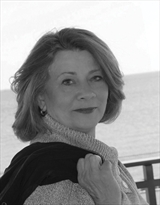 About Shelley Noble
Shelley Noble is the New York Times and USA Today bestselling author of Whisper Beach and Beach Colors. Other titles include Stargazey Point, Breakwater Bay, and Forever Beach—a story of foster adoption in New Jersey—and four spin-off novellas. A former professional dancer and choreographer, she lives on the Jersey shore and loves to discover new beaches and indulge her passion for lighthouses and vintage carousels. Shelley is a member of Sisters in Crime, Mystery Writers of America, and Women's Fiction Writers Association.
Find out more about her at her website, and follow her on Facebook, Twitter, and Instagram.
Instagram Features
Tuesday, May 11th: Instagram: @the_unwined
Wednesday, May 12th: Instagram: @thebookclubmom
Thursday, May 13th: Instagram: @gingersbookclub
Friday, May 14th: Instagram: @readwithmason
Monday, May 17th: Instagram: @megans_bookcorner
Tuesday, May 18th: Instagram: @biancabuysbooks
Monday, June 7th: Instagram: @pnwbookworm
Tuesday, June 8th: Instagram: @readtowander