About How to Kidnap the Rich
• Publisher: Harper Perennial (June 1, 2021)
• Paperback: 336 pages
"The first great state-of-the-subcontinent novel of the 21st century" (the Bookseller)—a fresh look at modern-day India hailed as "a monstrously funny and unpredictable wild ride" by Kevin Kwan, New York Times bestselling author of the Crazy Rich Asians trilogy
The first kidnapping wasn't my fault. The others—those were definitely me.
Brilliant yet poor, Ramesh Kumar grew up working at his father's tea stall in the Old City of Delhi. Now, he makes a lucrative living taking tests for the sons of India's elite—a situation that becomes complicated when one of his clients, the sweet but hapless eighteen-year-old Rudi Saxena, places first in the All Indias, the national university entrance exams, thanks to him.
Ramesh sees an opportunity—perhaps even an obligation—to cash in on Rudi's newfound celebrity, not knowing that Rudi's role on a game show will lead to unexpected love, followed by wild trouble when both young men are kidnapped.
But Ramesh outwits the criminals who've abducted them, turning the tables and becoming a kidnapper himself. As he leads Rudi through a maze of crimes both large and small, their dizzying journey reveals an India in all its complexity, beauty, and squalor, moving from the bottom rungs to the circles inhabited by the ultra-rich and everywhere in between.
A caper, social satire, and love story rolled into one, How to Kidnap the Rich is a wild ride told by a mesmerizing new talent with an electric voice.
Social Media
Please use the hashtag #HowToKidnapTheRich, and tag @tlcbooktours and @harperperennial.
Purchase Links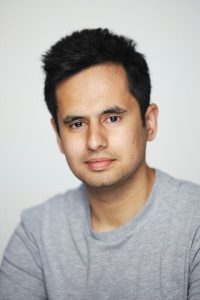 About Rahul Raina
Rahul divides his time between Oxford and Delhi. He is only twenty seven, but still runs his own start-up in England for part of the year, and works for charities for street children and teaches English in India in the down season. As Rahul says: Garam Masala was written where it's set, in the 40 degree heat in the concrete coffin that's New Delhi.
Follow Rahul on Twitter.
Instagram Features
Tuesday, June 1st: Instagram: @reviewsshewrote
Wednesday, June 2nd: Instagram: @bookapotamus
Thursday, June 3rd: Instagram: @whatjamieread
Friday, June 4th: Instagram: @thriftybookworm
Saturday, June 5th: Instagram: @bookishcatsavant
Sunday, June 6th: Instagram: @bluntscissorsbookreviews
Monday, June 7th: Instagram: @bookishinthebay