Paperback: 320 Pages
Publisher: Thomas Nelson (July 13, 2021)
A Summer Detour by Denise Hunter
In order to prove herself to her parents, free-spirited Allie Adams undertakes the responsibility of delivering her grandparents' newly-restored '57 Chevy for their 50th wedding anniversary party. But an unfortunate oversight forces her to make the road trip with Luke Fletcher, the man who callously broke her heart years ago.
The journey soon dissolves into a series of misfortunes, obliging the antagonistic travelers to spend even more time together. As they overcome challenges and obstacles, they remember the spark that once flared between them. But they must decide if they're willing to risk their hearts again—or if the personal cost is simply too great.
Pining for You by Melissa Ferguson
Theo Watkins III is a respectable man—the kind who drives a Tesla, not a tractor. But when he discovers that the caretaker of his family-inherited Christmas tree farm is injured during planting season, he drives up to support the man who has been like a father to him.
Three months into her move back to the family farm, Skye Whitesides expected to run into Theo eventually. What she didn't expect was for Theo to offer up his services for the farm. Not that he has any services—her childhood best friend and the man who broke her heart seventeen years ago wouldn't know which part of the shovel was the handle. As the two are forced to work together, she finds herself lowering her guard and starting to trust Theo. Is he truly the man she hopes him to be, or will he break her heart again?
He Loves Me; He Loves Me Not by Kathleen Fuller
Thirty-five-year-old Sophie has spent years making her floral shop, Petals and Posies, a success, and her love life has suffered. She's avoided romance since her ex broke her heart, but now she's ready to start dating again.
Joe, also thirty-five, has known Sophie since kindergarten, but sparks have never flown between them. He's finally decided to get back into the dating pool after spending the past fifteen years coaching, teaching, and working with underprivileged kids. He decides to ask out Sophie. But to his dismay, someone else is also vying for her attention.
Should Sophie listen to Joe—and her heart? Or should she take a chance with Landon, the slick lawyer she's also attracted to? Will Joe, who hates conflict, do the easy thing and let Sophie and Landon be together? Or force himself out of his comfort zone because he is unable to let her go?

Purchase Links
About Denise Hunter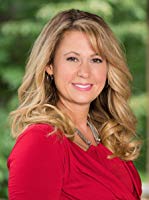 Denise Hunter is the internationally published bestselling author of more than 25 books, including A December Bride and The Convenient Groom, which have been adapted into original Hallmark Channel movies. She has won The Holt Medallion Award, The Reader's Choice Award, The Carol Award, The Foreword Book of the Year Award, and is a RITA finalist. When Denise isn't orchestrating love lives on the written page, she enjoys traveling with her family, drinking green tea, and playing drums. Denise makes her home in Indiana where she and her husband are rapidly approaching an empty nest.
Connect with Denise
About Melissa Ferguson
Melissa Ferguson lives in Bristol, Tennessee, where she enjoys chasing her children and writing romantic comedies full of humor and heart. Her favorite hobby is taking friends and acquaintances and turning them into characters in her books without their knowledge. She is confident you should read all her novels, starting with this one.
Connect with Melissa
About Kathleen Fuller
With over a million copies sold, Kathleen Fuller is the author of several bestselling novels, including the Hearts of Middlefield novels, the Middlefield Family novels, the Amish of Birch Creek series, the Amish Letters series, the Brides of Birch Creek series, the upcoming Mail Order Brides of Birch Creek, as well as a middle-grade Amish series, the Mysteries of Middlefield. She has also contributed to numerous novella collections.
She and her husband James live in Arkansas and have three adult children. When she's not writing, Kathleen is avidly crocheting, reading, and traveling, sometimes all at the same time. She runs the Facebook group Books & Hooks, which combines her love of books, crochet, and collecting recipes that she'll never have enough time to make.
Connect with Kathleen
Instagram features:
Monday, July 12th: @nsiabblog
Tuesday, July 13th: @bookishwithwine
Wednesday, July 14th: @travelerswife4life
Wednesday, July 14th: @rozierreadsandwine
Friday, July 16th: @mommaleighellensbooknook
Friday, July 16th: @brittreadsalattebooks
Saturday, July 17th: @christina.marie.reads
Sunday, July 18th: @stumblingintobooks
Monday, July 19th: @nurse_bookie
Tuesday, July 20th: @herlovelyplace
Wednesday, July 21st: @thebookscript
Wednesday, July 21st: @the.book.borrower
Thursday, July 22nd: @bookshelfmomma
Friday, July 23rd: @jenniaahava
Friday, July 23rd: @what.ems.reading
Saturday, July 24th: @pickagoodbook
Sunday, July 25th: @shobizreads
Monday, July 26th: @pages.and.plates
Monday, July 26th: @readresa
Tuesday, July 27th: @meghans_library
Wednesday, July 28th: @olivias.bookish.world
Thursday, July 29th: @ifcatscouldread
Friday, July 30th: @books_with_bethany
Saturday, July 31st: @lifebymindyleigh
Sunday, August 1st: @welovebigbooksandwecannotlie
Tuesday, August 3rd: @lourdesreads