About Goodbye, Again
• Publisher: Harper Perennial; Illustrated edition (April 20, 2021)
• Hardcover: 240 pages
The wonderfully original author of Everyone's a Aliebn When Ur a Aliebn Too gives us a collection of touching and hilarious personal essays, stories, poems—accompanied by his trademark illustrations—covering topics such as mental health, happiness, and what it means to belong.
Jonny Sun is back with a collection of essays and other writings in his unique, funny, and heartfelt style. The pieces range from long meditations on topics like loneliness and being an outsider, to short humor pieces, conversations, and memorable one-liners.
Jonny's honest writings about his struggles with feeling productive, as well as his difficulties with anxiety and depression will connect deeply with his fans as well as anyone attempting to create in our chaotic world.
It also features a recipe for scrambled eggs that might make you cry.
Social Media
Please use the hashtag #GoodbyeAgain, and tag @tlcbooktours, @harperperennial, and @jonnysun.

Purchase Links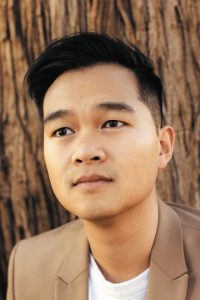 About Jonny Sun
Jonny Sun is the best-selling author and illustrator of everyone's a aliebn when ur a aliebn too and the illustrator of Gmorning, Gnight! by Lin-Manuel Miranda. He was a writer for the Emmy-nominated sixth season of the Netflix Original Series BoJack Horseman, and is currently writing a movie, a new book, and multiple other projects. As a doctoral candidate at MIT and a creative researcher at the Harvard metaLAB, he studies social media, virtual place, and online community. He has a master's degree in architecture from Yale and a bachelor's degree in engineering from the University of Toronto. TIME Magazine named him one of the 25 Most Influential People on the Internet of 2017, and in 2019, he was named to the Forbes 30 Under 30 list, and gave a TED Talk that has been viewed online over 3 million times.
Find out more about Jonny at his website, and follow him on Instagram, Twitter, and Facebook.
Instagram Features
Tuesday, April 20th: Instagram: @honestbookgirl
Wednesday, April 21st: Instagram: @bookdragon217
Thursday, April 22nd: Instagram: @megsbookclub
Friday, April 23rd: Instagram: @mpjustreading
Saturday, April 24th: Instagram: @babygotbooks4life
Sunday, April 25th: Instagram: @littlefoot_books
Monday, April 26th: Instagram: @barkingaboutbooks
Wednesday, April 28th: Instagram: @booksloveandunderstanding