Hardcover: 354 Pages
Publisher: Skyscape (June 8, 2021)
A poignant, funny, openhearted novel about coming out, first love, and being your one and only best and true self.
Julián Luna has a plan for his life: Graduate. Get into UCLA. And have the chance to move away from Corpus Christi, Texas, and the suffocating expectations of others that have forced Jules into an inauthentic life.
Then in one reckless moment, with one impulsive tweet, his plans for a low-key nine months are thrown–literally–out the closet. The downside: the whole world knows, and Jules has to prepare for rejection. The upside: Jules now has the opportunity to be his real self.
Then Mat, a cute, empathetic Twitter crush from Los Angeles, slides into Jules's DMs. Jules can tell him anything. Mat makes the world seem conquerable. But when Jules's fears about coming out come true, the person he needs most is fifteen hundred miles away. Jules has to face them alone.
Jules accidentally propelled himself into the life he's always dreamed of. And now that he's in control of it, what he does next is up to him.

Purchase Links
About Jonny Garza Villa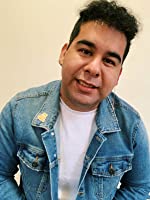 Jonny Garza Villa is a proud Texan, Chicane, Sagittarius sun, and breakfast taco aficionado. He was born and raised along the Gulf Coast and currently resides on unceded Jumanos and Tonkawa land. An avid reader and collector of gel pens since childhood, Jonny would say that becoming a published author is both a tremendous accomplishment and, more importantly, a fulfillment of destiny. He is an author of contemporary young adult fiction that maintains a personal brand of being proudly Latinx and the most chaotically queer.
When not writing, Jonny enjoys reading, playing Dungeons and Dragons, bar hopping, late night honey butter chicken biscuits from Whataburger, and pretending he's either an Earth Bender or a Sun Warrior, depending on the day.
Connect with Jonny
Instagram features:
Monday, June 7th: @scaredstraightreads
Monday, June 7th: @rickys_radical_reads
Tuesday, June 8th: @booksandapril
Tuesday, June 8th: @mattyandthebooks
Tuesday, June 8th: @babygotbooks4life
Wednesday, June 9th: @biblio.jordyn
Thursday, June 10th: @nsiaablog
Friday, June 11th: @workreadsleeprepeat
Saturday, June 12th: @reading_with_nicole
Sunday, June 13th: @pretty_little_library
Monday, June 14th: @a.veryqueerbookclub
Thursday, June 17th: @the.caffeinated.reader
Reviews:
Sunday, May 30th: @bookishcatsavant
Monday, June 7th: Not in Jersey and @notinjersey
Wednesday, June 9th: @whatjamieread
Thursday, June 10th: @antonique_reads
Friday, June 11th: @monikasbookblog
Sunday, June 13th: @reviewsshewrote
Monday, June 14th: @aparanormalromance
Wednesday, June 16th: Nurse Bookie and @nurse_bookie
Thursday, June 17th: @bookdragon17
Friday, June 18th:  @bluntscissorsbookreviews
Saturday, June 19th: @agingerlyreview
Monday, June 21st: @jenniaahava
Tuesday, June 22nd: @hollieohs_bookreviews
Wednesday, June 23rd: @books.cats.tea
Thursday, June 24th: @gingerly_reading
Friday, June 25th: @booksloveandunderstanding
Saturday, June 26th: @crystals_library
Monday, June 28th: @moonlight_rendezvous
Wednesday, June 30th: @bookishwithwine
Thursday, July 1st: @irishgirliereads
Friday, July 2nd: @pocketsized_pageturner
Monday, July 5th: @nevertheless_she_reads
Wednesday, July 7th: Ma Book Yard and @mabookyard
Thursday, July 22nd: @itsabookishworld_