About Love in Color
• Publisher: William Morrow (April 13, 2021)
• Hardcover: 304 pages
"Perfection in short story form, I am in love with every single word Bolu Babalola has written. So rarely is love expressed this richly, this vividly, or this artfully."
— Candice Carty-Williams, international bestselling author of Queenie
A high-born Nigerian goddess, who has been beaten down and unappreciated by her gregarious lover, longs to be truly seen.
A young businesswoman attempts a great leap in her company, and an even greater one in her love life.
A powerful Ghanaian spokeswoman is forced to decide whether she should uphold her family's politics or be true to her heart.
In her debut collection, internationally acclaimed writer Bolu Babalola retells the most beautiful love stories from history and mythology with incredible new detail and vivacity. Focusing on the magical folktales of West Africa, Babalola also reimagines Greek myths, ancient legends from the Middle East, and stories from long-erased places.
With an eye towards decolonizing tropes inherent in our favorite tales of love, Babalola has created captivating stories that traverse across perspectives, continents, and genres.
Love in Color is a celebration of romance in all its many splendid forms.
Social Media
Please use the hashtag #LoveInColor, and tag @tlcbooktours, @williammorrowbooks, and @boluberry.

Purchase Links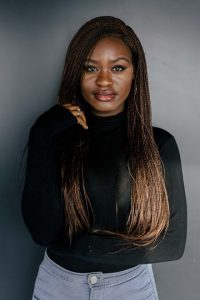 About Bolu Babalola
Bolu Babalola is a British-Nigerian woman with a misleading bachelor's degree in law and a masters degree in American Politics & History from UCL. She feels it is important to state that her thesis was on Beyoncé's "Lemonade" and she was awarded a distinction for it. So essentially she has a masters degree in Beyoncé. A writer of books, scripts and retorts, a lover of love and self-coined "romcomoisseur", Bolu Babalola writes stories of dynamic women with distinct voices who love and are loved audaciously. She is a big believer in women being both "Beauty and the beast". She is not a fan of writing her own bios. She can be found tweeting far too much @BeeBabs.
Instagram Features
Tuesday, April 13th: Instagram: @compulsivereadersblog
Wednesday, April 14th: Instagram: @never_withouta_book
Thursday, April 15th: Instagram: @irishgirliereads
Friday, April 16th: Instagram: @readaholic19
Saturday, April 17th: Instagram: @itsabookishworld_
Sunday, April 18th: Instagram: @owlslittlelibrary
Monday, April 19th: Instagram: @falling4romance
Tuesday, April 20th: Instagram: @elena.luo
Wednesday, April 21st: Instagram: @prettylittlebookshelf
Thursday, April 22nd: Instagram: @what.jenny.reads
Friday, April 23rd: Instagram: @talielovesbooks
Saturday, April 24th: Instagram: @theliteraryvogue
Tuesday, April 27th: Instagram: @bnjreads
Wednesday, April 28th: Instagram: @hillysreads
Friday, April 30th: Instagram: @bookish.bethany