___________________________
Kate Connelly should be careful what she wishes for.

The Academy Saga by CJ Daly
Just seventeen, she already feels like she's suffocating. Since her mother's death, her father's basically checked out, so she's stuck raising her brothers by herself out in the New Mexico scrub. All Kate wants is a little distraction from the same-ole, same-ole that is her life.
When two mysterious guys show up at the diner where she works, she thinks her wish has come true, until they start giving her a hard time. Like her life isn't hard enough. Something about them niggles her, but she brushes it off. She's never going to see them again anyway… right?
Then they appear in an alley one night to either rescue or kidnap her (she's still not sure which) before disappearing like figments of her imagination.
Kate decides to put the bizarre encounters out of her mind. She has bigger problems to worry about: like that elite military academy that's been pursuing her gifted little brother. When one of their cadets shows up at the high school, he creates instant pandemonium. And just happens to be one of those mysterious guys. Coincidence? Mama said there's no such thing. And to always trust her instinct. But that might be kind of hard, because every time she's around Cadet Peter Davenport, her gut starts flip-flopping on her. And her heart.
Can Kate keep it together long enough to stop Cadet Davenport's mission? She's about to find out. And—once again—how neatly life can be split into before and after.

Purchase Links
___________________________
Your book club won't be able to put this book down.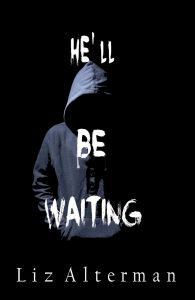 He'll Be Waiting by Liz Alterman
When Tess Porter agrees to pick up her boyfriend's college pal at the airport on a snowy December night, she has no idea she's about to embark on the most dangerous ride of her life. Two days later, the 17-year-old wakes up in a hospital with broken bones, unable to remember how she got there. Her parents are acting strangely, and neither James, her boyfriend, nor her best friend Izzy has visited. As she struggles to physically recover, Tess wrestles with haunting questions: What happened? Will her memory ever return? And what if she's better off not recalling any of it?

Purchase Link
___________________________
The movie star and the dog groomer are one kiss away from the perfect love story. That's the hiccup in a warm and witty romance by the bestselling author of Roommaid.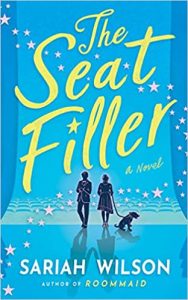 The Seat Filler by Sariah Wilson
The meet-cute award goes to dog groomer Juliet Nolan. It's one of Hollywood's biggest nights when she volunteers as a seat filler and winds up next to movie heartthrob Noah freaking Douglas. Tongue tied and toes curling in her pink Converse, she pretends that she doesn't have a clue who he is. It's the only way to keep from swooning.
She's pretty and unpretentious, loves his dog, and is not a worshipping fan. No way Noah's giving up on her, even if his affectionate pursuit comes with a bump: Juliet has a pathological fear of kissing and the disappointments that follow. What odds does romance have without that momentous, stupendous, once-in-a-lifetime first smooch? Patient, empathetic, and carrying personal burdens of his own, Noah suggests a remedy: they rehearse.
The lessons begin. The guards come down. But there's another hitch they weren't betting on. As for that cue-the-orchestra-and-roll-credits happy ending? It might take more than practice to make it perfect.

Purchase Links
___________________________
In When Stars Rain Down, Angela Jackson-Brown introduces readers to a small, Southern town grappling with haunting questions still relevant today—and to a young woman whose search for meaning resonates across the ages.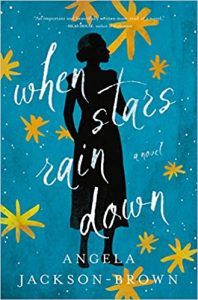 When Stars Rain Down by Angela Jackson-Brown
This summer has the potential to change everything.
The summer of 1936 in Parsons, Georgia, is unseasonably hot, and Opal Pruitt can sense a nameless storm coming. She hopes this foreboding feeling won't overshadow her upcoming eighteenth birthday or the annual Founder's Day celebration in just a few weeks. As hard as she works in the home of the widow Miss Peggy, Opal enjoys having something to look forward to.
But when the Ku Klux Klan descends on Opal's neighborhood of Colored Town, the tight-knit community is shaken in every way. Parsons's residents—both Black and white—are forced to acknowledge the unspoken codes of conduct in their post-Reconstruction era town. To complicate matters, Opal finds herself torn between two unexpected romantic interests, awakening many new emotions. She never thought that becoming a woman would bring with it such complicated decisions about what type of person she wants to be.
In When Stars Rain Down, Angela Jackson-Brown introduces us to a small Southern town grappling with haunting questions still relevant today—and to a young woman whose search for meaning resonates across the ages.

Purchase Links
___________________________
A shocking and hopeful account of one woman's extraordinary courage to face her past and embrace truth in order to help others find hope and healing.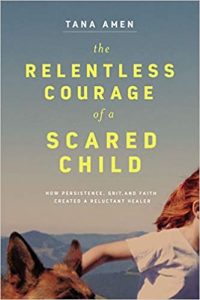 The Relentless Courage Of a Scared Child: How Persistence, Grit, and Faith Created a Reluctant Healer by Tana Amen
In The Relentless Courage of a Scared Child, Tana Amen shares her incredible story of transformation—of growing up in poverty, a bullied latch-key kid raised on sugary cereal and junk food, to becoming a world-renowned food and fitness expert.
Her challenging past of neglect, poverty, sexual abuse, thyroid cancer, and bouts of anxiety and depression set her on a path to find healing. Through her remarkable journey, we see more clearly the light that can shine through our own broken places and ultimately heal us: body, mind, and soul.
At once tragic and heartwarming, Tana's story integrates cutting-edge psychology and proven wellness techniques from the Amen Clinics in a moving exploration of the healing available to each one of us, no matter the pain in our past.
"What a journey! With in-your-face honesty, Tana reveals how she was able to turn her pain into purpose. For anyone who has been faced with unspeakable loss, this message is so important." —Jay Shetty, #1 New York Times bestselling author of Think Like a Monk, storyteller, purpose coach, and former monk

Purchase Links
___________________________
Two powerhouse authors bring you a hilarious tale of one woman's journey to find herself again.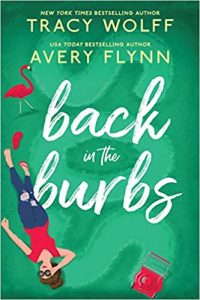 Back in the Burbs by Avery Flynn and Tracy Wolff
Ever have one of those days where life just plain sucks? Welcome to my last three months?ever since I caught my can't-be-soon-enough ex-husband cheating with his paralegal. I'm thirty-five years old, and I've lost my NYC apartment, my job, my money, and frankly, my dignity.
But the final heartache in the suck sandwich of my life? My great-aunt Maggie died. The only family member who's ever gotten me.
Even after death, though, she's helping me get back up. She's willed me the keys to a house in the burbs, of all places, and dared me to grab life by the family jewels. Well, I've got the vise grips already in hand (my ex should take note) and I'm ready to fight for my life again.
Too bad that bravado only lasts as long as it takes to drive into Huckleberry Hills. And see the house.
There are forty-seven separate HOA violations, and I feel them all in my bones. Honestly, I'm surprised no one's "accidentally" torched the house yet. I want to, and I've only been standing in front of it for five minutes. But then my hot, grumpy neighbor tells me to mow the lawn first and I'm just…done. Done with men too sexy for their own good and done with anyone telling me what to do.
First rule of surviving the burbs? There is nothing that YouTube and a glass of wine can't conquer.

Purchase Links
___________________________

Please fill out our super short registration form (click the "Enter Now" button above) by April 30th for a chance to win a set of up to ten copies of one of these great books for your book club! We will randomly choose a winner at the end of the month. This giveaway is open to clubs in the US only (our apologies to friends in other countries). 
Best of luck!
We 
LOVE

 Book Clubs!