___________________________
The author will Zoom or Facetime with the winning book club!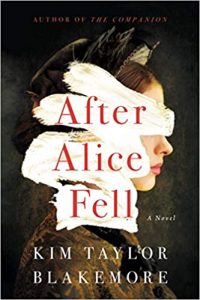 After Alice Fell by Kim Taylor Blakemore
Until she discovers the truth of her sister's death, no one will rest in peace.
New Hampshire, 1865. Marion Abbott is summoned to Brawders House asylum to collect the body of her sister, Alice. She'd been found dead after falling four stories from a steep-pitched roof. Officially: an accident. Confidentially: suicide. But Marion believes a third option: murder.
Returning to her family home to stay with her brother and his second wife, the recently widowed Marion is expected to quiet her feelings of guilt and grief—to let go of the dead and embrace the living. But that's not easy in this house full of haunting memories.
Just when the search for the truth seems hopeless, a stranger approaches Marion with chilling words: I saw her fall.
Now Marion is more determined than ever to find out what happened that night at Brawders, and why. With no one she can trust, Marion may risk her own life to uncover the secrets buried with Alice in the family plot.

Purchase Links
___________________________
Beloved writer Sean Dietrich—also known as Sean of the South—will warm your heart with this rich and nostalgic tale about community, kindness, and the meaning of the everyday incredible.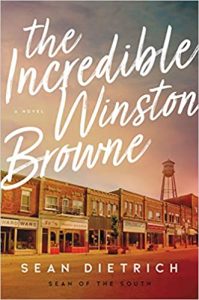 The Incredible Winston Browne by Sean Dietrich
In the small, sleepy town of Moab, Florida, folks live for ice cream socials, Jackie Robinson, and the local paper's weekly gossip column. For decades, Sheriff Winston Browne has watched over Moab with a generous eye, and by now he's used to handling the daily dramas that keep life interesting for Moab's quirky residents. But just after Winston receives some terrible, life-altering news, a feisty little girl with mysterious origins shows up in his best friend's henhouse. Suddenly Winston has a child in desperate need of protection—as well as a secret of his own to keep.
With the help of Moab's goodhearted townsfolk, the humble and well-meaning Winston Browne still has some heroic things to do. He finds romance, family, and love in unexpected places. He stumbles upon adventure, searches his soul, and grapples with the past. In doing so, he just might discover what a life well-lived truly looks like.
"Sean Dietrich has written a home run of a novel with The Incredible Winston Browne. Every bit as wonderful as its title implies, it's the story of Browne—a principled, baseball-loving sheriff—a precocious little girl in need of help, and the community that rallies around them. This warm, witty, tender novel celebrates the power of friendship and family to transform our lives. It left me nostalgic and hopeful, missing my grandfathers, and eager for baseball season to start again. I loved it." —Ariel Lawhon, New York Times bestselling author of I Was Anastasia
"Make no mistake. [The Incredible Winston Browne] is a classic story, told by an expert storyteller." —Shawn Smucker, author of Light from Distant Stars
Stand-alone historical novel
Includes discussion questions for book clubs
Also from Sean Dietrich: Stars of Alabama

Purchase Links
___________________________
The Stills is a triumph of storytelling by an extraordinary new talent in crime fiction…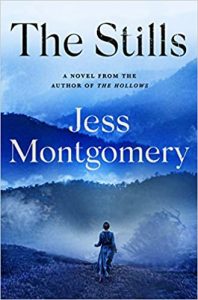 The Stills by Jess Montgomery
Ohio, 1927: Moonshining is a way of life in rural Bronwyn County, and even the otherwise upstanding Sheriff Lily Ross has been known to turn a blind eye when it comes to stills in the area. But when thirteen-year-old Jebediah Ranklin almost dies after drinking tainted moonshine, Lily knows that someone has gone too far, and–with the help of organizer and moonshiner Marvena Whitcomb–is determined to find out who.
But then, Lily's nemesis, the businessman George Vogel, reappears in town with his new wife, Fiona. Along with them is also her former brother-in-law Luther Ross, now an agent for the newly formed Bureau of Prohibition. To Lily, it seems too much of a coincidence that they should arrive now.
As fall turns to winter, a blizzard closes in. Lily starts to peel back the layers of deception shrouding the town of Kinship, but soon she discovers that many around her seem to be betraying those they hold dear–and that Fiona too may have an agenda of her own.

Purchase Links
___________________________
A young prodigy in need of family. A painting that shatters a woman's peace. And a decades-old mystery demanding to be solved.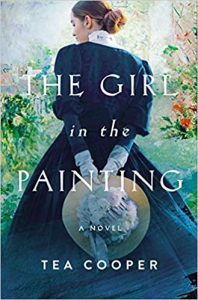 The Girl in the Painting by Tea Cooper
Australia, 1906
Orphan Jane Piper is nine years old when philanthropist siblings Michael and Elizabeth Quinn take her into their home to further her schooling. The Quinns are no strangers to hardship. Having arrived in Australia as penniless immigrants, they now care for others as lost as they once were.
Despite Jane's mysterious past, her remarkable aptitude for mathematics takes her far over the next seven years, and her relationship with Elizabeth and Michael flourishes as she plays an increasingly prominent part in their business.
But when Elizabeth reacts in terror to an exhibition at the local gallery, Jane realizes no one knows Elizabeth after all—not even Elizabeth herself. As the past and present converge and Elizabeth's grasp on reality loosens, Jane sets out to unravel her story before it's too late.
From the gritty reality of the Australian goldfields to the grand institutions of Sydney, this compelling novel presents a mystery that spans continents and decades as both women finally discover a place to call home.
"Combining characters that are wonderfully complex with a story spanning decades of their lives, The Girl in the Painting is a triumph of family, faith, and long-awaited forgiveness. I was swept away!" —Kristy Cambron, bestselling author of The Paris Dressmaker and the Hidden Masterpiece novels
Stand-alone novel with rich historical details
Book length: 102,000 words
Includes discussion questions for book clubs and historical note from the author
Also by this author: The Woman in the Green Dress
.

Purchase Links
___________________________
"The thing about being an evangelical Christian and a Southerner living in New York City, raising her children in an apartment where one of them sleeps in a closet, is that there are a lot of people in your life to disappoint."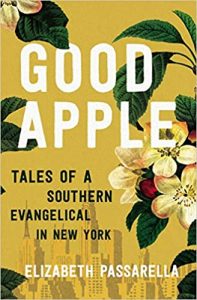 Good Apple: Tales of a Southern Evangelical in New York by Elizabeth Passarella
"The thing about being an evangelical Christian and a Southerner living in New York City, raising her children in an apartment where one of them sleeps in a closet, is that there are a lot of people in your life to disappoint."
So says Elizabeth Passarella in her wry and witty debut, Good Apple. Among the people she has to disappoint are her parents in Memphis, who are bewildered by how their daughter went from interning for Ralph Reed (it's a long story) to voting for Hillary Clinton; her parents' friends, who don't understand how a family of five lives in a two-bedroom apartment; and, perhaps most of all, her colleagues and neighbors on Manhattan's Upper West Side, who are always surprised to learn that their sophisticated, irreverent friend is an evangelical Christian.
Elizabeth keeps readers, no matter their faith or their politics, laughing and nodding along in solidarity, whether she is
proposing the benefits of fighting with her husband on New York City street corners;
explaining what it was like to grow up as a Christian with a Jewish dad;
or recounting the surreal and terrifying experience of finding a rat trapped in her bedroom in her apartment on the eighth floor.
Her love of the city is infectious. Her transparency about highly embarrassing screw-ups is refreshing. And her reminders of forgiveness and grace give us hope. Elizabeth is the smart, funny, red-state, blue-state, Southern, Christian New Yorker you didn't think even existed–but now want as your best friend.

Purchase Links
___________________________

Please fill out our super short registration form (click the "Enter Now" button above) by March 31st for a chance to win a set of up to ten copies of one of these great books for your book club! We will randomly choose a winner at the end of the month. This giveaway is open to clubs in the US only (our apologies to friends in other countries). 
Best of luck!
We 
LOVE

 Book Clubs!