We have gathered up some wonderful Black-authored titles for this special BLACK HISTORY MONTH book club giveaway!
______________________________________________
For fans of Luster and I May Destroy You, a disarmingly honest,  unapologetically Black, and undeniably witty debut novel that will speak to those who have gone looking for love and found something very different in its place.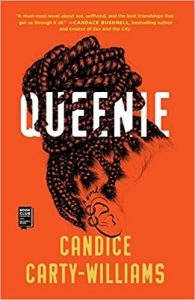 Queenie by Candice Carty-Williams
Queenie Jenkins is a twenty-five-year-old Jamaican British woman living in London, straddling two cultures and slotting neatly into neither. She works at a national newspaper, where she's constantly forced to compare herself to her white middle class peers. After a messy break up from her long-term white boyfriend, Queenie seeks comfort in all the wrong places…including several hazardous men who do a good job of occupying brain space and a bad job of affirming self-worth.
As Queenie careens from one questionable decision to another, she finds herself wondering, "What are you doing? Why are you doing it? Who do you want to be?"–all of the questions today's woman must face in a world trying to answer them for her.
With "fresh and honest" (Jojo Moyes) prose, Queenie is a remarkably relatable exploration of what it means to be a modern woman searching for meaning in today's world.

Purchase Links
______________________________________________
NFL linebacker, speaker, podcaster, and humanitarian Sam Acho gives a blueprint for taking off our masks and living lives of genuine authenticity.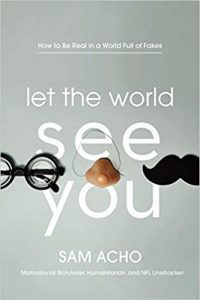 Let the World See You: How to Be Real in a World Full of Fakes by Sam Acho
Most of us hide. We play small and don't live up to our full potential. Sam Acho was one of those people. As an NFL linebacker, for example, he earned his MBA but told no one because he was afraid of what people might think if they found out that he cared about things that weren't "normal" for his profession. After many years of hiding himself, the person he had become had no connection to the real Sam. Only when he lost a friend and a mentor did he realize he was doing it all wrong–just like many us do, when we try to become someone we're not. All the while, we ignore the unique gifts and talents and personality we truly possess.
But there is another way of living: Let the world see you. Your quirks, your passions, and your inner desires were not given to you by accident. And the world needs your gifts.
In Let the World See You, Sam Acho shares lessons from his own life as well as stories from others to reveal how you can overcome your fears and discover your true selves. Being the real you pays big. No one else has what you have. No one else can share what you share. Let the World See You helps crack the shell of people who are in hiding and reveals the benefits of a lifestyle lived on purpose.

Purchase Links
______________________________________________
In the spirit of The Last Lecture, The Secret, and The Alchemist, this small book presents BIG ideas for turning your "one day" into today, including the generational transfer of a dream and a powerful blueprint for a masterpiece life—from the author of the New York Times bestselling memoir and major motion picture The Pursuit of Happyness.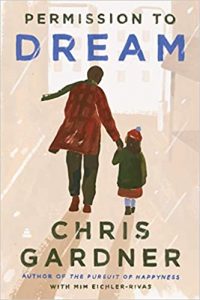 Permission to Dream by Chris Gardner and Mim Eichler Rivas
On a winter's day, Chris Gardner set off with his nine-year-old granddaughter Brooke to find the harmonica of her dreams. The search sends them North "beyond the wall" into a foreboding Chicago neighborhood and, soon, on a harrowing adventure that will change both of their lives—and ours.
Chris is still mourning the loss of his girlfriend to brain cancer. Her question haunts him: "Now that we know how short life can be, what will you do with the time you have left?" After five years, he feels an urgency—what he calls, "Atomic Time" in which every second counts—to find an answer, but is stuck. Even while giving Brooke permission to aspire to one day become President of the United States, he knows it's time to reclaim his own permission to dream.
Lost, Chris and his granddaughter board a bus, reminding him of earlier rides through dark times when dreams of a better life kept him alive. As the two wind through a changing cityscape, Chris reflects on past lessons that offer powerful guidance for dreaming your way to monumental success.
At its heart, this book lays out a blueprint for building a dream-come-true life—even during uncertainty. Gardner delivers the secrets to achieving a prosperous career—from a method for identifying your ultimate dream to a playbook for becoming world class at it.  His tools include the "new 3 R's"—or the Rep, the Rap and the Rolodex—which reveal how to earn a stellar reputation, develop a rap for marketing yourself, and amass a Rolodex of rewarding relationships. No matter how much wealth you achieve, Chris notes, true success comes from enriching the lives of others—so all can still have access to the American Dream.
Toward the end, Brooke observes that in Atomic Time it's never too late for anyone to reinvent themselves and change their fortune. Chris, hearing her, realizes what his next pursuit will be—to go back to high school and give permission to dream to the next generation of problem solvers and change makers.
A true fable, Permission to Dream is a timeless and timely manifesto for turning dreams into action—beginning right now.

Purchase Links
______________________________________________
Miss Maryann Fitzwilliam is too witty and bookish for her own good.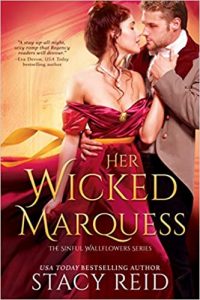 Her Wicked Marquess (The Sinful Wallflowers, Book 2) by  Stacy Reid
Miss Maryann Fitzwilliam is too witty and bookish for her own good. No gentleman of the ton will marry her, so her parents arrange for her to wed a man old enough to be her father. But Maryann is ready to use those wits to turn herself into a sinful wallflower.
When the scandal sheet reports a sighting of Nicolas St. Ives, the Marquess of Rothbury, climbing out the chamber windows of a house party, Maryann does the unthinkable. She anonymously claims that the bedchamber belonged to none other than Miss Fitzwilliam, tarnishing her own reputation?and chances of the dastardly union her family secured for her. Now she just needs to convince the marquess to keep his silence.
Turns out Nicolas allows for the scandal to perpetuate for his own reasons… But when Maryann's parents hold fast to their arranged marriage plan, it'll take a scandal of epic proportions for these two to get out of this together.
Each book in the Sinful Wallflowers series is STANDALONE:
* My Darling Duke
* Her Wicked Marquess

Purchase Links
______________________________________________
A chillingly personal and exquisitely wrought memoir of a daughter reckoning with the brutal murder of her mother at the hands of her former stepfather, and the moving, intimate story of a poet coming into her own in the wake of a tragedy

Memorial Drive by Natasha Trethewey
An Instant New York Times Bestseller 
A New York Times Notable Book 
One of Barack Obama's Favorite Books of 2020
Named One of the Best Books of the Year by: The Washington Post, NPR, Shelf Awareness, Esquire, Electric Literature, Slate, The Los Angeles Times, USA Today, and InStyle
At age nineteen, Natasha Trethewey had her world turned upside down when her former stepfather shot and killed her mother. Grieving and still new to adulthood, she confronted the twin pulls of life and death in the aftermath of unimaginable trauma and now explores the way this experience lastingly shaped the artist she became.
With penetrating insight and a searing voice that moves from the wrenching to the elegiac, Pulitzer Prize–winning poet Natasha Trethewey explores this profound experience of pain, loss, and grief as an entry point into understanding the tragic course of her mother's life and the way her own life has been shaped by a legacy of fierce love and resilience. Moving through her mother's history in the deeply segregated South and through her own girlhood as a "child of miscegenation" in Mississippi, Trethewey plumbs her sense of dislocation and displacement in the lead-up to the harrowing crime that took place on Memorial Drive in Atlanta in 1985.
Memorial Drive is a compelling and searching look at a shared human experience of sudden loss and absence but also a piercing glimpse at the enduring ripple effects of white racism and domestic abuse. Animated by unforgettable prose and inflected by a poet's attention to language, this is a luminous, urgent, and visceral memoir from one of our most important contemporary writers and thinkers.

Purchase Links
______________________________________________
From The Guardian's Georgina Lawton, a moving examination of how racial identity is constructed—through the author's own journey grappling with secrets and stereotypes, having been raised by white parents with no explanation as to why she looked black.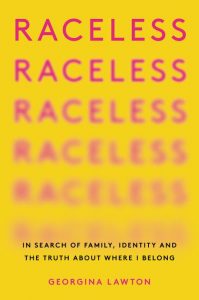 Raceless by Georgina Lawton
A Bustle Most Anticipated Debut of the Year
Raised in sleepy English suburbia, Georgina Lawton was no stranger to homogeneity. Her parents were white; her friends were white; there was no reason for her to think she was any different. But over time her brown skin and dark, kinky hair frequently made her a target of prejudice. In Georgina's insistently color-blind household, with no acknowledgement of her difference or access to black culture, she lacked the coordinates to make sense of who she was.
It was only after her father's death that Georgina began to unravel the truth about her parentage—and the racial identity that she had been denied. She fled from England and the turmoil of her home-life to live in black communities around the globe—the US, the UK, Nicaragua, Cuba, the Dominican Republic, Vietnam, and Morocco—and to explore her identity and what it meant to live in and navigate the world as a black woman. She spoke with psychologists, sociologists, experts in genetic testing, and other individuals whose experiences of racial identity have been fraught or questioned in the hopes of understanding how, exactly, we identify ourselves.
Raceless is an exploration of a fundamental question: what constitutes our sense of self? Drawing on her personal experiences and the stories of others, Lawton grapples with difficult questions about love, shame, grief, and prejudice, and reveals the nuanced and emotional journey of forming one's identity.

Purchase Links
______________________________________________
A masterful, eye-opening novel about the profound racial injustices and class inequalities roiling American society, for fans of Tayari Jones and Jacqueline Woodson.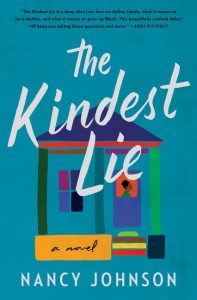 The Kindest Lie by Nancy Johnson
Named Most Anticipated of 2021 by Elle * Marie Claire * Good Housekeeping * Chicago Tribune * Woman's Day, * Refinery 29 * Bustle * The Millions * New York Post * Parade * Hello! Magazine * PopSugar * Black Business Guide * and more!
"The Kindest Lie is a deep dive into how we define family, what it means to be a mother, what secrets we owe to those we love, and what it means to grow up Black. This beautifully crafted debut will keep you asking these questions and more." —JODI PICOULT
A promise could betray you.
It's 2008, and the inauguration of President Barack Obama ushers in a new kind of hope. In Chicago, Ruth Tuttle, an Ivy-League educated Black engineer, is married to a kind and successful man. He's eager to start a family, but Ruth is uncertain. She has never gotten over the baby she gave birth to—and was forced to leave behind—when she was a teenager. She had promised her family she'd never look back, but Ruth knows that to move forward, she must make peace with the past.
Returning home, Ruth discovers the Indiana factory town of her youth is plagued by unemployment, racism, and despair. As she begins digging into the past, she unexpectedly befriends Midnight, a young white boy who is also adrift and looking for connection. Just as Ruth is about to uncover a burning secret her family desperately wants to keep hidden, a traumatic incident strains the town's already searing racial tensions, sending Ruth and Midnight on a collision course that could upend both their lives.
Powerful and revealing, The Kindest Lie captures the heartbreaking divide between Black and white communities and offers both an unflinching view of motherhood in contemporary America and the never-ending quest to achieve the American Dream.

Purchase Links
______________________________________________
Award-winning author Lola Shoneyin delivers an irresistible and entertaining story of marriage, family, power, and heartache set in modern-day Nigeria in her debut novel.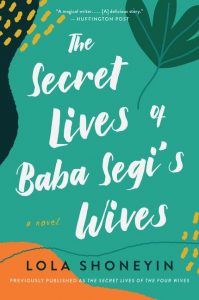 The Secret Lives of Baba Segi's Wives by Lola Shoneyin
SOON TO BE A NETFLIX SERIES!
When Baba Segi woke up with a bellyache for the sixth day in a row, he knew it was time to do something drastic about his fourth wife's childlessness.
For Baba Segi, his collection of wives and gaggle of children are a symbol of prosperity, success, and a validation of his manhood. All is well in this patriarchal home, until Baba arrives with wife number four, a quiet, college-educated, young woman named Bolanle. Jealous and resentful of this interloper who is stealing their husband's attention, Baba's three wives, begin to plan her downfall. How dare she not know her place, they whisper. How dare she offer to teach them to read. They will teach her instead, they vow, and open their husbands eyes to this wicked wind who has upturned the tranquility of their home.
Bolanle's mother worked hard to educate her daughter and save her from a life of polygamy and dependence. She cannot understand why her daughter has chosen such a fate. But Bolanle hides a terrible secret—a secret that will unwittingly exposes the deception and lies, secrets and shame upon which Baba Segi's household rests.
A stirring rale of men and women, mothers and children, servitude and independence, The Secret Lives of Baba Segi's Wives illuminates the common threads that connect the experiences of all women: the hardships they bear, their struggle to define themselves, and their fierce desire to protect those they love.

Purchase Links
______________________________________________
One of America's most celebrated poets challenges us with this powerful and deeply personal collection of verse that speaks to the injustices of society while illuminating the depths of her own heart.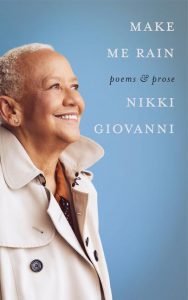 Make Me Rain by Nikki Giovanni
For more than fifty years, Nikki Giovanni's poetry has dazzled and inspired readers. As sharp and outspoken as ever, she returns with this profound book of poetry in which she continues to call attention to injustice and racism, celebrate Black culture and Black lives, and and give readers an unfiltered look into her own experiences.
In Make Me Rain, she celebrates her loved ones and unapologetically declares her pride in her Black heritage, while exploring the enduring impact of the twin sins of racism and white nationalism. Giovanni reaffirms her place as a uniquely vibrant and relevant American voice with poems such as "I Come from Athletes" and "Rainy Days"—calling out segregation and Donald Trump; as well as "Unloved (for Aunt Cleota)" and ""When I Could No Longer"—her personal elegy for the relatives who saved her from an abusive home life.
Stirring, provocative, and resonant, the poems in Make Me Rain pierce the heart and nourish the soul.

Purchase Links
______________________________________________

Please fill out our super short registration form (click the "Enter Now" button above) by February 28th for a chance to win a set of up to ten copies of one of these great books for your book club! We will randomly choose a winner at the end of the month. This giveaway is open to clubs in the US only (our apologies to friends in other countries). 
Best of luck!
We 
LOVE

 Book Clubs!