Hardcover: 332 Pages
Publisher: Amazon Crossing (April 1, 2021)
An award-winning Iraqi writer creates a new world for himself in Seattle in search of lost love.
As the US occupation of Iraq rages, novelist Mortada Gzar, a student at the University of Baghdad, has a chance encounter with Morise, an African American soldier. It's love at first sight, a threat to them both, and a moment of self-discovery. Challenged by society's rejection and Morise's return to the US, Mortada takes to the page to understand himself.
In his deeply affecting memoir, Mortada interweaves tales of his childhood work as a scrap-metal collector in a war zone and the indignities faced by openly gay artists in Iraq with his impossible love story and journey to the US. Marginalized by his own society, he is surprised to discover the racism he finds in a new one. At its heart, I'm in Seattle, Where Are You? is a moving tale of love and resilience.

Purchase Links
About Mortada Gzar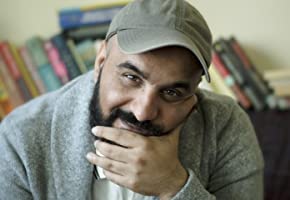 Iraqi novelist, filmmaker, journalist, and visual artist Mortada Gzar was born in Kuwait in 1982, grew up in Basra, Iraq, and now lives in Seattle, Washington. He earned a degree in petroleum engineering from the University of Baghdad and later participated in the Iowa International Writers' Workshop. Gzar is the author of four novels, a children's book, and a short-story collection; he has illustrated two books for children. English translations of his work have appeared in Words Without Borders and Iraq + 100: The First Anthology of Science Fiction to Have Emerged from Iraq, and his journalism and political cartoons are featured in Arabic newspapers. Gzar's animated films have been featured in international film festivals, his film Language was awarded a grant by the Doha Film Institute, and he created the Seattle Arab Film Festival hosted by the Northwest Film Forum.
Connect with Mortada
Instagram tour:
Thursday, April 1st: @scaredstraightreads
Thursday, April 1st: @wherethereadergrows
Friday, April 2nd: @happiestwhenreading
Saturday, April 3rd: @reviewsshewrote
Sunday, April 4th: @rickys_radical_reads
Sunday, April 4th: @suethebookie
Monday, April 5th: @mentallybooked
Monday, April 5th: @bowtiesandbooks
Monday, April 5th: @never_withouta_book
Tuesday, April 6th: @theliteraryheroine
Wednesday, April 7th: @nurse_bookie
Friday, April 9th: @hothanjama_
Saturday, April 10th: @welovebigbooksandwecannotlie
Sunday, April 11th: @bookswithtay
Monday, April 12th: @readwithjamie
Tuesday, April 13th: @mattyandthebooks
Tuesday, April 13th: @madismysteries
Wednesday, April 14th: @thereadingchemist
Thursday, April 15th: @andrea.c.lowry.reads
Friday, April 16th: @booknerdkat
Saturday, April 17th: @bookapotamus
Sunday, April 18th: @pnwbookworm
Sunday, April 18th: @somekindofalibrary
Thursday, April 22nd: @melanatedreader