___________________________
A mother's love vs. a doctor's oath.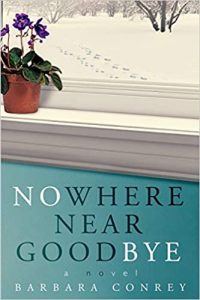 Nowhere Near Goodbye by Barbara Conrey
Oncologist Emma Blake has dedicated her life to finding a cure for a rare brain cancer. Twenty-five years ago, Emma's childhood friend Kate died of glioblastoma, and Emma vowed to annihilate the deadly disease. Now, Kate's father, Ned, is pushing her to work harder to fulfill that promise.
When Emma discovers she's pregnant, she's torn between the needs of her family and the demands of her work. While Ned pressures her to do the unthinkable, her husband, Tim, decorates the nursery. Unwilling to abandon her research, Emma attempts to keep both sides of her life in balance.
Emma knows she needs to reconcile her past with her present and walk the fine line between mother and physician. But Ned has a secret, and when Emma discovers what he's been hiding, the foundation of her world cracks.
Nowhere Near Goodbye is a story of family, failure, and second chances.

Purchase Links
___________________________
Jess Montgomery showcases her skills as a storyteller in The Hollows: a powerful, big-hearted and exquisitely written follow-up to her highly acclaimed debut The Widows.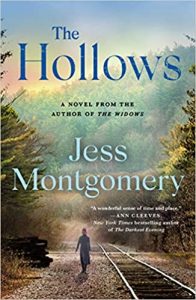 The Hollows by Jess Montgomery
Ohio, 1926: For many years, the railroad track in Moonvale Tunnel has been used as a shortcut through the Appalachian hills. When an elderly woman is killed walking along the tracks, the brakeman tells tales of seeing a ghostly female figure dressed all in white.
Newly elected Sheriff Lily Ross is called on to the case to dispel the myths. With the help of her friends Marvena Whitcomb and Hildy Cooper, Lily follows the woman's trail to The Hollows?a notorious asylum?and they begin to expose dark secrets long-hidden by time and the mountains.

Purchase Links
___________________________
He Was Searching for a Lost Dog. He Found More Than He'd Ever Hoped For.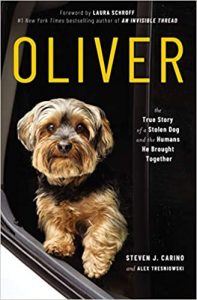 Oliver: The True Story of a Stolen Dog and the Humans He Brought Together by Steven J. Carino
On Valentine's Day 2019, someone stole Steven Carino's dog, Oliver, from his car. Having lost his mother at thirteen and grown up with an alcoholic father, he could always count on his dogs for comfort and company. But now, with his beloved Oliver missing, Steven felt utterly alone.
Then, the miracle. In a series of near-impossible coincidences, people from different walks of life crossed paths with Oliver and with Steven. Hardworking immigrants, wealthy suburbanites, car mechanics, deli workers, old friends, close relatives, street cops, gang members, a TV news reporter, social media followers around the world, and one very gifted hairdresser all played a part in Steven's desperate journey to find Oliver. In the middle of it all, Steven realized that no one is ever truly alone–and that the power of community can be life-changing.
Oliver is not just a book about a stolen dog. At its core, it's a story about kindness, friendship, and the power of faith. As Steven says, "This is more than just a dog story. This is an everybody story. This is a love story."

Purchase Links
___________________________
Former Today show host Kathie Lee Gifford offers her personal story along with insights, wisdom, and inspiration for those women who are facing their own life changes.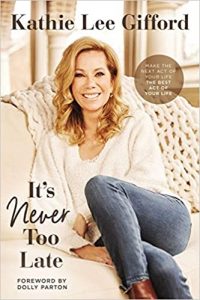 It's Never Too Late: Make the Next Act of Your Life the Best Act of Your Life by Kathy Lee Gifford
What's holding you back from pursuing what truly matters to you and fulfilling your dreams?
After Kathie Lee Gifford stepped down as cohost of the fourth hour of the Today show with Hoda Kotb, you might have thought Kathie Lee's dream was over. But actually she's just getting started! As Kathie Lee steps into the next and even more creative act of her life—singing, acting, writing, and directing movies—she says, "I'm not retiring; I'm refiring!"
That confident perspective is what she offers readers in It's Never Too Late, a book for women in their thirties and beyond who are embarking upon their own major life changes.
Whether you're facing new life stages, such as the empty-nest years, divorce, the death of a loved-one, or a professional crisis or career change, Kathie Lee will deftly coach you through the universal search for meaning as she shares her own story of major life change. With Kathie Lee's hard-earned wisdom and signature warmth, It's Never Too Late offers you insight and inspiration to live out your own dreams, change direction, speak out for what you believe, and pursue what truly matters.

Purchase Links
___________________________
"The thing about being an evangelical Christian and a Southerner living in New York City, raising her children in an apartment where one of them sleeps in a closet, is that there are a lot of people in your life to disappoint."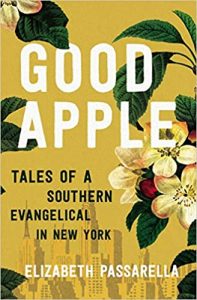 Good Apple: Tales of a Southern Evangelical in New York by Elizabeth Passarella
"The thing about being an evangelical Christian and a Southerner living in New York City, raising her children in an apartment where one of them sleeps in a closet, is that there are a lot of people in your life to disappoint."
So says Elizabeth Passarella in her wry and witty debut, Good Apple. Among the people she has to disappoint are her parents in Memphis, who are bewildered by how their daughter went from interning for Ralph Reed (it's a long story) to voting for Hillary Clinton; her parents' friends, who don't understand how a family of five lives in a two-bedroom apartment; and, perhaps most of all, her colleagues and neighbors on Manhattan's Upper West Side, who are always surprised to learn that their sophisticated, irreverent friend is an evangelical Christian.
Elizabeth keeps readers, no matter their faith or their politics, laughing and nodding along in solidarity, whether she is
proposing the benefits of fighting with her husband on New York City street corners;
explaining what it was like to grow up as a Christian with a Jewish dad;
or recounting the surreal and terrifying experience of finding a rat trapped in her bedroom in her apartment on the eighth floor.
Her love of the city is infectious. Her transparency about highly embarrassing screw-ups is refreshing. And her reminders of forgiveness and grace give us hope. Elizabeth is the smart, funny, red-state, blue-state, Southern, Christian New Yorker you didn't think even existed–but now want as your best friend.

Purchase Links
___________________________
A spiritualist, an insane asylum, a lost little girl . . .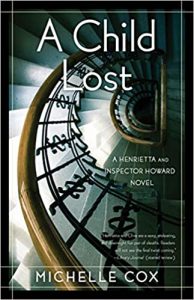 A Child Lost: A Henrietta and Inspector Howard Novel by Michelle Cox
When Clive, anxious to distract a depressed Henrietta, begs Sergeant Frank Davis for a case, he is assigned to investigating a seemingly boring affair: a spiritualist woman operating in an abandoned schoolhouse on the edge of town who is suspected of robbing people of their valuables. What begins as an open and shut case becomes more complicated, however, when Henrietta–much to Clive's dismay–begins to believe the spiritualist's strange ramblings.
Meanwhile, Elsie begs Clive and Henrietta to help her and the object of her budding love, Gunther, locate the whereabouts of one Liesel Klinkhammer, the German woman Gunther has traveled to America to find and the mother of the little girl, Anna, whom he has brought along with him. The search leads them to Dunning Asylum, where they discover some terrible truths about Liesel. When the child, Anna, is herself mistakenly admitted to the asylum after an epileptic fit, Clive and Henrietta return to Dunning to retrieve her. This time, however, Henrietta begins to suspect that something darker may be happening. When Clive doesn't believe her, she decides to take matters into her own hands . . . with horrifying results.
Learn more about Michelle and her books at She Writes Press.

Purchase Links
___________________________
A Witty and Page-Turning Southern Cozy Mystery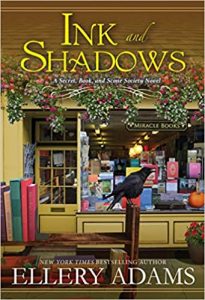 Ink and Shadows: A Secret, Book, and Scone Society Novel by Ellery Adams
New York Times bestselling author Ellery Adams is back with the latest in her acclaimed Secret, Book, and Scone Society series. Local bookstore owner Nora Pennington is back on the case in Miracle Springs, North Carolina when an accidental death turns out to be something much more sinister…
Nora Pennington is known for her window displays, and as Halloween approaches, she decides to showcase fictional heroines like Roald Dahl's Matilda and Madeline Miller's Circe. A family-values group disapproves of the magical themes, though, and wastes no time launching a modern-day witch hunt. Suddenly, former friends and customers are targeting not only Nora and Miracle Books, but a new shopkeeper, Celeste, who's been selling CBD oil products.
Nora and her friends in the Secret, Book, and Scone Society are doing their best to put an end to the strife–but then someone puts an end to a life. Though the death is declared an accident, the ruling can't explain the old book page covered with strange symbols and disturbing drawings left under Nora's doormat, a postcard from an anonymous stalker, or multiple cases of vandalism.
The only hope is that Nora can be a heroine herself and lead the Secret, Book, and Scone Society in a successful investigation–before more bodies turn up and the secrets from Celeste's past come back to haunt them all . . .

Purchase Links
___________________________
New York Times bestselling author Jill Shalvis does it once again with a heartfelt story of family, forgiveness, and secrets that have the power to change the course of more than one life.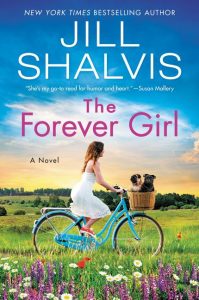 The Forever Girl by Jill Shalvis
When Maze returns to Wildstone for the wedding of her estranged bff and the sister of her heart, it's also a reunion of a once ragtag team of teenagers who had only each other until a tragedy tore them apart and scattered them wide.
Now as adults together again in the lake house, there are secrets and resentments mixed up in all the amazing childhood memories. Unexpectedly, they instantly fall back into their roles: Maze their reckless leader, Cat the den mother, Heather the beloved baby sister, and Walker, a man of mystery.
Life has changed all four of them in immeasurable ways. Maze and Cat must decide if they can rebuild their friendship, and Maze discovers her long-held attraction to Walker hasn't faded with the years but has only grown stronger.

Purchase Links
___________________________

Please fill out our super short registration form (click the "Enter Now" button above) by January 31st for a chance to win a set of up to ten copies of one of these great books for your book club! We will randomly choose a winner at the end of the month. This giveaway is open to clubs in the US only (our apologies to friends in other countries). 
Best of luck!
We 
LOVE

 Book Clubs!