About Searching for Sylvie Lee
• Paperback: 352 pages
• Publisher: William Morrow Paperbacks; Reprint edition (December 8, 2020)
An Instant New York Times Bestseller!
A Read with Jenna Today Show Book Club Pick & Emma Roberts Belletrist Book Club Pick!
NAMED A MOST ANTICIPATED BOOK BY New York Times • Time • Marie Claire • Elle • Buzzfeed • Huffington Post • Good Housekeeping • The Week • Goodreads • New York Post • and many more!
"Powerful . . . A twisting tale of love, loss, and dark family secrets."  — Paula Hawkins, #1 New York Times bestselling author of The Girl on the Train and Into the Water
A poignant and suspenseful drama that untangles the complicated ties binding three women—two sisters and their mother—in one Chinese immigrant family and explores what happens when the eldest daughter disappears, and a series of family secrets emerge, from the New York Times bestselling author of Girl in Translation

It begins with a mystery. Sylvie, the beautiful, brilliant, successful older daughter of the Lee family, flies to the Netherlands for one final visit with her dying grandmother—and then vanishes.
Amy, the sheltered baby of the Lee family, is too young to remember a time when her parents were newly immigrated and too poor to keep Sylvie. Seven years older, Sylvie was raised by a distant relative in a faraway, foreign place, and didn't rejoin her family in America until age nine. Timid and shy, Amy has always looked up to her sister, the fierce and fearless protector who showered her with unconditional love.
But what happened to Sylvie? Amy and her parents are distraught and desperate for answers. Sylvie has always looked out for them. Now, it's Amy's turn to help. Terrified yet determined, Amy retraces her sister's movements, flying to the last place Sylvie was seen. But instead of simple answers, she discovers something much more valuable: the truth. Sylvie, the golden girl, kept painful secrets . . . secrets that will reveal more about Amy's complicated family—and herself—than she ever could have imagined.
A deeply moving story of family, secrets, identity, and longing, Searching for Sylvie Lee is both a gripping page-turner and a sensitive portrait of an immigrant family. It is a profound exploration of the many ways culture and language can divide us and the impossibility of ever truly knowing someone—especially those we love.
"This is a true beach read! You can't put it down!" – Jenna Bush Hager, Today Show Book Club Pick
Social Media
Please use the hashtag #SearchingForSylvieLee, and tag @tlcbooktours, @williammorrowbooks, and @jeankwokauthor.

Purchase Links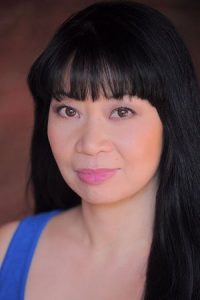 About Jean Kwok
Jean Kwok is the New York Times and internationally bestselling author of Girl in Translation and Mambo in Chinatown. Her work has been published in twenty countries and is taught in universities, colleges, and high schools across the world. She has been selected for numerous honors, including the American Library Association Alex Award, the Chinese American Librarians Association Best Book Award and the Sunday Times EFG Short Story Award international shortlist. She received her bachelor's degree from Harvard University and earned an MFA from Columbia University. She is fluent in Chinese, Dutch, and English, and currently lives in the Netherlands.
Find out more about Jean at her website, and connect with her on Facebook, Twitter, and Instagram.
Instagram Features
Tuesday, December 8th: Instagram: @nurse_bookie
Wednesday, December 9th: Instagram: @readwithwine
Thursday, December 10th: Instagram: @meetmeinthestacks
Friday, December 11th: Instagram: @bookish_jules
Sunday, December 13th: Instagram: @what.jenny.reads
Tuesday, December 15th: Instagram: @anovelescape
Thursday, December 17th: Instagram: @sarahandherbookshelves
Thursday, December 17th: Instagram: @books_with_bethany
Friday, December 18th: Instagram: @never_withouta_book
Saturday, December 19th: Instagram: @bnjreads
Wednesday, December 30th: Instagram: @readwithjamie