___________________________
If everything your family told you was a lie, how far would you go to uncover the truth?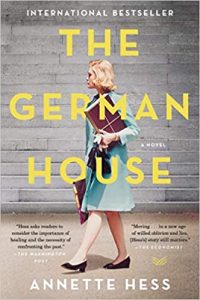 The German House by Annette Hess
As seen in the New York Times Book Review. 
A December 2019 Indie Next Pick! 

Set against the Frankfurt Auschwitz Trials of 1963, Annette Hess's international bestseller is a harrowing yet ultimately uplifting coming-of-age story about a young female translator—caught between societal and familial expectations and her unique ability to speak truth to power—as she fights to expose the dark truths of her nation's past.
If everything your family told you was a lie, how far would you go to uncover the truth? 
For twenty-four-year-old Eva Bruhns, World War II is a foggy childhood memory. At the war's end, Frankfurt was a smoldering ruin, severely damaged by the Allied bombings. But that was two decades ago. Now it is 1963, and the city's streets, once cratered are smooth and paved. Shiny new stores replace scorched rubble. Eager for her wealthy suitor, Jürgen Schoormann, to propose, Eva dreams of starting a new life away from her parents and sister. But Eva's plans are turned upside down when a fiery investigator, David Miller, hires her as a translator for a war crimes trial.
As she becomes more deeply involved in the Frankfurt Trials, Eva begins to question her family's silence on the war and her future. Why do her parents refuse to talk about what happened? What are they hiding? Does she really love Jürgen and will she be happy as a housewife? Though it means going against the wishes of her family and her lover, Eva, propelled by her own conscience , joins a team of fiery prosecutors determined to bring the Nazis to justice—a decision that will help change the present and the past of her nation.
"Questions of complicity and culpability are resolved by prosecutors and daughters alike in Hess' reveal of large truths which are obscured by larger lies." (Kirkus Reviews)

Purchase Links
___________________________
Jane Valiante had put so much of her life on hold to care for her father and little brother back in Florida since her mom died, that she'd all but forgotten she once had ambitions of her own.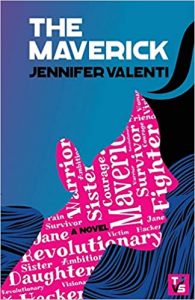 The Maverick by Jennifer Valenti
Jane Valiante had put so much of her life on hold to care for her father and little brother back in Florida since her mom died, that she'd all but forgotten she once had ambitions of her own. She had nearly resigned to a life of ordinary when the hottest tech company in the world offers to fly her to New York for the job of her dreams.
After what shapes up to be a whirlwind of an interview, Jane starts to feel overwhelmed and insecure about her chances. Feeling defeated, she's surprised to receive an invitation to the holiday party from the CEO and Founder, Peter Wright, planned for that evening. Hoping this could be her opportunity to seal the deal, she happily accepts. That's when everything in her world turns upside down as she finds herself back in her hotel room with Peter after the party. What started as a drunken misunderstanding leads to a brutal sexual assault that leaves Jane shattered.
Torn by the violence of what happened that night and the shocking choices she inevitably makes, Jane embarks on a precedent-setting journey to right the wrongs she has endured that could ultimately define the fate of a generation.

Purchase Links
___________________________
Former Today show host Kathie Lee Gifford offers her personal story along with insights, wisdom, and inspiration for those women who are facing their own life changes.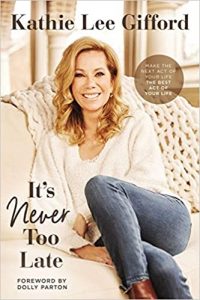 It's Never Too Late: Make the Next Act of Your Life the Best Act of Your Life by Kathy Lee Gifford
What's holding you back from pursuing what truly matters to you and fulfilling your dreams?
After Kathie Lee Gifford stepped down as cohost of the fourth hour of the Today show with Hoda Kotb, you might have thought Kathie Lee's dream was over. But actually she's just getting started! As Kathie Lee steps into the next and even more creative act of her life—singing, acting, writing, and directing movies—she says, "I'm not retiring; I'm refiring!"
That confident perspective is what she offers readers in It's Never Too Late, a book for women in their thirties and beyond who are embarking upon their own major life changes.
Whether you're facing new life stages, such as the empty-nest years, divorce, the death of a loved-one, or a professional crisis or career change, Kathie Lee will deftly coach you through the universal search for meaning as she shares her own story of major life change. With Kathie Lee's hard-earned wisdom and signature warmth, It's Never Too Late offers you insight and inspiration to live out your own dreams, change direction, speak out for what you believe, and pursue what truly matters.

Purchase Links
___________________________
This exciting new Amish romance is from Publishers Weekly bestselling author of The Amish Baker and The Amish Marriage Bargain.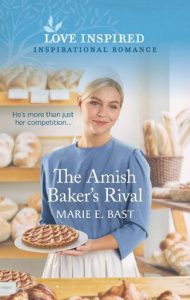 The Amish Baker's Rival by Marie E. Bast
She'll do anything to protect her bakery… no matter the cost to her heart.
Small-town, Amish baker Mary Brenneman is devastated when handsome Englischer Noah Miller opens up a bakery right across from hers. Now she must win a local baking contest just to stay in business. But somewhere along the way, Noah and Mary's kitchen wars are quickly warming into something more…
Still mourning the death of his parents, Mary helps Noah search for the Amish grandparents he has never met. And when a crisis hits Mary's bakery, Noah volunteers his assistance.
After Mary's now ex-fiancé broke their engagement so he could go live in the Englisch world, she vows to stay away from men…especially Englisch men. Even though she likes Noah more each day, she keeps her distance.
With her heart packed with distrust, Noah hopes to soften her resolve and convince Mary of their undeniable love. But trouble brews at the baking contest when Mary thinks Noah has stolen her recipe. After the surprising result of the contest, Noah and Mary must face their feelings and decide what road God has set them upon.

Purchase Links
___________________________
Sometimes the key to happiness, friendship–or solving a murder–can simply be found within the pages of the right book.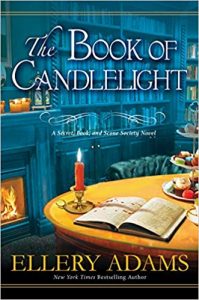 The Book of Candlelight: A Secret, Book, and Scone Society Novel by Ellery Adams
From New York Times bestselling author Ellery Adams, the third installment in her beguiling cozy mystery series featuring librarian-turned-bookseller Nora Pennington who has a penchant for bibliotherapy and solving crimes. While people visit Miracle Springs for healing treatments, it's Nora who helps them find peace by prescribing the perfect book along with a fresh-baked scone. After all, sometimes the key to happiness, friendship–or solving a murder–can simply be found within the pages of the right book. It's been a very wet spring in Miracle Springs, North Carolina, and the rain has been relentless–and a flood of trouble is about to be unleashed…
As the owner of Miracle Books, Nora Pennington figures all the wet weather this spring is at least good for business. The local inns are packed with stranded travelers, and among them Nora finds both new customers and a new friend, the sixty-something Sheldon, who starts helping out at the store.
Since a little rain never hurt anyone, Nora rides her bike over to the flea market one sodden day and buys a bowl from Danny, a Cherokee potter. It'll make a great present for Nora's EMT boyfriend. But the next day, a little rain turns into a lot of rain, and the Miracle River overflows its banks. Amid the wreckage of a collapsed footbridge, a body lies within the churning water.
Nora and the sheriff both doubt the ruling of accidental drowning, and Nora decides it's time for the Secret, Book, and Scone Society to spring into action. When another body turns up, it becomes clearer that Danny's death can't be blamed on a natural disaster. A crucial clue may lie within the stone walls of the Inn of Mist and Roses: a diary, over a century old and spattered with candle wax, that leads Nora and her friends through a maze of intrigue–and onto the trail of a murderer…

Purchase Links
___________________________

Please fill out our super short registration form (click the "Enter Now" button above) by December 31st for a chance to win a set of up to ten copies of one of these great books for your book club! We will randomly choose a winner at the end of the month. This giveaway is open to clubs in the US only (our apologies to friends in other countries). 
Best of luck!
We 
LOVE

 Book Clubs!