About Journey: A Journal of Discovery
• Diary: 128 pages
• Publisher: Chronicle Prism (October 20, 2020)
THE FIRST EVER GUIDED JOURNAL FROM PAULO COELHO, ONE OF THE MOST INFLUENTIAL AUTHORS OF OUR TIME
Paulo Coelho is one of the bestselling authors in the world, with more than 230 million copies of his books—from The Alchemist to The Warrior of Light—sold across 170 countries in 80 languages. In this enchanting and introspective journal, Coelho takes you down the path of reflection and imagination. With 45 thought-provoking questions, you will explore mind and soul as you consider the signs and omens along your journey, make peace with the unknown, and learn to listen to your heart's desires. Evocative and intimate, each page prompts big and small contemplations on fear, love, gratitude, forgiveness, destiny, and more. Journey includes an introduction from Coelho, plenty of blank space to write, and beautifully designed quotes from his most popular books, speeches, interviews, and posts. Exquisitely produced, with a white and copper foil-stamped cover, Journey is a must-have for fans of this legendary writer-and anyone seeking a space for discovery and inspiration.
"You must get as much as you can from any journey, because in the end the journey is all you have. So why not live?"—Paulo Coelho
While Coelho has written many books and a number of planners, Journey is his first ever journal published in America.
This journal includes some of the most powerful and beloved quotes from Coelho's books, as well as all-new reflections to guide you on your journey.
Features a beautifully dyed, textured cover with foil stamping and a ribbon page marker.
Social Media
Please use the hashtag #CoelhoJourney, and tag @tlcbooktours, @chronicleprism, and @paulocoelho.
Purchase Links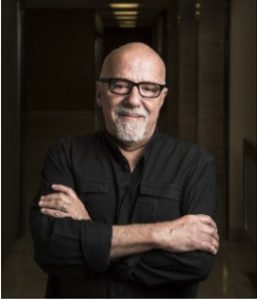 About Paulo Coelho
Paulo Coelho is the author of the bestseller The Alchemist, which has sold over 100 million copies. His books have been released in 170 countries and translated into 80 languages. He has received numerous prestigious international awards, including being a member of the Academy of Letters of Brazil since 2002 and Messenger of Peace for the United Nations since 2007. In 2009 he received the Guinness World Record for the most translated author for the same book (for The Alchemist).
Find out more about him at his website, and follow him on Facebook, Instagram, and Twitter.
Instagram Features
Monday, November 2nd: Instagram: @the.bookish.traveler
Tuesday, November 3rd: Instagram: @the.caffeinated.reader
Tuesday, November 3rd: Instagram: @bibliosass
Wednesday, November 4th: Instagram: @talielovesbooks
Thursday, November 5th: Instagram: @readinginthe419
Thursday, November 5th: Instagram: @thebooksandwich
Friday, November 6th: Instagram: @nerdybookmama
Saturday, November 7th: Instagram: @caseys_chapters
Sunday, November 8th: Instagram: @booksloveandunderstanding
Monday, November 9th: Instagram: @readwithwine
Tuesday, November 10th: Instagram: @musingsofthewellread
Wednesday, November 11th: Instagram: @katieneedsabiggerbookshelf
Thursday, November 12th: Instagram: @_bookdreamer
Friday, November 13th: Instagram: @pages.for.sanity
Friday, November 13th: Instagram: @the_unwined