___________________________
The beloved author of The Mistletoe Matchmaker returns with an enchanting new novel, perfect for fans of Jenny Colgan, Nina George, and Nancy Thayer, about residents of Ireland's Finfarran Peninsula who set up a Skype book club with the little US town of Resolve, where generations of Finfarran's emigrants have settled.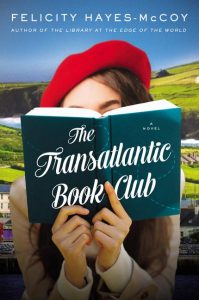 The Transatlantic Book Club by Felicity Hayes-McCoy
Distance makes no difference to love…
Eager to cheer up her recently widowed gran, Cassie Fitzgerald, visiting from Canada, persuades Lissbeg Library to set up a Skype book club, linking readers on Ireland's Finfarran Peninsula with the US town of Resolve, home to generations of Finfarran emigrants.
But when the club decides to read a detective novel, old conflicts on both sides of the ocean are exposed and hidden love affairs come to light. As secrets emerge, Cassie fears she may have done more harm than good. Will the truths she uncovers about her granny Pat's marriage affect her own hopes of finding love? Is Pat, who's still struggling with the death of her husband, about to fall out with her oldest friend, Mary? Or could the book club itself hold the key to a triumphant transatlantic happy ending?
The Transatlantic Book Club continues the stories of the residents of the Finfarran Peninsula and introduces readers to new characters who they will surely fall in love with.

Purchase Links
___________________________
For fans of Jojo Moyes, from the bestselling author of The Home for Unwanted Girls, comes another compulsively readable story of love and friendship, following the lives of two women reckoning with their pasts and the choices that will define their futures.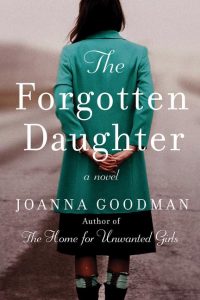 The Forgotten Daughter by Joanna Goodman
Divided by their past, united by love.
1992: French-Canadian factions renew Quebec's fight to gain independence, and wild, beautiful Véronique Fortin, daughter of a radical separatist convicted of kidnapping and murdering a prominent politician in 1970, has embraced her father's cause. So it is a surprise when she falls for James Phénix, a journalist of French-Canadian heritage who opposes Quebec separatism. Their love affair is as passionate as it is turbulent, as they negotiate a constant struggle between love and morals.
At the same time, James's older sister, Elodie Phénix, one of the Duplessis Orphans, becomes involved with a coalition demanding justice and reparations for their suffering in the 1950s when Quebec's orphanages were converted to mental hospitals, a heinous political act of Premier Maurice Duplessis which affected 5,000 children.
Véronique is the only person Elodie can rely on as she fights for retribution, reliving her trauma, while Elodie becomes a sisterly presence for Véronique, who continues to struggle with her family's legacy.
The Forgotten Daughter is a moving portrait of true love, familial bonds, and persistence in the face of injustice. As each character is pushed to their moral brink, they will discover exactly which lines they'll cross—and just how far they'll go for what they believe in.

Purchase Links
___________________________
Melissa Ferguson's new novel proves that good fences make good neighbors–and that sometimes love and hate share a backyard.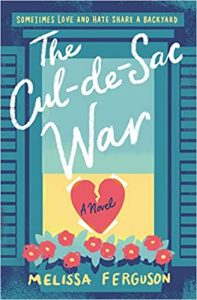 The Cul-de-Sac War by Melissa Ferguson
Bree Leake doesn't want to be tied down. She's had more jobs than she can count, and she plans to move as soon as the curtains fall on her less-than-minor stage role at The Barter—the oldest live performance theater in the US. But just when it's time to move on again, Bree's parents make her an offer: hold steady for a full year, and they will give her the one thing she's always wanted—her grandmother's house. Her dreams are coming true . . . until life at the theater throws her some curve balls.
And then there's Chip McBride—her handsome and infuriating next-door neighbor.
Chip just might be the only person whose stubborn streak can match Bree's. She would move heaven and earth to have him off her cul-de-sac and out of her life, but according to the bargain she's struck, she can't move out of her house and away from the man who's making her life miserable. So begins Bree's obsessive new mission: to drive Chip out of the neighborhood—and fast.
Bree isn't the only one who's a tad competitive, and Chip is more than willing to fight fire with fire. But as their pranks escalate, the line between love and hate starts to blur—and their heated rivalry threatens to take a hilarious, heartwarming, and romantic new turn.

Purchase Links
___________________________
First in a new series!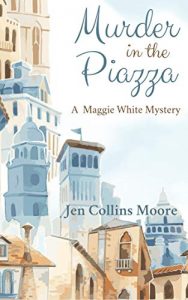 Murder in the Piazza: A Maggie White Mystery by Jen Collins Moore
Maggie White, a downsized American executive stuck in Rome on her husband's expat assignment, is finding the dolce vita isn't all it's cracked up to be. She's taken a job offering painting instruction to well-heeled travelers and her boss—a rather unpleasant English lord—has turned up dead in his penthouse. Maggie's left with a palazzo full of suspicious guests, a valuable painting her boss might have stolen, and a policeman who's decided she's the prime suspect. Now Maggie must keep the tour up and running while she tracks the killer and works to clear her name.

Purchase Links
___________________________
From the author of A Lily in the Light comes a poignant story of innocence lost and what it means to grow up too fast.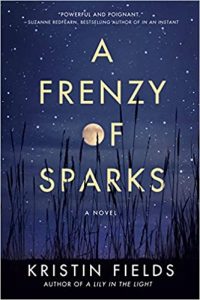 A Frenzy of Sparks by Kristin Fields
It's 1965, and thirteen-year-old Gia, along with her older brother and cousins, are desperate to escape their sleepy, tree-lined neighborhood where nothing ever happens. The only thing Gia would miss is the surrounding marsh, where she feels at home among sea birds and salt water.
But when one of Gia's cousins brings drugs into their neighborhood, it sets off a chain of events that quickly turn dangerous. Everyone will be caught in the ripples, and some may be swept away entirely. Gia is determined to keep herself and her family afloat while the world is turned upside down around her. Can she find a way to hold on to the life she was so eager to leave behind, or will she have to watch it all disappear beneath the marsh forever?
At turns heart-wrenching and hopeful, A Frenzy of Sparks explores a world where survival is the attempt to move forward while leaving pieces of your heart behind.
"A deeply atmospheric novel that will have you turning the pages deep into the night, A Frenzy of Sparks is your next must-read." —Catherine McKenzie, bestselling author of Hidden and I'll Never Tell
"A provocative coming-of-age in 1960s Queens. Heart-wrenching and moving, A Frenzy of Sparks boldly reveals families in crisis, brought together and torn apart. Brava Kristin Fields on a lyrical, luminous tale that sticks with the reader long after the last page." —Rochelle Weinstein, bestselling author of This Is Not How It Ends
"A Frenzy of Sparks tells the heartbreaking truth about how quickly addiction can destroy a family and a community. Fields has a beautiful ability to shape words such that the ordinary becomes extraordinary." —Kaela Coble, author of Friends and Other Liars

Purchase Links
___________________________
"This stunning debut novel held me in its thrall from the first page until the last. This felt like reading Les Misérables crossed with The Bronze Horseman. What an amazing gem." —Natasha Boyd, author of The Indigo Girl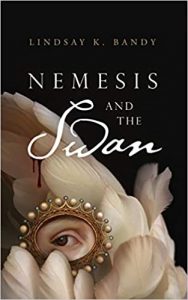 Nemesis and the Swan by Lindsay K. Bandy
From her prison cell in revolutionary Paris, nineteen-year-old aristocrat Helene d'Aubign recalls the events that led her to choose between following in her parents' unforgivable footsteps or abandoning the man she loves.
Despite her world of privilege, Helene is inspired early on by the radical ideas of her progressive governess. Though her family tries to intervene, the seeds of revolution have already been planted in Helene's heart, as are the seeds of love from an unlikely friendship with a young jeweler's apprentice. Helene's determination to find true love is as revolutionary as her attempt to unravel the truth behind a concealed murder that tore her family apart.
As violence erupts in Paris, Helene is forced into hiding with her estranged family, where the tangled secrets of their past become entwined with her own. When she finally returns to the blood-stained streets of Paris, she finds everything — and everyone — very much changed. In a city where alliances shift overnight, no one knows whom to trust.
Faced with looming war, the mystery of her family's past, and the man she loves near death, Helene will soon will find out if doing one wrong thing will make everything right, or if it will simply push her closer to the guillotine.
"Mesmerizing and poetic, this book captures the mind and the heart. It will haunt your thoughts during the day, and show up in your dreams at night. An evocative and powerful work." —Linda Oatman High, award-winning author, playwright, and journalist

Purchase Links
___________________________
USA Today bestselling author Susannah B. Lewis (creator of Whoa! Susannah) is back with another hilarious take on what so many people are thinking but are afraid to say aloud.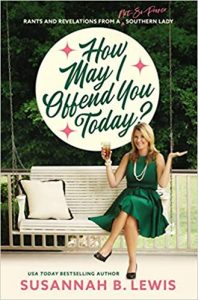 How May I Offend You Today: Rants and Revelations from a Not-So-Proper Southern Lady by Susannah B. Lewis
Millions of online fans have flocked to Susannah B. Lewis's hysterical, take-no-prisoners rants about her pet peeves in everyday life. Now, in How May I Offend You Today?, Lewis turns her trademark humor to ordinary events that work her nerves–from people who wear t-shirts with indecent images to public displays of affection in the plumbing aisle of Lowe's–while keeping a wry eye on herself and her own temptation to vent grievances "like a teenage girl in overalls and Birkenstocks."
Weaving together anecdotes from her distinctly Southern life with frequent references to the Bible, what she calls "our manual for living," Lewis says what many of us have thought, and in the process encourages us to stand firm in our views. The witty-yet-down-to-earth banter and uplifting, inspirational message of How May I Offend You Today? gives readers everywhere the boost necessary to make it through even their most trying days.

Purchase Links
___________________________
Former Today show host Kathie Lee Gifford offers her personal story along with insights, wisdom, and inspiration for those women who are facing their own life changes.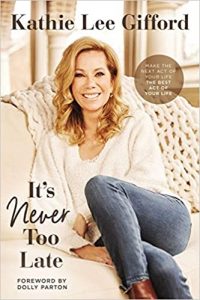 It's Never Too Late: Make the Next Act of Your Life the Best Act of Your Life by Kathy Lee Gifford
What's holding you back from pursuing what truly matters to you and fulfilling your dreams?
After Kathie Lee Gifford stepped down as cohost of the fourth hour of the Today show with Hoda Kotb, you might have thought Kathie Lee's dream was over. But actually she's just getting started! As Kathie Lee steps into the next and even more creative act of her life—singing, acting, writing, and directing movies—she says, "I'm not retiring; I'm refiring!"
That confident perspective is what she offers readers in It's Never Too Late, a book for women in their thirties and beyond who are embarking upon their own major life changes.
Whether you're facing new life stages, such as the empty-nest years, divorce, the death of a loved-one, or a professional crisis or career change, Kathie Lee will deftly coach you through the universal search for meaning as she shares her own story of major life change. With Kathie Lee's hard-earned wisdom and signature warmth, It's Never Too Late offers you insight and inspiration to live out your own dreams, change direction, speak out for what you believe, and pursue what truly matters.

Purchase Links
___________________________

Please fill out our super short registration form (click the "Enter Now" button above) by November 30th for a chance to win a set of up to ten copies of one of these great books for your book club! We will randomly choose a winner at the end of the month. This giveaway is open to clubs in the US only (our apologies to friends in other countries). 
Best of luck!
We 
LOVE

 Book Clubs!