About The Lady Brewer of London
• Paperback: 816 pages
• Publisher: William Morrow Paperbacks (November 10, 2020)
An unforgettable historical tale set in fifteenth-century England of a brilliant woman's defiance, courage, and ingenuity—from the author of The Locksmith's Daughter and The Chocolate Maker's Wife.
1405: The daughter of a wealthy merchant, Anneke Sheldrake suddenly finds her family bankrupted when her father's ship is swept away at sea. Forced to find a way to provide for herself and her siblings, Anneke rejects an offer of marriage from a despised cousin and instead turns to her late mother's family business: brewing ale.
Armed with her mother's recipes, she then makes a bold deal with her father's aristocratic employer, putting her home and family at risk. Thanks to her fierce determination, Anneke's brew wins a following and begins to turn a profit. But her rise threatens some in her community and those closest to her are left to pay the price.
As Anneke slowly pieces her life together again, she finds an unlikely ally in a London brothel owner. Determined not only to reclaim her livelihood and her family, Anneke vows not to let anyone stand in the way of her forging her own destiny.
Social Media
Please use the hashtag #theladybreweroflondon, and tag @tlcbooktours and @williammorrowbooks.

Purchase Links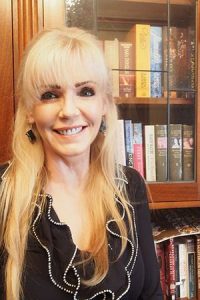 About Karen Brooks
Karen Brooks is the author of thirteen books, an academic of more than twenty years' experience, a newspaper columnist and social commentator, and has appeared regularly on national TV and radio. Before turning to academia, she was an army officer for five years, and prior to that dabbled in acting.
She lives in Hobart, Tasmania, in a beautiful stone house with its own marvellous history. When she's not writing, she's helping her husband Stephen in his brewery, Captain Bligh's Ale and Cider, or cooking for family and friends, travelling, cuddling and walking her dogs, stroking her cats, or curled up with a great book and dreaming of more stories.
Find out more about Karen at her website, and connect with her on Facebook and Twitter.
Instagram Features
Tuesday, November 10th: Instagram: @rendezvous_with_reading
Wednesday, November 11th: Instagram: @nurse_bookie
Thursday, November 12th: Instagram: @shejustlovesbooks
Friday, November 13th: Instagram: @love.books.and.coffee
Saturday, November 14th: Instagram: @thephdivabooks
Sunday, November 15th: Instagram: @amanda.the.bookish
Monday, November 16th: Instagram: @simplykelina