About The Transatlantic Book Club
• Paperback: 384 pages
• Publisher: Harper Perennial (November 10, 2020)
The beloved author of The Mistletoe Matchmaker returns with an enchanting new novel, perfect for fans of Jenny Colgan, Nina George, and Nancy Thayer, about residents of Ireland's Finfarran Peninsula who set up a Skype book club with the little US town of Resolve, where generations of Finfarran's emigrants have settled.
Distance makes no difference to love…
Eager to cheer up her recently widowed gran, Cassie Fitzgerald, visiting from Canada, persuades Lissbeg Library to set up a Skype book club, linking readers on Ireland's Finfarran Peninsula with the US town of Resolve, home to generations of Finfarran emigrants.
But when the club decides to read a detective novel, old conflicts on both sides of the ocean are exposed and hidden love affairs come to light. As secrets emerge, Cassie fears she may have done more harm than good. Will the truths she uncovers about her granny Pat's marriage affect her own hopes of finding love? Is Pat, who's still struggling with the death of her husband, about to fall out with her oldest friend, Mary? Or could the book club itself hold the key to a triumphant transatlantic happy ending?
The Transatlantic Book Club continues the stories of the residents of the Finfarran Peninsula and introduces readers to new characters who they will surely fall in love with.
Social Media
Please use the hashtag #thetransatlanticbookclub, and tag @tlcbootkours, @harperperennial, and @felicityhayesmccoy.

Purchase Links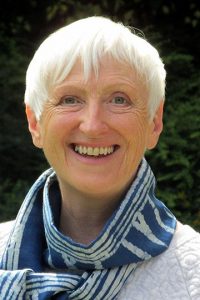 About Felicity Hayes-McCoy
Irish author Felicity Hayes-McCoy built a successful UK-based career as an actress and writer, working in theatre, music theatre, radio, TV, and digital media. She is the author of two memoirs, The House on an Irish Hillside and A Woven Silence: Memory, History & Remembrance, in addition to an illustrated book Enough Is Plenty: The Year on the Dingle Peninsula. She and her husband divide their time between London and Ireland.
Find out more about Felicity at her website, and follow her on Twitter and Instagram.
Instagram Features
Tuesday, November 10th: Instagram: @suethebookie
Wednesday, November 11th: Instagram: @beritaudiokilledthebookmark
Thursday, November 12th: Instagram: @compulsivereadersblog
Friday, November 13th: Instagram: @babygotbooks13
Saturday, November 14th: Instagram: @simplykelina
Monday, November 16th: Instagram: @theocbookgirl
TBD: Sunday, November 15th: Instagram: @megsbookclub