To get your book club in the mood for the holidays, we have gathered up some wonderful titles for this special CHRISTMAS IS COMING book club giveaway!
______________________________________________
In the town of Silver Bells, there's always a feeling of Christmas in the air… Let love—and RaeAnne Thayne—melt your heart this holiday season!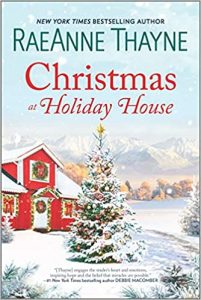 Christmas at Holiday House by RaeAnne Thayne
This New Year will bring widowed nurse Abigail Powell a fresh start in a different city. Excited about the chance to create an unforgettable Christmas for her young son in picturesque Silver Bells, Colorado, Abby has been hired to take care of her dear friend's recuperating grandmother. But sprightly senior Winnie insists she doesn't need looking after. What she does need is help decorating her historic mansion, Holiday House, for a seasonal town fundraiser. Abby warms to the festive task, but she'll have to contend with her own personal Grinch: Winnie's prickly grandson, Ethan Lancaster.
Ethan Lancaster is good at a lot of things. Relationships surely aren't one of them. His ex-fiancée convinced Ethan he was incapable of love, and he believes her…up until the moment he impulsively kisses Abby. What is it about this vibrant woman and her sweet son that knocks his world off-kilter? He knows they're leaving town after Christmas. He just didn't expect they'd be taking a little of his heart with them. But as he and Abby work together on the magical Holiday House through the record cold weather, visions of a different future dance in his head…one filled with warmth, love and a new beginning for them both.

Purchase Links
______________________________________________
From the USA TODAY bestselling author of The Christmas Sisters and A Wedding in December comes this sparkling tale of Christmas redemption…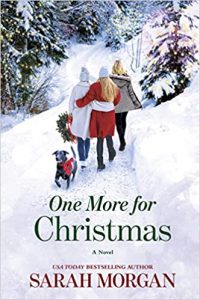 One More for Christmas by Sarah Morgan
For sisters Samantha and Ella Mitchell, Christmas is their most precious time of the year. But this year, they'll be buying presents for the most unexpected guest of all—their mother. It's been five years since they last saw each other. But when their mom calls out of the blue, Samantha and Ella cautiously agree to spend Christmas all together in the beautiful Scottish Highlands…
Gayle Mitchell is at the top of her career, but her success has come at a price—her relationship with her daughters. Her tough-love approach to parenting was designed to make them stronger, but instead managed to push them away…until a brush with her own mortality forces Gayle to make amends.
As the snowflakes fall on their first family celebration in years, the Mitchell women must learn that sometimes facing up to the past is all you need to heal your heart…

Purchase Links
______________________________________________
Fans of RaeAnne Thayne and Debbie Macomber will love this USA Today bestselling author's latest holiday romance about two single parents whose holiday wishes come true in the small town of Highland Falls.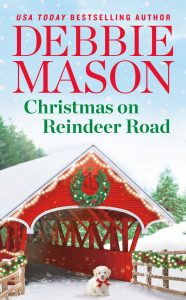 Christmas on Reindeer Road by Debbie Mason
Can the magic of mistletoe bring together two busy single parents?

Mallory Maitland knows all too well what it's like to feel abandoned, which is why she's sworn never to give up on her two stepsons — her late husband's children. But when the teens land in hot water, she's got a whole new problem: how to resist the caring and incredibly hot Chief of Police Gabriel Buchanan. All Mallory wants is to give the boys a magical holiday. She doesn't need the distraction of wondering what it would be like to kiss Gabriel under the mistletoe.
After his wife died, Gabriel left his job as an adrenaline-chasing New York City homicide detective to focus on raising his three sons. But back in Highland Falls, he doesn't have to go looking for trouble. It finds him — in the form of a beautiful neighbor and her troublemaking stepchildren. With Gabriel's mother-in-law looking for any excuse to gain custody of his sons, Gabriel can't risk getting involved with Mallory, even though she's the only woman capable of making this Christmas — and all the rest to come — his best ever.

Purchase Links
______________________________________________
In this final chapter of the Dance with Me series, Shelley Shepard Gray leads us back to Bridgeport, Ohio, where family comes in all shapes and sizes, everyone deserves a second chance, and falling in love happens when you least expect it.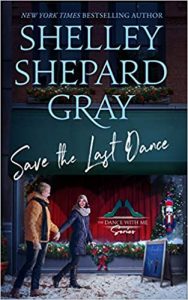 Save the Last Dance (The Dance with Me Series) by Shelley Shepard Gray
Kimber Klein has left the modeling world behind. She's sick of the constant pressure to be perfect and ready to live her life without watching every little thing she eats. She's also really happy to finally spend some time getting to know herself and the two sisters she never met until recently. Life is good … mostly.
Kimber can't stop worrying about a stalker she's hoping she left behind in New York City. She doesn't think he's found her in Bridgeport, until one day she leaves her volunteer job at the elementary school library to find two of her tires slashed. Has her old life come back to haunt her in Ohio?
Gunnar Law is satisfied with his life as a single dad. He's still getting to know his son, Jeremy, since he's only been fostering the teen for a short while. While parenting someone you only just met can be a little awkward, Gunnar loves Jeremy and plans to adopt him as soon as they can get the paperwork through. Life is pretty simple, and he likes it that way. Then one afternoon, he and Jeremy stop to help a distraught — and extremely beautiful — woman who had her tires slashed in the school parking lot. And suddenly life doesn't seem quite so simple anymore.

Purchase Links
______________________________________________
From the USA TODAY bestselling author of The Ingredients of You and Me comes a holiday novella about a travel journalist who visits a small town during the most magical time of the year and finds love in the process.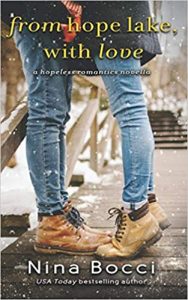 From Hope Lake, With Love: A Novella (Hopeless Romantics) by Nina Bocci
From the USA TODAY bestselling author of The Ingredients of You and Me comes a holiday novella about a travel journalist who visits a small town during the most magical time of the year and finds love in the process.
Camille Douglas has one last article to write for the travel magazine she works for before officially retiring and becoming a full-time novelist. She's tasked to cover her editor's favorite spot on the east coast: Hope Lake, PA. Of course, she's heard the stories and seen the pictures, but she's doubtful it looks that idyllic in person.
She decides to make the cross-country trip right before the holidays. Snow-covered treetops, Christmas lights a plenty, and an adorable town square decorated in all its holiday glory. The minute she sets foot in Hope Lake she is inspired. It also doesn't hurt that she is charmed by Dr. Maxwell Reese. The stunning, and single, doctor who has settled down in Hope Lake after traveling the globe. With Max's help Camille discovers the delights of small-town life—especially during the holidays.

Purchase Links
______________________________________________
"In the tradition of Richard Paul Evans's The Christmas Box and The Locket, [Card's] sure-to-be-classic tale is highly recommended for the Christmas season and all year round." —Library Journal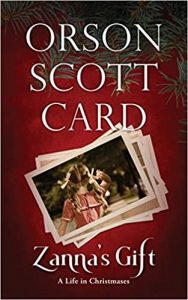 Zanna's Gift: A Life in Christmases by Orson Scott Card
When little Zanna's oldest brother died just before Christmas, she was left with the gift she had made for him — a picture that only he would have understood. Every Christmas, Zanna's gift is brought out and displayed as a way of including their lost brother in the celebration. This is the story of the life of that family, and of the many gifts they gave each other that could only be understood with love.

Purchase Links
______________________________________________

Please fill out our super short registration form (click the "Enter Now" button above) by November 30th for a chance to win a set of up to ten copies of one of these great books for your book club! We will randomly choose a winner at the end of the month. This contest is open to clubs in the US only (our apologies to friends in other countries). 
.
Best of luck!
We 
LOVE

 Book Clubs!