About Written in the Stars
• Paperback: 384 pages
• Publisher: Avon (November 10, 2020)
"I was hooked from the very first page!" – Christina Lauren, New York Times bestselling author of In a Holidaze
An Indie Next and Library Reads Pick!

With nods to Bridget Jones and Pride & Prejudice, this debut is a delightful #ownvoices queer rom-com about a free-spirited social media astrologer who agrees to fake a relationship with an uptight actuary until New Year's Eve—with results not even the stars could predict!
After a disastrous blind date, Darcy Lowell is desperate to stop her well-meaning brother from playing matchmaker ever again. Love—and the inevitable heartbreak—is the last thing she wants. So she fibs and says her latest set up was a success. Darcy doesn't expect her lie to bite her in the ass.
Elle Jones, one of the astrologers behind the popular Twitter account Oh My Stars, dreams of finding her soul mate. But she knows it is most assuredly not Darcy… a no-nonsense stick-in-the-mud, who is way too analytical, punctual, and skeptical for someone as free-spirited as Elle. When Darcy's brother—and Elle's new business partner—expresses how happy he is that they hit it off, Elle is baffled. Was Darcy on the same date? Because… awkward.
Darcy begs Elle to play along and she agrees to pretend they're dating. But with a few conditions: Darcy must help Elle navigate her own overbearing family during the holidays and their arrangement expires on New Year's Eve. The last thing they expect is to develop real feelings during a faux relationship. But maybe opposites can attract when true love is written in the stars?
"Everything I want from a rom-com: fun, whimsical, sexy." – Talia Hibbert, USA Today bestselling author of Get a Life, Chloe Brown
Social Media
Please use the hashtag #writteninthestars, and tag @tlcbooktours, @avonbooks, and @a.m.bellefleur.

Purchase Links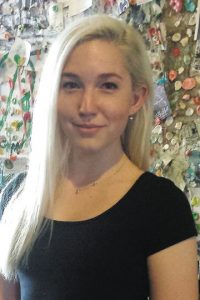 About Alexandria Bellefleur
Alexandria Bellefleur is an author of swoony contemporary romance often featuring loveable grumps and the sunshine characters who bring them to their knees. A Pacific Northwesterner at heart, Alexandria has a weakness for good coffee, Pike IPA, and Voodoo Doughnuts. Her special skills include finding the best Pad Thai in every city she visits, remembering faces but not names, falling asleep in movie theaters, and keeping cool while reading smutty books in public. She was a 2018 Romance Writers of America Golden Heart finalist. You can find her at www.alexandriabellefleur.com or on Twitter @ambellefleur or Instagram.
Instagram Features
Tuesday, November 10th: Instagram: @thereadingchemist
Wednesday, November 11th: Instagram: @ksquaredreads
Thursday, November 12th: Instagram: @itsabookishworld_
Friday, November 13th: Instagram: @readinggirlreviews
Saturday, November 14th: Instagram: @bnjreads
Sunday, November 15th: Instagram: @thebooksinmylapp
Monday, November 16th: Instagram: @notinjersey
Tuesday, November 17th: Instagram: @reallyintothis