About Reckless
• Mass Market Paperback: 384 pages
• Publisher: Avon; 1st Edition (June 24, 2008)
Independent, stunning, and smart, Kell Jameson has the life she's always dreamed about. A partner at a tony Atlanta law firm that represents famous—if guilty—clients, she's far from her days as a lonely orphan in rural Georgia. But one frantic phone call will bring her back to the place she's spent years trying to escape. The head of her childhood orphanage has been accused of murder, and Kell is her only hope for freedom.
From the first moment Kell meets Sheriff Luke Calder, tempers and attraction flare. Ruggedly handsome and a stickler for law and order, Luke finds Kell compelling. Unfortunately, she represents his prime suspect. Forced to work together, they dig deep into the town's scandals . . . but Kell has a secret of her own. She trusts Luke enough to fall in love—but does she trust him enough to reveal the reckless past she's worked so hard to keep hidden?
Social Media
Please use the hashtag #reckless, and tag @tlcbooktours and @avonbooks.

Purchase Links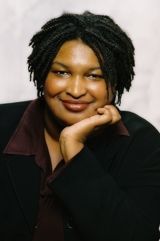 About Selena Montgomery
Selena Montgomery grew up in Southern Mississippi, with two incredible parents and five fascinating siblings. She is a graduate of Spelman College, the LBJ School of Public Affairs, and Yale Law School. She draws upon her interest in and experiences with social and economic policy, politics, and creative writing to fuel her novels. As her alter ego, Stacey Abrams, she is the former Georgia House Minority leader – the first African American to lead in the House of Representatives. She is currently running for Governor in the state of Georgia.
Visit Selena at her website.
Instagram Features
Monday, October 26th: Instagram: @lets_talk_books_and_cats
Tuesday, October 27th: Instagram: @bnjreads
Wednesday, October 28th: Instagram: @booksonthel
Thursday, October 29th: Instagram: @bookin.good
Saturday, October 31st: Instagram: @simplykelina
Sunday, November 1st: Instagram: @babygotbooks13
Monday, November 2nd: Instagram: @thereadingroom444