About Frontier Follies
• Hardcover: 352 pages
• Publisher: William Morrow (November 17, 2020)
A down-to-earth, hilarious collection of stories and musings on marriage, motherhood, and country life from the #1 New York Times bestselling authorand star of the Food Network show The Pioneer Woman, Ree Drummond.
In this relatable, charming book, Ree unveils real goings-on in the Drummond house and around the ranch. In stories brimming with the lively wit and humor found in her cookbooks and her bestselling love story, The Pioneer Woman: Black Heels to Tractor Wheels, Ree pulls back the curtain and shares her experiences with childbirth, wildlife, isolation, teenagers, in-laws, and a twenty-five-year marriage to a cowboy/rancher.
A celebration of family life, love, and (mostly) laughter, Frontier Follies is a keepsake to curl up with, have a good laugh, and remember all that's wonderful (and funny) about family.
Social Media
Please use the hashtag #frontierfollies, and tag @tlcbooktours and @williammorrowbooks.

Purchase Links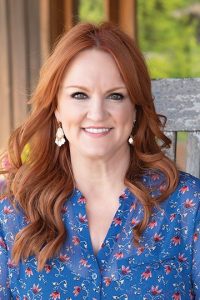 About Ree Drummond
Ree Drummond is the #1 New York Times bestselling author of The Pioneer Woman Cooks, The Pioneer Woman Cooks: Food from My Frontier,  and The Pioneer Woman Cooks: A Year of Holidays. Ree's beloved website, The Pioneer Woman, was founded in 2006 and showcases her cooking, photography, and anecdotes about country life. Her cooking show, The Pioneer Woman, premiered on Food Network in 2011. Ree loves Ethel Merman songs, Lucille Ball, and The Godfather. She lives on a working cattle ranch in Oklahoma with her husband and four children.
Find out more about Ree on her website, and follow her on Instagram, Facebook, and Twitter.
Instagram Features
Tuesday, October 27th: Instagram: @mommaleighellensbooknook
Wednesday, October 28th: Instagram: @theocbookgirl
Thursday, October 29th: Instagram: @livingmybestbooklife
Saturday, October 31st: Instagram: @my_read_feed
Sunday, November 1st: Instagram: @irishgirliereads
Monday, November 2nd: Instagram: @sweethoneyandbrei
Tuesday, November 3rd: Instagram: @bookin.good