About Getting to Center
• Paperback: 240 pages
• Publisher: William Morrow Paperbacks (October 27, 2020)
"Marlee's work shifts and stretches. This new collection is a necessary resource for those of us looking to re-center, lean in, and get curious about ourselves, about our heart's work. Getting to Center is a blessing in book form." —Alexandra Elle, author of After the Rain 

From the beloved creator, workshop facilitator, and author of How to Not Always Be Working comes an approachable and practical guide to leaning into the unknown even when it feels as though everything around—and inside—us is in flux.
Picking up where How to Not Always Be Working left off, Getting to Center is an empathetic offering to those who are looking for a roadmap for finding their way back to equilibrium. This book meditates on endings, grief and joy, ease, hope, addiction, and beginnings, pairing Marlee's own experiences and wisdom with practical exercises and tools for creating balance and understanding within the natural changes of life.
In her own constant shifting, improviser and entrepreneur Marlee Grace has found ways to pivot within her career, while still maintaining constant threads throughout. She has developed practices that have supported her through opening and closing multiple businesses, a divorce, several cross-country moves, choosing sobriety, and more.
Essential for anyone who feels overwhelmed and anxious about these unpredictable times, this gorgeous, thoughtful book is a hand to hold to feel less alone, and a guide to cultivating resources we can replenish and depend on in ourselves.
Social Media
Please use the hashtag #gettingtocenter, and tag @tlcbooktours, @williammorrowbooks, and @marleegrace.

Purchase Links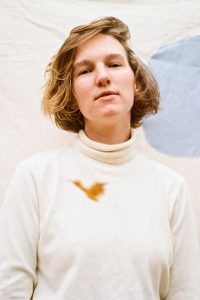 About Marlee Grace
Marlee Grace is a dancer and writer whose work focuses on the self, devotion, ritual, creativity, and art making. Her practice is rooted in improvisation as a compositional form that takes shape in movement videos, books, quilting, online courses, and hosting artists. Marlee's Instagram dance project Personal Practice has been featured in the New York Times, Dance Magazine, Vanity Fair, The Huffington Post, and more. You can find her zines, things she makes, artists she hosts, and more at marleegrace.space/home.
Instagram Features
Tuesday, October 27th: Instagram: @mentallybooked
Wednesday, October 28th: Instagram: @bookswithbean
Friday, October 30th: Instagram: @irishgirliereads
Saturday, October 31st: Instagram: @bookshelfmomma
Thursday, November 5th: Instagram: @angelareadsbooks
Thursday, November 12th: Instagram: @books_and_broadway_
Friday, November 13th: Instagram: @shobizreads