About When We Were Young and Brave
• Paperback: 448 pages
• Publisher: William Morrow Paperbacks (October 6, 2020)
"Gaynor's story of courage and strength will make you believe in the heroic spirit in each of us." —Lisa Wingate, #1 New York Times bestselling author of Before We Were Yours

The New York Times bestselling author of The Girl Who Came Home sets her unforgettable new novel in China during WWII, inspired by true events surrounding the Japanese Army's internment of teachers and children from a British-run missionary school.
Their motto was to be prepared, but nothing could prepare them them for war.
China, December 1941. Having left an unhappy life in England for a teaching post at a missionary school in northern China, Elspeth Kent is now anxious to return home to help the war effort. But as she prepares to leave China, a terrible twist of fate determines a different path for Elspeth, and those in her charge.
Ten-year-old Nancy Plummer has always felt safe at Chefoo School, protected by her British status. But when Japan declares war on Britain and America, Japanese forces take control of the school and the security and comforts Nancy and her friends are used to are replaced by privation, uncertainty and fear. Now the enemy, and separated from their parents, the children look to their teachers – to Miss Kent and her new Girl Guide patrol especially – to provide a sense of unity and safety.
Faced with the relentless challenges of oppression, the school community must rely on their courage, faith and friendships as they pray for liberation – but worse is to come when they are sent to a distant internment camp where even greater uncertainty and danger await . . .
Inspired by true events, When We Were Young and Brave is an unforgettable novel about impossible choices and unimaginable hardship, and the life-changing bonds formed between a young girl and her teacher in a remote corner of a terrible war.
Social Media
Please use the hashtag #whenwewereyoungandbrave, and tag @tlcbooktours, @williammorrowbooks, and @hazelgaynor.

Purchase Links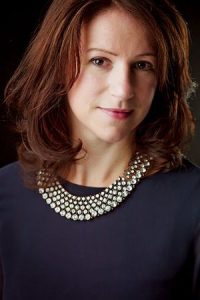 About Hazel Gaynor
Hazel Gaynor is an award-winning New York Times, USA Today and international bestselling author. Her 2014 debut The Girl Who Came Home won the 2015 RNA Historical Novel of the Year award, A Memory of Violets was a 2015 WHSmith Fresh Talent pick, The Girl from The Savoy was shortlisted for the 2017 Irish Book Awards, and The Lighthouse Keeper's Daughter was shortlisted for the 2019 HWA Gold Crown Award. Last Christmas in Paris (co-written with Heather Webb) won the 2018 Women's Fiction Writers Association Star Award. Their most recent collaboration is Meet Me in Monaco. Hazel's forthcoming historical novel, When We Were Young & Brave, set in China during WW2, will be published in North America in October 2020.
Hazel was selected by Library Journal as one of Ten Big Breakout Authors for 2015. Her work has been translated into fourteen languages to date. She is co-founder of creative writing events The Inspiration Project, and lives in Ireland with her husband and two children.
Find out more about Hazel at her website, and connect with her on Facebook, Instagram, and Twitter.
Instagram Features
Tuesday, October 6th: Instagram: @lavieestbooks
Wednesday, October 7th: Instagram: @tarheelreader
Thursday, October 8th: Instagram: @beritaudiokilledthebookmark
Friday, October 9th: Instagram: @sweethoneyandbrei
Saturday, October 10th: Instagram: @lostinastack
Sunday, October 11th: Instagram: @rendezvous_with_reading
Monday, October 12th: Instagram: @k2reader