To get your book club in the mood for the holidays, we have gathered up some wonderful titles for this special CHRISTMAS IS COMING book club giveaway!
______________________________________________
#1 New York Times bestselling author Richard Paul Evans returns this holiday season with a tale of love, belonging, and family, following a trail of letters that leads to a Christmas revelation about the healing miracle of hope and forgiveness.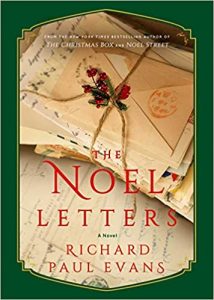 The Noel Letters by Richard Paul Evans
After nearly two decades, Noel Post, an editor for a major New York publishing house, returns to her childhood home in Salt Lake City to see her estranged, dying father. What she believed would be a brief visit turns into something more as she inherits the bookstore her father fought to keep alive. Reeling from loneliness, a recent divorce, and unanticipated upheavals in her world, Noel begins receiving letters from an anonymous source, each one containing thoughts and lessons about her life and her future. She begins to reacquaint herself with the bookstore and the people she left behind, and in doing so, starts to unravel the reality of her painful childhood and the truth about her family. As the holidays draw near, she receives a Christmastime revelation that changes not only how she sees the past but also how she views her future.
**WE HAVE 20 COPIES OF THE NOEL LETTERS TO GIVE AWAY TO ONE LUCKY BOOK CLUB! LARGER BOOK CLUBS, BE SURE TO ENTER TO WIN!

Purchase Links
______________________________________________
SOMETIMES IT TAKES ONE BROKEN HEART TO HEAL ANOTHER.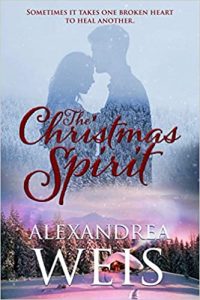 The Christmas Spirit by Alexandrea Weis
Courtney Winston is a writer on a deadline. Eager to finish her book and get over a recent break-up, she ditches Christmas with her family and retreats to a secluded cabin in the mountains.
Appliances rarely work, and cell service is spotty, but Courtney senses there is more to her rustic rental—something dark and haunting.
Then Peter, the attractive Stone Mountain Lodge owner, and a meddling cook, Mrs. Finn, keep coming around, shattering her peace and offering advice on how to fix her heavy heart.
Courtney grows closer to Peter, but Mrs. Finn warns her of his troubled past. Undaunted, Courtney sets out to win him over. But being with the brooding stranger may end up costing her more than she ever imagined.

Purchase Links
______________________________________________
Who's ready for some holiday magic?
THE MAGIC INGREDIENT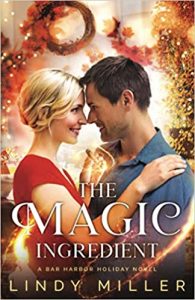 The Magic Ingredient (A Bar Harbor Holiday Novel) by Lindy Miller
The end of summer is approaching, but even at the height of Bar Harbor's tourist season, Eve Silver is having a hard time keeping enough money in the bank to sustain the family business. Her only hope of paying past due bills is to win the catering bid for the town's upcoming Harvest Happening Festival. Otherwise, it'll be lights out for Mount Desserts & Tea by Christmas.
Widower Jeff Parish is moving with his twelve-year-old daughter, Candy, from Manhattan to Maine with one goal: starting over. When sparks fly between Jeff and Eve as the town readies for the annual harvest festival, Candy wishes she had a love potion to help her dad fall in love again.
Will Eve be able to save Mount Desserts & Tea—and open her heart to Jeff—by the most bewitching night of the year?
It'll take a lot of love, a little bit of luck … and just a pinch of magic.

Purchase Links
______________________________________________
SOMETIMES ANGELS COME IN HUMAN FORM.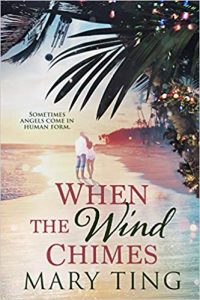 When the Wind Chimes by Mary Ting
Kaitlyn Summers is heartbroken.
When she receives an invitation to spend Christmas with her family on the Hawaiian island of Kauai, she feels it may be the perfect medicine.
She throws herself into helping her sister's struggling art gallery, even taking a temporary job for extra money by looking after a little girl from her nephew's school. She also begins to paint again, something she's been unable to do since her breakup. It's tempting to stay on Kauai, but she has obligations back in Los Angeles.
Life gets more complicated when circumstances keep putting her close to Leonardo Medici. Not only is he drop-dead gorgeous, he's a local celebrity. But Kaitlyn can't shake the feeling he's hiding something.
Should she believe the rumors that he's romancing half the island's single women?
Or is the random sound of wind chimes when he's close-by a sign that an angel is near and the secret to her happily ever after?

Purchase Links
______________________________________________
From New York Times bestselling author Andy Andrews comes the return of one of our favorite fictional characters: Jones, the noticer. A mysterious elderly man with white hair and endless wisdom who always appears to show up exactly when he's needed most.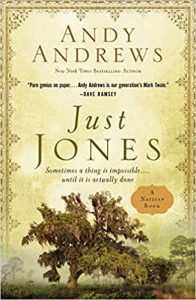 Just Jones: Sometimes a Thing is Impossible…Until it is Actually Done by Andy Andrews
At 3:29 a.m. on May 22, a telephone rings in Orange Beach, Alabama. Breaking the sleepy silence inside the bedroom of New York Times bestselling author Andy Andrews, a hastily whispered message heralds the news that Andy has been waiting on for seven years: Jones is back in town. Apparently, however, he is also in jail.
The old man is tight-lipped about the circumstances surrounding his brief incarceration. After arriving to bail him out, Andy is shocked to discover that his trusted friend has already opened an unusual business in one of the resort town's most high-profile shopping districts. Jones's Five & Dime seems to always have exactly what visitors are looking for, even as their fate steadily becomes entwined with Jones's.
As the town moves from spring to summer, a practical joker is becoming bolder and more inventive with every prank that is pulled. Could Jones be behind some of it? Why? And what will happen if he is? What's the truth about that four-hundred-pound table in his Five & Dime? What compels certain people to gather around it every morning? And why does it look as if every person Jones meets has a secret they will reveal only to him?
With rare insight, Andy and Jones take us on a journey that proves the importance of perspective, the power of connection, and the ability we all have to make the impossible come true.

Purchase Links
______________________________________________
New York Times bestselling author Jennifer Chiaverini returns with a delightful Christmas-themed installment in her beloved Elm Creek Quilts series—a captivating, heartwarming tale sure to become a holiday favorite.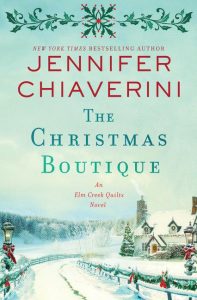 The Christmas Boutique by Jennifer Chiaverini
Just weeks before Christmas, severe wintry weather damages the church hall hosting the Christmas Boutique—an annual sale of handcrafted gifts and baked goods that supports the county food pantry. Determined to save the fundraiser, Sylvia Bergstrom Compson offers to hold the event at Elm Creek Manor, her ancestral family estate and summertime home to Elm Creek Quilt Camp.
In the spirit of the season, Sylvia and the Elm Creek Quilters begin setting up market booths in the ballroom and decking the halls with beautiful hand-made holiday quilts. Each of the quilters chooses a favorite quilt to display, a special creation evoking memories of holidays past and dreams of Christmases yet to come. Sarah, a first-time mother expecting twins, worries if she can handle raising two babies, especially with her husband so often away on business. Cheerful, white-haired Agnes reflects upon a beautiful appliqué quilt she made as a young bride and the mysterious, long-lost antique quilt that inspired it. Empty nesters and occasional rivals Gwen and Diane contemplate family heirlooms and unfinished projects as they look forward to having their children home again for the holidays.
But while the Elm Creek Quilters work tirelessly to make sure the Christmas Boutique happens, it may take a holiday miracle or two to make it the smashing success they want it to be.
Praised for her ability to craft "a wonderful holiday mix of family legacy, reconciliation and shared experiences" (Tucson Citizen), Jennifer Chiaverini once again rings in the festive season with this eagerly awaited addition in her beloved series.

Purchase Links
______________________________________________
From USA Today bestselling author Jenny Holiday comes a modern fairy tale just in time for Christmas about a tough New Yorker from the other side of the tracks who falls for a princess from the other side of the world.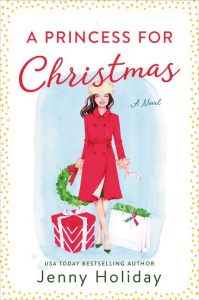 A Princess for Christmas by Jenny Holiday
Leo Ricci's already handling all he can, between taking care of his little sister Gabby, driving a cab, and being the super of his apartment building in the Bronx. But when Gabby spots a "princess" in a gown outside of the UN trying to hail a cab, she begs her brother to stop and help. Before he knows it, he's got a real-life damsel in distress in the backseat of his car.
Princess Marie of Eldovia shouldn't be hailing a cab, or even be out and about. But after her mother's death, her father has plunged into a devastating depression and the fate of her small Alpine country has fallen on Marie's shoulders. She's taken aback by the gruff but devastatingly handsome driver who shows her more kindness than she's seen in a long time.
When Marie asks Leo to be her driver for the rest of her trip, he agrees, thinking he'll squire a rich miss around for a while and make more money than he has in months. He doesn't expect to like and start longing for the unpredictable Marie. And when he and Gabby end up in Eldovia for Christmas, he discovers the princess who is all wrong for him is also the woman who is his perfect match.

Purchase Links
______________________________________________
Another heartfelt and delightful Christmas tale from the beloved New York Times bestselling author of The Bookshop on the Corner and Christmas on the Island.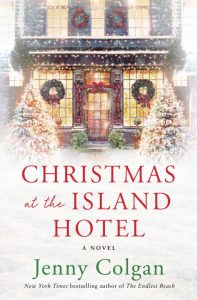 Christmas at the Island Hotel by Jenny Colgan
New York Times bestselling author Jenny Colgan returns to the setting of Christmas on the Island and Endless Beach for a heartwarming new novel celebrating the season, and Scotland.
On the tiny, beautiful, and remote island of Mure, halfway between Scotland and Norway, a new hotel opening is a big event. New mother Flora MacKenzie and her brother Fintan are working themselves half to death to get it ready in time for Christmas.
The new hotel's impressive kitchens throw together two unlikely new friends: Isla Gregor is the hardworking young girl who has been a waitress in the island's cafe, dreaming of a bigger, better life now that she's at a proper fancy hotel. Konstantin Pederson is working his way up in the hotel's kitchens too…but he is also, secretly, the only son of the Duke of Utsire. Konstantin has been sent to learn what it is to work hard for a living, before receiving his inheritance. Although he's initially resentful, the place grows on him; he has never met anyone quite like Isla and her fellow Murians before.
As the island's residents and special VIP guests gather for the hotel's grand opening gala, Christmas is in the air. But so are more than a few small-town secrets…

Purchase Links
______________________________________________
After brilliantly reimagining the worlds of Oz, Wonderland, Dickensian London, and the Nutcracker, the New York Times bestselling author of Wicked turns his unconventional genius to Hans Christian Andersen's "The Wild Swans," transforming this classic tale into an Italian-American girl's poignant coming-of-age story, set amid the magic of Christmas in 1960s New York.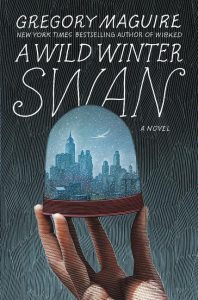 A Wild Winter Swan by Gregory Maguire
Following her brother's death and her mother's emotional breakdown, Laura now lives on the Upper East Side of Manhattan, in a lonely townhouse she shares with her old-world, strict, often querulous grandparents. But the arrangement may be temporary. The quiet, awkward teenager has been getting into trouble at home and has been expelled from her high school for throwing a record album at a popular girl who bullied her. When Christmas is over and the new year begins, Laura may find herself at boarding school in Montreal.
Nearly unmoored from reality through her panic and submerged grief, Laura is startled when a handsome swan boy with only one wing lands on her roof. Hiding him from her ever-bickering grandparents, Laura tries to build the swan boy a wing so he can fly home. But the task is too difficult to accomplish herself. Little does Laura know that her struggle to find help for her new friend parallels that of her grandparents, who are desperate for a distant relative's financial aid to save the family store.
As he explores themes of class, isolation, family, and the dangerous yearning to be saved by a power greater than ourselves, Gregory Maguire conjures a haunting, beautiful tale of magical realism that illuminates one young woman's heartbreak and hope as she begins the inevitable journey to adulthood.

Purchase Links
______________________________________________
Jenna Bush Hager, the former first daughter and granddaughter, #1 New York Times bestselling author, and coanchor of the Today show, shares moving, funny stories about her beloved grandparents and the wisdom they passed on that has shaped her life.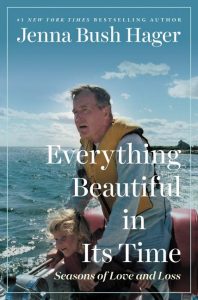 Everything Beautiful in its Time by Jenna Bush Hager
To the world, George and Barbara Bush were America's powerful president and influ­ential first lady. To Jenna Bush Hager, they were her beloved Gampy and Ganny, who taught her about respect, humility, kindness, and living a life of passion and meaning—timeless lessons that continue to guide her.
In Midland, Texas, Jenna's maternal grandparents, Harold and Jenna Welch—Pa and Grammee—a home builder and homemaker, lived a quieter life outside the national spotlight. Yet their influence was no less indelible to their granddaughter. Throughout Jenna's childhood and adolescence, the Welches taught her the name of every star in the sky, the way a dove uses her voice—teaching her to appreciate the beauty in the smallest things.
Now the mother of three young children, Jenna pays homage to her grandparents in this collection of heartwarming, intimate personal essays. Filled with love, laughter, and unforgettable stories, Everything Beautiful in Its Time captures the joyous and bittersweet nature of life itself. Jenna reflects on the single year in which she and her family lost Barbara and George H. W. Bush, and Jenna Welch. With the light, self-deprecating charm of the bestselling Sisters First—cowritten with her twin sister, Barbara—Jenna reveals how they navigated this difficult period with grace, faith, and nostalgic humor, uplifted by their grandparents' sage advice and incomparable spirits.
In this moving book, Jenna remembers the past, cherishes the present, and prepares for the future—providing a wealth of anecdotes and lessons for her own children and all of us. Poignant and humorous, intimate and sincere, Everything Beautiful in Its Time is a warm and wonderful celebration of the enduring power of family and an exploration of the things that truly matter most.
"As long as I'm alive, my grandparents will not be forgotten. . . . I hear their voices in the letters they sent me and in my memories. They offer comfort, support, and guidance, and I will listen to them always."


Purchase Links
______________________________________________
With nods to Bridget Jones and Pride & Prejudice, this debut is a delightful #ownvoices queer rom-com about a free-spirited social media astrologer who agrees to fake a relationship with an uptight actuary until New Year's Eve—with results not even the stars could predict!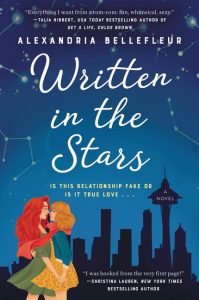 Written in the Stars by Alexandria Bellefleur
"I was hooked from the very first page!" – Christina Lauren, New York Times bestselling author of In a Holidaze
After a disastrous blind date, Darcy Lowell is desperate to stop her well-meaning brother from playing matchmaker ever again. Love—and the inevitable heartbreak—is the last thing she wants. So she fibs and says her latest set up was a success. Darcy doesn't expect her lie to bite her in the ass.
Elle Jones, one of the astrologers behind the popular Twitter account Oh My Stars, dreams of finding her soul mate. But she knows it is most assuredly not Darcy… a no-nonsense stick-in-the-mud, who is way too analytical, punctual, and skeptical for someone as free-spirited as Elle. When Darcy's brother—and Elle's new business partner—expresses how happy he is that they hit it off, Elle is baffled. Was Darcy on the same date? Because… awkward.
Darcy begs Elle to play along and she agrees to pretend they're dating. But with a few conditions: Darcy must help Elle navigate her own overbearing family during the holidays and their arrangement expires on New Year's Eve. The last thing they expect is to develop real feelings during a faux relationship. But maybe opposites can attract when true love is written in the stars?
"Everything I want from a rom-com: fun, whimsical, sexy." – Talia Hibbert, USA Today bestselling author of Get a Life, Chloe Brown

Purchase Links
______________________________________________
From the #1 New York Times and USA Today bestselling author Debbie Macomber comes a classic heartwarming holiday novel.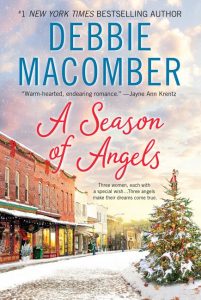 A Season of Angels by Debbie Macomber
Wishes for love bring hope from above.
Shirley, Goodness, and Mercy—three willing but sometimes wayward angels—are each given someone's prayer to answer . . .
Shirley: She's sent to help nine-year-old Timmy Potter, who longs for a new father. And although his mother, Jody, has vowed never to trust any man, Shirley is determined to help her love again.
Goodness: She knows Monica Fischer longs for a husband and home of her own, but the young woman has practically given up on finding the right man to stand by her side . . . until Goodness steps in to help.
Mercy: Can Mercy bring hope back into Leah Lundberg's life? This maternity nurse desperately wants a child to fill up the home she's made with her husband, Andrew.
But there's just one catch: Each angel must teach her charge a memorable lesson before the prayer can be granted . . .

Purchase Links
______________________________________________

Please fill out our super short registration form (click the "Enter Now" button above) by October 31st for a chance to win a set of one of these great books for your book club! We will randomly choose a winner at the end of the month. This contest is open to clubs in the US only (our apologies to friends in other countries). 
.
Best of luck!
We 
LOVE

 Book Clubs!