___________________________
A lush debut novel in the vein of Kathleen Tessaro's international bestseller, Elegance, about a beautiful woman working as a model for Christian Dior in postwar Paris, who discovers astonishing secrets about herself and the fabulous people around her.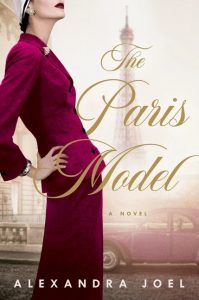 The Paris Model by Alexandra Joel
Raised on a vast Australian sheep farm, the beautiful Grace Woods is compelled to travel to tumultuous, postwar Paris in order to start a new life. While working as a glamorous model for Christian Dior, the world's newly acclaimed emperor of fashion, Grace mixes with counts and princesses, authors and artists, diplomats and politicians. Amongst those she befriends are Pablo Picasson, Julia Childs, and the future Jackie Kennedy.
But when Grace falls in love with the handsome Phillippe Boyer, she doesn't know that he is leading a double life, nor that his past might hold secrets and lies that will turn her life upside down.
Based on a true story, The Paris Model by debut fiction author Alexandra Joel, is an unforgettable tale of glamour, family secrets, and heartbreak.

Purchase Links
___________________________
From the Amazon Charts bestselling author of Whisper Me This comes an emotional and sharply witty novel about how life's unexpected detours can ultimately bring you home.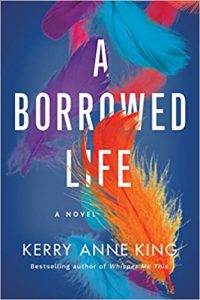 A Borrowed Life by Kerry Anne King
For twenty-six years Liz has perfectly played the part of Mrs. Thomas Lightsey, exemplary pastor's wife and mother. But maintaining appearances for the congregation and catering to her demanding husband takes a toll, and she's lost herself in meeting the expectations of others. When Thomas suddenly dies, Liz feels shock, grief, and, to her surprise, the siren song of freedom. Dare she dream of a life to call her own?
Despite the resistance of her daughter, Abigail, to even the smallest changes, Liz lands a role at the community theater. Inspired by new friends and the character she plays, she explores life's possibilities, including an unexpected—and steamy—relationship with her leading man.
Just when Liz thinks she might be winning, life hits her with an unthinkable shock. She's pregnant at forty-nine. Torn between conflicting loyalties to her daughter, her lover, her unborn baby, and herself, can Liz find a way to rebuild her dream life one more time?

Purchase Links
___________________________
He helped save people every day—but he had no idea how to save himself.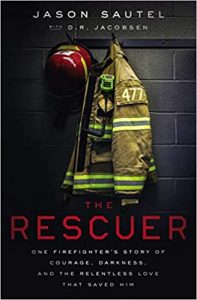 The Rescuer: One Firefighter's Story of Courage, Darkness, and the Relentless Love That Saved Him by Jason Sautel
Jason Sautel had it all. Confident in his abilities and trusted by his fellow firefighters, he was making a name for himself on the streets of Oakland, California. His adrenaline-fueled job even helped him forget the pain of his childhood—until the day he looked into the eyes of a jumper on the Bay Bridge and came face to face with a darkness he knew would take him down as well.
In the following months, a series of traumatic emergency calls—some successful, others impossible-to-forget failures—drove Jason deeper into depression. Even as he continued his lifesaving work, he realized he could never rescue everyone, and he had no idea how to save himself.
In the end, Jason was forced to confront the truth: only the relentless power of love could pull him back from his own deadly fall. Action-packed, spiritually honest, and surprisingly romantic, The Rescuer transports readers inside the pulse-pounding world of firefighting and into the heart of a man who needed to be broken before he could finally be made whole.

Purchase Links
___________________________
September is Alzheimer's Awareness Month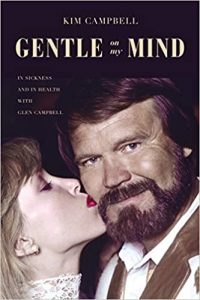 Gentle on My Mind: In Sickness and In Health with Glen Campbell by Kim Campbell
The page-turning, never-before-told story of Kim Campbell's roller-coaster thirty-four-year marriage to music legend Glen Campbell, including how Kim helped Glen finally conquer his addictions only to face their greatest challenge when he was diagnosed with Alzheimer's disease.
Kim Campbell was a fresh-faced twenty-two-year-old dancer at Radio City Music Hall when a friend introduced her to Glen Campbell, the chart-topping, Grammy-winning, Oscar-nominated entertainer. The two performers from small Southern towns quickly fell in love, a bond that produced a thirty-four-year marriage and three children.
In Gentle on My Mind, Kim tells the complete, no-holds-barred story of their relationship, recounting the highest of highs—award shows, acclaimed performances, the birth of their children, encounters with Mick Fleetwood, Waylon Jennings, Alan Jackson, Alice Cooper, Jane Seymour, and others—and the lowest of lows, including battles with alcohol and drug addiction and, finally, Glen's diagnosis, decline, and death from Alzheimer's.
With extraordinary candor, astonishing bravery, and a lively sense of humor, Kim reveals the whole truth of life with an entertainment giant and of caring for and loving him amid the extraordinary challenge of Alzheimer's disease. This is a remarkable account of enduring love, quiet strength, and never-faltering faith.

Purchase Links
___________________________
Award-winning author, speaker, and CEO, Judy Gaman, releases this emotionally charged memoir. Her friendship with centenarian Lucille Fleming will have you and your club laughing one moment and crying the next. (Finalist: International Book Awards)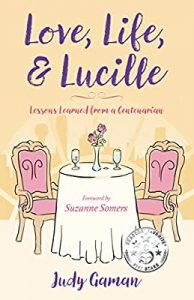 Love, Life, & Lucille by July Gaman
Judy Gaman was so busy making a name for herself that she barely took the time to meet a stranger, enjoy life, or simply stop to breathe. Immersed in her job as the director of business development for a high-profile medical practice—a job that required her to write health and wellness books and host a nationally syndicated radio show—she spent every day going full speed ahead with no looking back. That is, until the day she met Lucille Fleming.
While writing a book on longevity, Judy interviewed Lucille, an elegant and spirited woman who had just recently turned 100. Lucille had the fashion and style of old Hollywood, but it was all hidden behind the doors of her assisted living center. What began as a quick meeting became a lasting friendship that transformed into an inseparable bond. Lucille brought incredible wisdom and great stories to the table, while Judy provided an avenue for excitement and new opportunities. Together, the two began living life to the fullest, and meeting the most interesting people along the way (including Suzanne Somers). But then Lucille's life came to an end through unexpected and unfortunate circumstances—and the very first lesson she ever taught Judy proved to be the most important one of all.

Purchase Links
___________________________

Please fill out our super short registration form (click the "Enter Now" button above) by September 30th for a chance to win a set of up to ten copies of one of these great books for your book club! We will randomly choose a winner at the end of the month. This giveaway is open to clubs in the US only (our apologies to friends in other countries). 
Best of luck!
We 
LOVE

 Book Clubs!