About Escaping Exodus
• Paperback: 336 pages
• Publisher: Harper Voyager (October 15, 2019)
"Don't be alarmed – that dizzy pleasurable sensation you're experiencing is just your brain slowly exploding from all the wild magnificent worldbuilding in Nicky Drayden's Escaping Exodus. I loved these characters and this story, and so will you." – Sam J. Miller, Nebula-Award-winning author of The Art of Starving and Blackfish City
The Compton Crook award–winning author of The Prey of Gods and Temper returns with a dazzling stand-alone novel, set in deep space, in which the fate of humanity rests on the slender shoulders of an idealistic and untested young woman—a blend of science fiction, dark humor, and magical realism that will appeal to fans of Charlie Jane Anders, Jeff VanderMeer, and Nnedi Okorafor.
Earth is a distant memory. Habitable extrasolar planets are still out of reach. For generations, humanity has been clinging to survival by establishing colonies within enormous vacuum-breathing space beasts and mining their resources to the point of depletion.
Rash, dreamy, and unconventional, Seske Kaleigh should be preparing for her future role as clan leader, but her people have just culled their latest beast, and she's eager to find the cause of the violent tremors plaguing their new home. Defying social barriers, Seske teams up with her best friend, a beast worker, and ventures into restricted areas for answers to end the mounting fear and rumors. Instead, they discover grim truths about the price of life in the void.
Then, Seske is unexpectedly thrust into the role of clan matriarch, responsible for thousands of lives in a harsh universe where a single mistake can be fatal. Her claim to the throne is challenged by a rival determined to overthrow her and take control—her intelligent, cunning, and confident sister.
Seske may not be a born leader like her sister, yet her unorthodox outlook and incorruptible idealism may be what the clan needs to save themselves and their world.
Social Media
Please use the hashtag #escapingexodus and tag @tlcbooktours, @harpervoyagerus, and @nickydrayden.

Purchase Links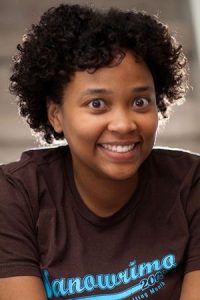 About Nicky Drayden
Nicky Drayden's short fiction has appeared in publications such as Shimmer and Space and Time. She is a systems analyst and resides in Austin, Texas, where being weird is highly encouraged, if not required. Her debut novel, The Prey of Gods, was a best of the year pick by Book Riot, Vulture, and RT Book Reviews.
Find out more about Nicky at her website, and connect with her on Twitter and Instagram.
Instagram Features
Monday, September 21st: Instagram: @why__read
Tuesday, September 22nd: Instagram: @the.magicalpages
Wednesday, September 23rd: Instagram: @thereadingchemist
Friday, September 25th: Instagram: @babygotbooks13
Saturday, September 26th: Instagram: @never_withouta_book
Sunday, September 27th: Instagram: @bookin.good
Monday, September 28th: Instagram: @mentallybooked
Tuesday, October 6th: Instagram: @sachireads