To get your book club in the mood for the holidays, we have gathered up some wonderful titles for this special CHRISTMAS IS COMING book club giveaway!
______________________________________________
Will Christmastime in Ivy Hill, with its village charm, kissing boughs, joyous songs, and divine hope, work its magic in his heart . . . and hers as well?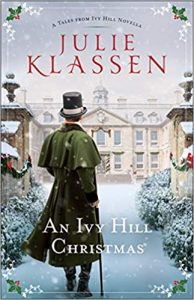 An Ivy Hill Christmas by Julie Klassen
Richard Brockwell, the younger son of Ivy Hill's most prominent family, hasn't been home for Christmas in years. He prefers to live in the London townhouse, far away from Brockwell Court, the old family secret that haunts him, and the shadows of his past mistakes. But then his mother threatens to stop funding his carefree life–unless he comes home for Christmas. Out of options, he sets out for Ivy Hill, planning to be back on a coach bound for London and his unencumbered bachelor life as soon as the festivities are over.
But Christmas in the country presents unforeseen surprises, including encounters with an orphaned apprentice, the first love he disappointed years ago, and Arabella Awdry, a young lady who is far more appealing than he recalled . . . and determined to have nothing to do with him.

Purchase Links
______________________________________________
One Christmas wish, two brothers, and a lifetime of hope are on the line for hapless Maelyn Jones in In a Holidaze, the quintessential holiday romantic novel by Christina Lauren, the New York Times bestselling author of The Unhoneymooners.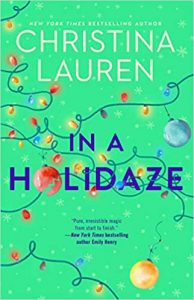 In a Holidaze by Christina Lauren
It's the most wonderful time of the year…but not for Maelyn Jones. She's living with her parents, hates her going-nowhere job, and has just made a romantic error of epic proportions.
But perhaps worst of all, this is the last Christmas Mae will be at her favorite place in the world—the snowy Utah cabin where she and her family have spent every holiday since she was born, along with two other beloved families. Mentally melting down as she drives away from the cabin for the final time, Mae throws out what she thinks is a simple plea to the universe: Please. Show me what will make me happy.
The next thing she knows, tires screech and metal collides, everything goes black. But when Mae gasps awake…she's on an airplane bound for Utah, where she begins the same holiday all over again. With one hilarious disaster after another sending her back to the plane, Mae must figure out how to break free of the strange time loop—and finally get her true love under the mistletoe.
Jam-packed with yuletide cheer, an unforgettable cast of characters, and Christina Lauren's trademark "downright hilarious" (Helen Hoang, author of The Bride Test) hijinks, this swoon-worthy romantic read will make you believe in the power of wishes and the magic of the holidays.

Purchase Links
______________________________________________
From the star of Say Yes to the Dress: Atlanta, now filming its eleventh season for TLC, comes a book and a life-makeover movement for women approaching fifty and beyond.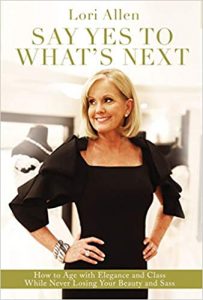 Say Yes to What's Next by Lori Allen
Move over, girlfriend, Lori Allen is here to help you say yes to what's next! Star of Say Yes to the Dress: Atlanta, Lori Allen uses her confidence, wisdom, and signature humor not only to help young brides on their most important day ever but also to model to them and their mothers how to live out the coming years as the best of their lives.
Lori Allen is owner/operator of one of the biggest and busiest bridal mega-salons in the country, Atlanta's Bridals by Lori. But she's also a wife, mother, grandmother, and breast cancer survivor.
Whether you're feeling invisible, disappearing into the fabric of your couch a little more every year, or simply being indecisive about what's next, Lori offers herself as the poster child of what to do, not do, and how to see your way through the unexpected.
In Say Yes to What's Next she addresses essential issues, such as
don't let yourself go,
marriage is awesome, but it's no fairytale,
keep your mouth shut and your heart open to your kids (and they'll bring you grandkids),
make time to parent your parents,
maintain a close circle of girlfriends,
get off the couch and live your passion,
take charge of your money, and
what to do when life gives you a faceplant.
Say Yes to What's Next is a life makeover and therapy session from a relatable you-can-and-you-should-do-this straight-shooter as Lori helps women shape their own futures with confidence, style, and sass.

Purchase Links
______________________________________________
The winning book club of Christmas Ever After will also win a 60-minute virtual "Christmas Karen" chat with Karen!
From Karen Schaler, the writer of the Netflix phenomenon A Christmas Prince and Hallmark's Christmas Camp comes this new heartwarming holiday romance. Mamma Mia meets The Bachelorette in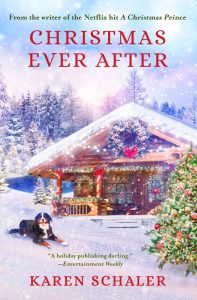 Christmas Ever After by Karen Schaler
While promoting her next novel, a Christmas love story, author Riley Reynolds is caught off guard when she's asked during a live national television interview how she can write about romance when she still hasn't found "the one" herself. Scrambling for an answer, she quickly answers that she has had great love in her past and that love inspired her novels. Little does she know that this one offhanded remark will turn her world upside down. Three of her ex-boyfriends see the interview, and each, believing she's talking about him, shows up for her Christmas Camp book event at the Christmas Lake Lodge, determined to rewrite his happily-ever-after with her! Over the festive weekend, Riley's old boyfriends compete to win her heart, pulling out all the stops while planning the most romantic Christmas dates on the planet. Despite herself, Riley starts falling for each guy- again-but for different reasons. As Riley revisits each relationship and discovers more about herself, she embraces the magic of Christmas and finally finds true love and her own Christmas ever after…
Bonus Content: Christmas Ever After includes delicious original Christmas recipes and fun holiday crafts and activities.
***Head over to Karen Schaler's website to sign up for her VIP newsletter for the latest on her many giveaways, special event and sneak peeks and much more!***

Purchase Link
______________________________________________

Please fill out our super short registration form (click the "Enter Now" button above) by September 30th for a chance to win a set of up to ten copies of one of these great books for your book club! We will randomly choose a winner at the end of the month. This contest is open to clubs in the US only (our apologies to friends in other countries). 
.
Best of luck!
We 
LOVE

 Book Clubs!