About Loathe at First Sight
• Paperback: 368 pages
• Publisher: Avon (August 18, 2020)
"Bursts with humor, heart, and great energy. I loved it! Park is a hilarious new voice in women's fiction."—Helen Hoang, author of The Kiss Quotient 
"[A] punchy adult debut set in the world of video game design. Park makes tough topics go down easy by couching them in wry humor and lighthearted romance, and her fierce, snarky heroine is irresistible. This smart rom-com is a winner."—Publishers Weekly (starred review)
In a debut perfect for fans of Jasmine Guillory and Sally Thorne, a junior video game producer finds herself getting closer and closer to the one person she hates most after a mass troll attack online almost ruins her life.
Melody Joo is thrilled to land her dream job as a video game producer, but her new position comes with challenges: an insufferable CEO; sexist male coworkers; and an infuriating—yet distractingly handsome—intern, Nolan MacKenzie, aka "the guy who got hired because his uncle is the boss."
Just when Melody thinks she's made the worst career move of her life, her luck changes. While joking with a friend, she creates a mobile game that has male strippers fighting for survival in a post-apocalyptic world. Suddenly Melody's "joke" is her studio's most high-profile project—and Melody's running the show.
When Nolan is assigned to Melody's team, she's sure he'll be useless. But as they grow closer, she realizes he's smart and sexy, which makes Melody want to forget he's her intern. As their attraction deepens, she knows it's time to pump the brakes, even with her Korean parents breathing down her neck to hurry up and find a man.
With her project about to launch, Melody suddenly faces a slew of complications, including a devastating trolling scandal. Could the man she's falling hard for help her play the game to win—in work and in love?
Social Media
Please use the hashtag #loatheatfirstsight, and tag @tlcbooktours, @avonbooks, and @suzannepark.

Purchase Links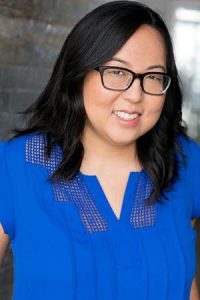 About Suzanne Park
Suzanne Park is a Korean-American writer who was born and raised in Tennessee. As a comedienne, she was selected to appear on BET's "Coming to the Stage." Suzanne was also the winner of the Seattle Sierra Mist Comedy Competition, and was a semi-finalist in NBC's "Stand Up For Diversity" showcase in San Francisco.
Suzanne graduated from Columbia University and received an MBA from UCLA. She currently resides in Los Angeles with her husband, female offspring, and a sneaky rat that creeps around on her back patio. In her spare time, she procrastinates. Loathe at First Sight is her adult debut.
Find out more about Suzanne at her website, and connect with her on Facebook, Twitter, and Instagram.
Instagram Features
Tuesday, August 18th: Instagram: @babygotbooks13
Wednesday, August 19th: Instagram: @beritaudiokilledthebookmark
Thursday, August 20th: Instagram: @the.bookish.traveler
Friday, August 21st: Instagram: @sunflower_book_lover
Saturday, August 22nd: Instagram: @allthebooksandchocolate
Sunday, August 23rd: Instagram: @readingmama_reviews
Wednesday, August 26th: Instagram: @owlslittlelibrary
Wednesday, August 26th: Instagram: @readinggirlreviews
Thursday, August 27th: Instagram: @simplykelina